Papers of James Blyth
This month we are delighted to highlight a valuable and topical addition to our collections: the Papers of James Blyth (1839-1906), Professor of Natural Philosophy at Anderson's College, an antecedent of the University of Strathclyde. An enigmatic and popular lecturer and respected electrical engineer, Blyth was also a pioneer in, and passionate supporter of, renewable energy.
This wonderful donation, recently given by his family to the University Archives, comprises both manuscripts and photographs, and perfectly complements our existing material about Blyth (OM 17).
Born in Marykirk, Kincardineshire to John Blyth, an innkeeper and small farmer, and his wife Catherine, Blyth was educated at the local parish school and later Montrose Academy. He graduated from Edinburgh University, with a BA in 1861 and an MA a decade later. Integral to the collection are five manuscript essays written during these early university studies. Covering such varied topics as 'Attention', 'Imagination', 'The Conditions of Moral Responsibility', 'Habit', and 'The Immortality of the Soul', these stimulating records provide a unique insight into the thoughts, musings and arguments of the young student.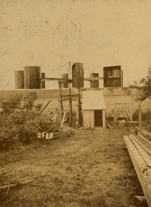 Following a short career as a tutor and teacher, Blyth was appointed Freeland Professor of Natural Philosophy at Anderson's College in 1880, a post he held until his death. An active researcher whilst at the Andersonian, he is best remembered for his pivotal research into the generation and storage of electricity from wind power. Between 1885 and 1887, he built a 33 foot cloth-sailed windmill in the garden of his holiday home in Marykirk. The electricity produced was used to power the lights of the cottage: the world's first-known structure powered by wind-generated electricity. Blyth's work culminated with the award of a patent for his 'wind engine' in 1891, but not everyone was impressed and his offer to use the surplus electricity to light the main street in Marykirk was rejected by locals, fearing it 'the work of The Devil'!
In May 1895, Blyth licensed Mavor & Coulson Engineers to build an improved turbine (OM 17/12), which was used to supply emergency power to the Montrose Lunatic Asylum, Infirmary and Dispensary for the next 27 years. This represented the first time that wind power was harnessed to commercially supply electricity. Blyth was awarded the Brisbane Gold Medal by the Royal Society of Edinburgh for his work in 1892, but his methods were regarded by many as economically unviable and 64 years were to pass before the first public utility wind turbine was built at Costa Head, Orkney in 1951.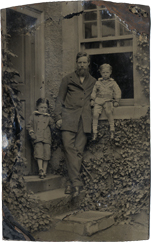 The gift also provides intriguing photographic evidence into the early years of Blyth's life, his close family relationships with his wife Jessie Wilhelmina (1842-1923) and their seven children, and his work as Professor at the Andersonian. Indeed, the College was to play a central role in the life not only of Blyth, but also of his son Vincent James (1874-1916) and his son-in-law George Edwin Allan (1870-1955) who became demonstrators, assistants and lecturers in the Department of Natural Philosophy.
Family gatherings further reflect this close inter-weaving of Blyth family life with the Andersonian. The image below shows Blyth's daughter Kassie, wife of George Edwin, (standing, second left), Vincent (seated, front row second left) alongside Professor James Muir, Blyth's successor as Freeland Professor (standing, second right).
Today, Strathclyde engineers continue the innovative and essential work of James Blyth, and it is fitting that his papers are preserved in the University with which he was so closely associated throughout his career. This wish is fully supported and endorsed by his descendants. Speaking on behalf of the family, his great grand-daughter, Mrs Ferelith Green, comments,
'As a great-grand-daughter of James Blyth, I am delighted to donate these family items to his Archive at the University of Strathclyde. I hope they will be useful to anyone who has an interest in his work, his life and the times in which he lived'.
Kirsteen Croll, Archives Assistant
Sources:
Trevor J. Price, 'Blyth, James (1839-1906)', Oxford Dictionary of National Biography, Oxford University Press, October 2009, accessed 2/3/12
James Blyth, 'On the application of wind power to the generation and storage of electricity', Paper read before the Philosophical Society of Glasgow, 2 May 1888 (OM 17/9)
James Blyth, 'On the application of wind power to the production of electric currents', Transactions of the Royal Scottish Society of Arts, vol. 13, (1894), pp. 170-181. Paper read before the Society on 25 January 1892
Chris Hardy, 'Renewable energy and role of Marykirk's James Blyth', The Courier, 16 July 2010.