The McCance Building
This month we are looking at the construction and interior of one of the University of Strathclyde's central buildings - the McCance building.

In 1960 the Royal College of Science and Technology was looking to expand its premises with a new building. It decided to approach Glasgow Corporation, which had recently got its hands on a site which it was planning to develop for commercial use. The idea was to share the site with Glasgow Corporation in a partnership. Although the College was initially rejected, it decided to keep appealing.

This persistence paid off in 1961 when the Corporation finally agreed to let the College use part of the site. An agreement was made and the contract for two buildings, one for the College's use and the other a commercial office building, was awarded to Sir Robert McAlpine and Sons Ltd. This arrangement was one of the first examples of a university building being associated with commercial development. In the summer of 1962 work was started on the College's McCance building which was initially called the Arts, Social Studies and Library Building and Glasgow Corporation's Alec House, which would eventually be leased out to the University and renamed Livingstone Tower.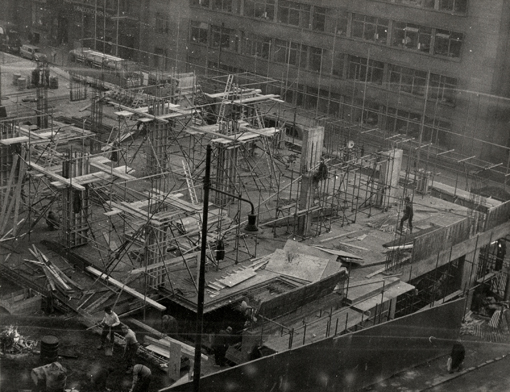 The McCance Building was designed and built for the purpose of holding the Library along with the School of Arts and Social Studies. It was intended to extend the scope of the College's engineering science and technology studies to the arts fields and social studies. The work was completed on 28th of March 1964 with a topping out ceremony which was performed by the College's Building Committee chairman, Mr. R.M. McClure.
The Library was transferred from the Royal College Building to its new location that same year. This was also the year that the Royal College of Science and Technology gained University status and became the University of Strathclyde. The Library occupied the third and the fourth levels of the building with the School of Arts and Social Studies placed on the upper two floors, which were approached from a common entrance hall. In the Library there were two large murals both 60 feet by 9 feet which were designed and constructed by William Mitchell.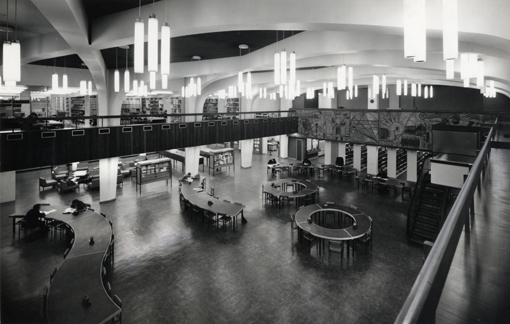 The building was officially opened on the 4th of June 1964 by Lady McCance, the wife of Sir Andrew McCance, chairman of the governors of the college, after whom the building was named.


Fiona McCallum, MSc Library and Information Studies placement student
Further information:
Invitation card, press handout and two copies of description of topping out ceremonies (ref: OP/2/2/9)

Paper entitled 'Arts, Social Studies and Library Building for the RCST Glasgow in association with Commercial Development of Offices, Shops and Car Parking' presented by L. McGougan, Buildings Officer, to the Annual Conference of University Buildings Officers, Exeter 1964 (ref: OE 7/6/3)

Invitation card to the official opening of the McCance Building, 4 June 1964 (ref: OE 7/6/4)