Actuarial Science

Industrial Advisory Board members
Ji-Hyang Lee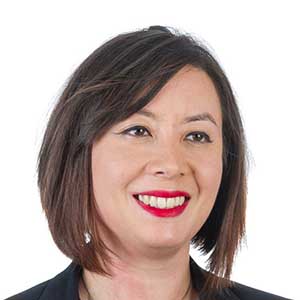 Ji-Hyang Lee is an Associate and Senior Consulting Actuary with Barnett Waddingham, a leading independent professional services consultancy with offices in Glasgow and across the UK. She provides advice and support to UK pension schemes and trustees for a wide range of industries. Her experience covers both trustee and corporate advice for clients ranging in size from less than £10m to around £500m.
Ji-Hyang has a strong interest in education and in the future development of the actuarial profession. In 2019, this interest led to her joining the Industrial Advisory Board for the University of Strathclyde's newly established MSc programme in Actuarial Science, in order to provide industry perspective on content and delivery. By supporting actuarial students from all walks of life, she hopes the industry will benefit from the diverse thinking and fresh ideas these future actuaries will bring. Ji-Hyang and her colleagues have found the experience hugely rewarding and are looking forward to seeing the partnership between Barnett Waddingham and the University develop further opportunities for students in the field.
Barnett Waddingham is a leading independent UK professional services consultancy at the forefront of risk, pensions, investment and insurance. With offices in Glasgow and across the UK, it acts as a trusted partner for a wide range of clients in both the private and public sectors – this includes almost 25% of FTSE 100 and over 15% of FTSE 350 companies. Barnett Waddingham's primary focus is on providing a personal, quality, tailored approach. It seeks to build stable and long-term partnerships with clients.
Alex McLeman
Alex McLeman is a consultant and actuary with Isio, a pensions consultancy with around 500 staff and offices throughout the UK. Alex works on both Trustee and Corporate engagements covering sectors including charities and not-for-profits, retail, education and manufacturing. Alex also has significant experience in the auditing of pension schemes and supporting companies with their accounting requirements in relation to pension liabilities.
Education and outreach have always been interests of Alex's. Prior to joining the Industrial Advisory Board, Alex was a member of the IFoA's Student Consultative Forum and currently supports trainee actuaries by marking assignments and mock exams for ActEd. Alex has also worked with high school students on introducing actuarial modelling to them.
Formerly KPMG's pensions practice, and founded in 2020, Isio is an independent and agile pensions consultancy providing actuarial and investment advice to over 1,000 clients.
With 8 regional offices and over 500 staff, Isio uses its deep client understanding founded on partnership, mutual trust and clarity to develop original solutions to distinct pension and benefit challenges.