Business Analysis & Consulting

Chandrava
Tell us a bit about yourself.
I completed my Bachelor of Technology (BTech) in Computer Science and Engineering in 2017. After that, I worked on a couple of research projects which were published in the IEEE Xplore Digital Library. I also prepared and cleared the Graduate Aptitude Test for Engineers (GATE) Computer Science exam with a 98 percentile among 107,000 exam takers.
Why did you choose to study at Strathclyde?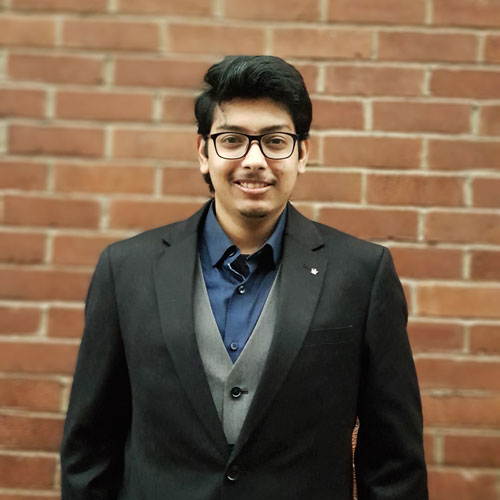 I really liked the course structure. There's a very good balance of both quantitative and qualitative elements which will give me the chance to enrich my career prospects. The course also had a ranking of 29 in the QS Business Analytics Rankings 2018.
Chandrava
Strathclyde Business School's ranking in all the major ranking lists like FT Rankings, QS Rankings, Times Higher Education Rankings etc played a significant role in the decision process. Its global reputation as a business school made me choose Strathclyde over others.
What do you think of the course?
This course is well thought out and well structured. All the components of the course are vital in building up an overall portfolio of a student. The idea of experiential learning is successfully implemented, which yields the best from every student.
Tell us about the placement.
The January placement provides an invaluable work experience in the field of business analysis and consulting. It gives us the opportunity to get hands on with the skills learnt during the first semester of the course. Even the understanding of the modules is enhanced since we get to apply the concepts learned to real world business cases while working for renowned organisations. The three-week placement was definitely a key factor which attracted me to join Strathclyde.
So, what did you get up to?
During my placement, I was based at Systra's Edinburgh office for three weeks. I worked on three projects, contributing to data analysis, data collection and background research. I was given tasks for three different projects. Two were ongoing projects where I mainly contributed in data analysis, data manipulation and visualisation. The third required me to do secondary data collection and background research for an upcoming project.
I also attended team meetings where all the advancements would be discussed and further tasks allotted.
What was it like to work at Systra?
Working at Systra was one of the best experiences of my life. Having the opportunity to work with professionals who have years of industry experience, and being able to learn from them, made it an invaluable experience in itself.
All my colleagues were very welcoming which helped me to settle down quickly. My perspectives and opinions during the project meetings were taken into account and discussed, making me feel a part of the team.
How will you benefit from this work experience?
Starting my professional career with a company as big as Systra will definitely boost my CV by a great deal. Not only did I experience an office environment, I also learned how to maintain professional relationships. It's definitely helped me broaden my connections.
In particular, I learned how to prepare a consultancy report for a client, including and emphasising only the necessary and sufficient details while leaving behind anything that would add unnecessary clatter to the report.
This course has given me a deep insight into the industry. It's made me realise even more that I want to work and grow in this field. Interacting and working under experienced colleagues has given me the opportunity to broaden my professional network, opening new avenues in my career path.
What advice would you give to anyone considering studying Business Analysis & Consulting?
If you're looking at studying this course - do it.
The applications of this programme are endless and you can apply what you'll learn in any industry. I'd advise prospective students to understand each module in depth too. Choose your electives wisely as they give you the opportunity to create your desired profile.