Management Science

John Mulgrew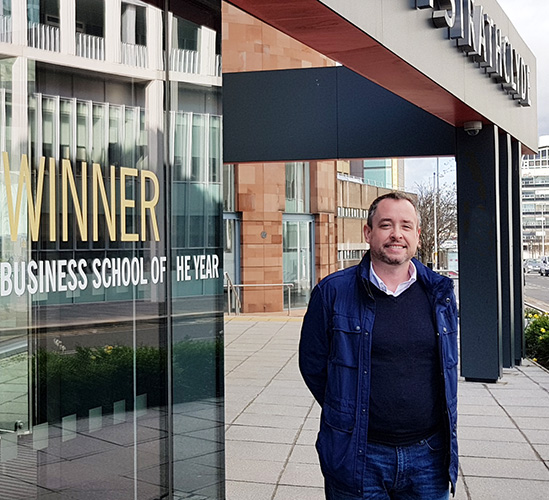 John Mulgrew
Course: DBA Management Science
Home country: USA
I worked as a project manager for the Centre for Continuous Manufacturing & Advanced Crystallisation (CMAC) based within the Technology & Innovation Centre, helping deliver pre-competitive collaboration projects from 2014 until 2018. Before coming to Strathclyde, I worked for a US based, global medical device manufacturer in operations and engineering. Prior to that experience, I spent over 14 years as an engineering and project management consultant within the life sciences sector.
I have an MBA in corporate innovation from Post University's, Malcolm Baldrige School of Business. My academic interests are in pharma manufacturing innovation, organisational dynamic capabilities, and industry/government/academic collaboration.
Why did you choose Strathclyde for your postgraduate research study?
Simply put, Strathclyde Business School is the best business school in Scotland!
Previously I worked for the Centre for Continuous Manufacturing & Advanced Crystallisation (CMAC) based at Strathclyde. CMAC and the business school were interested in linking each other's research together and this fits perfectly with my interests in innovation and organisational dynamics.
Tell us about the nature of your research?
The problem I will be researching is best practices for the pharmaceutical industry to adopt continuous manufacturing technologies (or any advanced manufacturing technologies (AMT) for that matter), - beyond the technical challenges which are being addressed by organisations like CMAC - develop a framework for making a strong business case for adoption that takes into consideration the relevant economic, organisational structures and organisational capabilities.
The end goal will be to develop a toolbox with methodologies for making the necessary assessments, developing appropriate strategies and identifying best practices for implementation by the pharma sector.
What do you like about your research area?
It has the potential to have a global impact. The golden age of blockbuster drugs is behind us and the entire industry needs to innovate their manufacturing supply chains in order to compete and thrive in the new paradigm of personalised and stratified medicines. This is no easy task and I hope to contribute the industry's ability to adapt to meet these new challenges.
What's the Strathclyde research community like?
It's impressive in its depth, breadth and diversity. I am constantly being exposed to amazing people with great ideas.
What are the Strathclyde facilities like?
The business school is a great learning space with a mix of learning and meeting spaces. The Technology & Innovation Centre is a world-class facility.
Tell us about the support from your supervisor and the wider Strathclyde team?
I am fortunate to have two great supervisors, both with complementary backgrounds that cover the areas of management science that I am interested in. They are each remarkable in their insights and understanding of management science topics and how they relate to industry problem solving.
The business school administrative team have been hugely helpful in answering my questions and making sure that I am getting the most out of my experience
What's the best thing about Strathclyde?
The industry-focused research that is having a positive and real impact on improving our world.
What would you like to do after your postgraduate research?
Either continue working with CMAC, work with start-up companies to commercialise their ideas or perhaps more broadly work in management consulting.