Civil & Environmental Engineering

Civil Engineering 4 Real
We want our undergraduates to feel more like 'engineers in training' so Civil Engineering 4 Real is project and problem based learning to help you understand and solve real engineering problems.
You'll experience real world experiences during your studies to help you understand the iterative nature (unlike studying and passing exams) associated with real-world engineering problem solving.
What is Civil Engineering 4 Real?
For the past few years, our undergraduate students have been challenged to solve real life problems. Engineers from industry have brought problems from existing contracts and have asked our students for inventive solutions.
Students attend workshops held between 5-7pm during term-time.
You'll be split into smaller groups and spend 45 minutes working on the problem brought to you by industry representatives. The groups will present their solution to the guest engineers and their fellow students.
The guest engineers will then compare the students solutions to those employed, for real, on the project.
Continuing Professional Development certificate
At the end of the workshop, the guest engineer will present you with a Continuing Professional Development (CPD) certificate (worth two hours).
The certificate represents your commitment to continuing professional development, complimenting your studies. It also should encourage you to attend the various other CPD events offered by local ICE AND IStructE committees.
What our students think
Paul Edgar (FCBC JV), Workshop: Health & Safety on a Megaproject: "It was a great insight into health & safety and it exceeded my expectations as it's showed how human psychology is used to implement health and safety."
Barry O'Carroll (AECOM), Workshop: Trunk Road Route Assessment in Scotland:

This was my first experience of a CE4R workshop and it proved to be a valuable one. It has given me a better idea of how civil engineering problems are addressed by industry professionals. It has helped me begin to alter my attitudes to my studies to better gear myself towards a career in civil engineering.

Liam Doris (Grontmij), Workshop: Civil & Structural Infrastructure of onshore wind farms: "A very interesting experience and it's good to see engineering in practice. It helps to get a feel for what you are working towards in your degree."
Richard Metcalf (BAM Nuttall), Workshop: Costing the Borders Rail Project:
Very good speakers with a vast experience in civil engineering. They transferred their experience in a positive way to make the workshop an enjoyable experience.

Our sponsors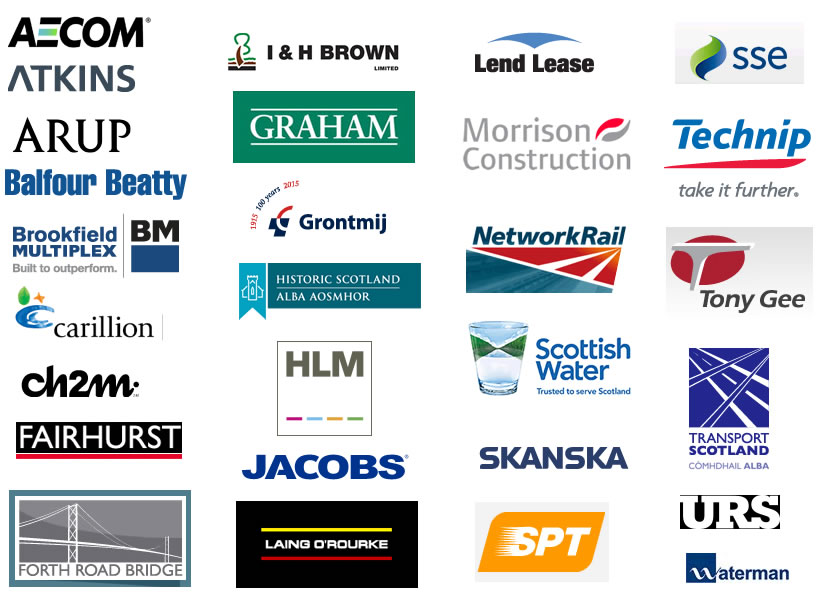 60 guest engineers have taken part in Civil Engineering 4 Real