DMEM Senior Lecturer, retiring in 2015

Gordon Mair
Where did you undertake your education?
I completed an engineering apprenticeship as a Press Toolmaker in a light engineering company called Westclox, while I was there I attended Clydebank Technical College where I gained an HNC.
I then worked as a Manufacturing Designer before leaving for the University of Strathclyde in 1972 as a full-time mature student in the Department of Production Engineering and Management (eventually to be part of DMEM).
During summer vacations I worked in industry at Ferranti, an aerospace company in Edinburgh, and Weir Pumps in Glasgow.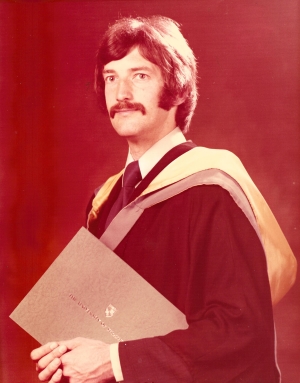 How did your career progress after your education?
After graduating I returned to Weir Pumps as a Production Supervisor responsible for quality control and supervision of a small workforce manufacturing a specialist pump range.
Just over one year later I moved to Prestcold Ltd a manufacturer of refrigeration compressors as a Manufacturing Manager. Here I was responsible for all production processes including approximately six hundred production workers - this gave me my first taste of industrial relations problems!
Two years later I moved to Honeywell Special Products Group again in a manufacturing management role.
Why did you decide to work at the University of Strathclyde?
In 1980 the Honeywell factory closed therefore I needed a new job. Also I had always wanted to teach in a University. I saw the advertisement in a newspaper, explaining that the department where I had studied for my degree was looking for someone who had expertise in industrial robotics. As I was interested in automation and an avid reader of science fiction I convinced the interview panel that I was the right person for the job.
There was quite a bit of self learning involved that culminated in the production of my first textbook "Industrial Robotics".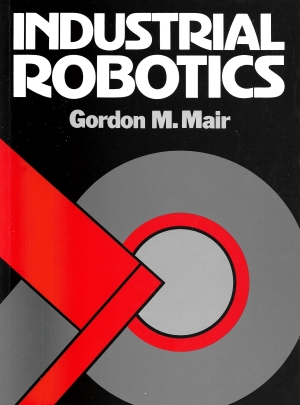 Getting the job was like getting paid for my hobby. Below is a picture of me teaching with the Department's first robot.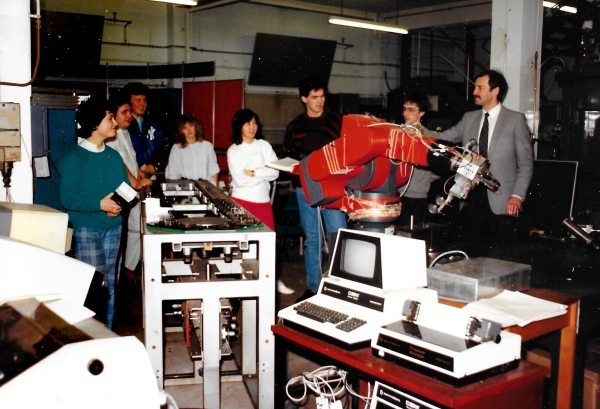 Tell us about your roles in DMEM and the main projects you worked on?
In my early years in DMEM I was focused mostly on teaching although I also undertook consultancy work for industry on behalf of the University through its "Technology Transfer Centre".
In 1993 my second textbook "Essential Manufacturing"" was published which was also translated into Mandarin. In the following years I spent my time pursuing research, teaching, and undertaking administrative roles such as being Director of Facilities and Director of Teaching and Learning etc.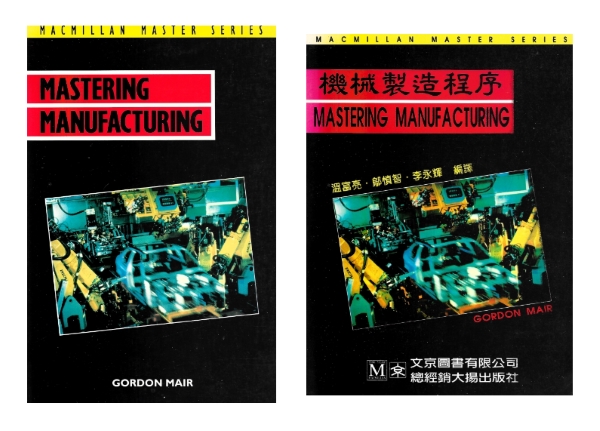 My main research interest began when I was asked to design a robot head for the Robot Olympics held in Glasgow in 1990. Below is my robot sketch and the finished product.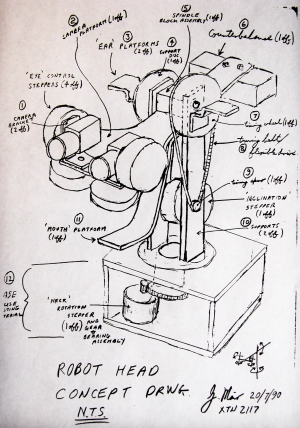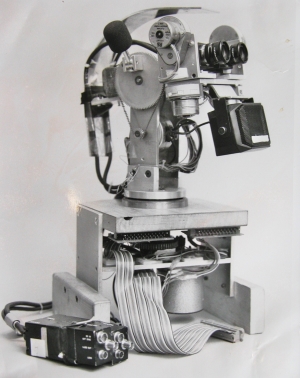 Subsequently I had a PhD student, who was interested in robotics and was amenable to work on a new anthropomorphic robotic head. I also had a colleague from the Department of Computer Science who had some funds for the equipment necessary. Cutting a long story short I was able to steer the project towards the production of a telepresence system which involved slaving the head to a head mounted display with a head tracking sensor.
With more significant funding through a grant we were able to develop a system that included a telecommunications link between the robot head and the head mounted display. My goal was to create a truly immersive experience where the system user could see and hear in stereo what the robot head was seeing and hearing.
I coined the term transparent telepresence and defined it as "the experience of being present interactively at a live real world location remote from one's own immediate physical location".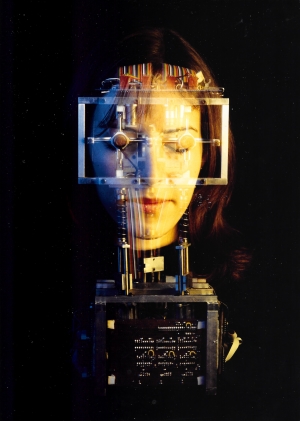 As time progressed and further funding became available by the mid 1990s I had formed my own research team called the Transparent Telepresence Research Group or TTRG.

This team comprised of full time researchers and PhD students and also provided projects for final year undergraduate and postgraduate students. They made a great team and all had complementary skills and personalities, the research would have been impossible without that combination.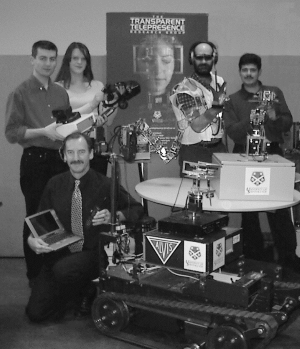 Funding of over two million pounds came from both government and industry and I had collaborative projects with the Departments of Computer Science, Architecture, Civil Engineering, Psychology, and Mechanical Engineering. The work of the group attracted much publicity and over the years there were many newspaper articles and television appearances including a popular science show called Tomorrow's World.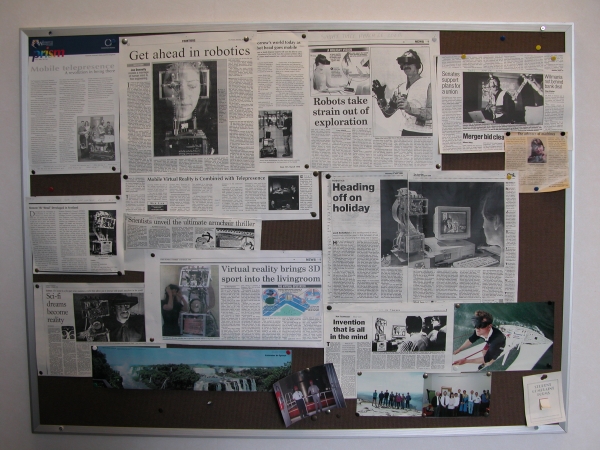 I formed a spin-out company in 2001 to exploit some of the technology we had developed for low bandwidth telepresence and teleoperation over mobile phone networks. This was a fascinating time as it involved creating a business plan, seeking out investment mostly from venture capitalists who usually wanted significant equity in the company, creating confidentiality, licensing and collaboration agreements, determining our unique selling points, and so on. However although I enjoyed the experience, I decided to dissolve the company in 2006 for a variety of reasons. Of course the teaching and administrative work was always continuing – life was never boring.
Also through the years 1997 until 2014 I was appointed as an expert on the European Commission Future and Emerging Technologies (FET) programme where I participated on international panels to review project proposals and carry out technical audits of current projects. This was demanding but also very enjoyable as it involved visiting various European cities for the reviews and audits and meeting lots of interesting experts from a wide range of countries, disciplines, and backgrounds.
Below is a picture taken in Vienna where I was trying out an early augmented reality system.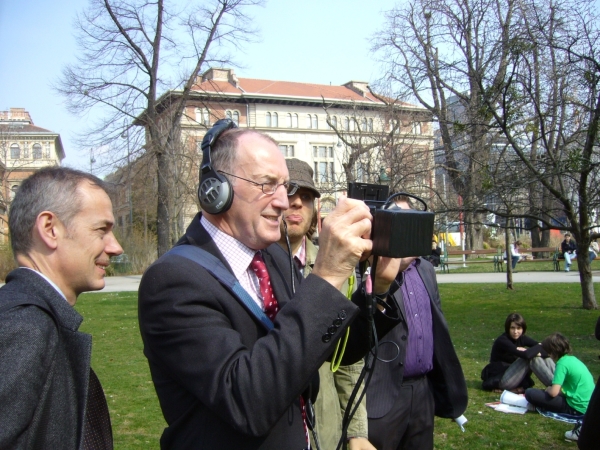 What was it like working in DMEM?
Since retiring from DMEM in 2015 as a Senior Lecturer (with a few academic accomplishments to my name - BSc (Hons), DipMS, CEng, FIET, FHEA) I miss the vibrancy of working every day with students and staff.
The students are generally inspiring with their enthusiasm and fresh approaches to problems. They can be original in their ideas with no depressing "it's been tried before and it didn't work" attitudes. They are more likely to say "I have a great idea I want to try it!" and this creates a really lively and refreshing environment in which to work. The students had a good esprit de corps supporting each other and organising social events. Also the wide range of experience and disciplines of the staff in the Department produces a unique dynamic.
There are experts in design, manufacturing technology, mechatronics, operations management and many others, all able to contribute their own insights into the DMEM mix.
How has DMEM progressed over the years?
Over the thirty-six years I have been in the University of Strathclyde, DMEM has grown in numbers and scope. The number of students has increased at both undergraduate and postgraduate levels. The work environment brighter for both students and staff with excellent study and breakout spaces created for students after the relatively recent refurbishment.
Why do you think engineering is an exciting industry to get into?
I have found it always stimulating as both technology and society constantly develop.
This means that the design and manufacture of products has to be always carried out with an awareness of available and emerging technologies and consumer demands. It has also meant meeting interesting people of many nationalities both within the Department and through travel throughout the world to conferences and participating in other professional activities. For example, work has taken me to North and South America, Asia, Europe, and Australasia.
There is also tremendous scope for creativity and I particularly experienced this with the creation of the telepresence research group and the associated technology development and the spin-out company.
Tell us about your book?
In my new book "Essential Manufacturing" that was published this year (2019) by Wiley I try to emphasise how manufacturing is essential for our economy and I introduce the essential elements of manufacturing technology and operations management. Some of the fundamental material was included in my earlier book but I have new material for example additive manufacture, industrial vision systems, virtual and mixed reality, comments on Industry 4 and so on.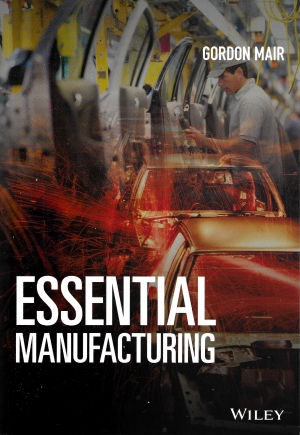 What are you most proud of when you think back about your career?
Proud is perhaps not the correct word, I would say I have been really pleased to have created the Transparent Telepresence Research Group, written my textbooks, and contributed to the education of a number of generations of future engineers.
What would you say to someone considering working in or studying within DMEM?
For students, enjoy the experience of a very varied mix of enthusiastic people, both fellow students and staff, enjoy the facilities including the new sports centre, I still use it for badminton! Also be creative and don't be afraid to do something really different, it's more fun that way!
For someone considering working in DMEM, see what I said for the students.
Finally, for any students who have taken the time to read this page, be excited about your future. Old folk only talk about what they have done (see above), young folk talk about what they will do! I know which one of these is the more exciting!!