Head of Procurement at Standard Life Assurance

Kirsteen Smith
Why did you originally pick the University of Strathclyde as an institution?
Strathclyde had a great reputation for its technical heritage and facilities.
As soon as I attended an open day I was sold.
I liked the range of course options on offer and felt the addition of the practical labs gave credibility to an engineering degree. The location is also a big advantage.
Why did you pick your course?
I'd originally been accepted for Mechanical Engineering but in my first week I decided to make the switch to DMEM due to the broader nature of the curriculum and the focus on management. It seemed to align very well to the needs of the technology sector in Scotland at that time. I was lucky enough to be sponsored by Honeywell during my degree so I could see how the course directly aligned to the needs of the business and future career opportunities.
How did you feel studying a degree in Manufacturing and Engineering as a female?
Before settling on engineering I'd attended a summer school at Robert Gordon's in Aberdeen for girls. This gave me the chance to meet other girls who had similar interests and I met women who were working in various engineering fields. So being the only female on the Manufacturing Engineering and Management course for the first couple of years wasn't a surprise nor was it an issue. I was proud to be part of the drive to make engineering more accessible to all and to recognise that I could do the work just as well as my male counterparts.
What was it like studying in DMEM?
I was delighted with the course. It was certainly hard work as the volume and demands of the classes, tutorials, workshops and the summer classes were pretty intense and a full timetable. The support within the department was great as our lectures made themselves available for questions. I also fondly remember the common room which was a great place to catch up.
What key skills did you learn as part of your studies?
I have worked in a number of roles since graduating from DMEM and have been in Financial Services for a lot of that time.
An engineering background equips you with a methodical approach and a way of tackling problems that is applicable in any role or industry.
The ability to deal with complex equations, programming and dealing with highly technical equipment gives a confidence in being able to do anything.
Where has your career gone since you have left?
After Strathclyde I got a job with Honeywell as a Master Scheduler. Then I moved to Sun Microsystems for the next 10 years in a variety of roles including Programme Manager and Commodity Manager which gave me the opportunity to work in the US.
During this time I also returned to Strathclyde to do an MBA at the Business School. I did this through the three-year part time route and even with a portion remotely as I was working in the US. I also got married over this time and had my first child. That's where my career in Procurement started. I then moved to RBS as a Sourcing Manager and had my second child during that time, and later moved Prudential as a Senior Procurement Manager.
After 15 years in Procurement I took a break and headed up a regulatory project for a couple of years to improve customer communications. This was a great move to see how procurement is viewed from the business side and gave me a better context for the role and the service Procurement provide.
I'm now Head of Procurement at Standard Life Assurance in Edinburgh.
What are your ambitions for the future?
This is a new role for me so my ambition is to settle into this role and drive the transformation for the department to meet the changing needs of the organisation.
Why do you think procurement is an exciting profession to get into?
Procurement is a fantastic profession to be in and I highly recommend it.
We're involved in so many aspects of the business and drive the commercial and legal requirements, value, risk management and an understanding of what you are buying. The regulatory focus in so many industries means that procurement professionals are core to keeping the business safe as well as driving value from any sourcing activity.
What would you say to someone considering studying in or working with DMEM?
I highly recommend DMEM.
It offers such a relevant range of skills for national and international business in a variety of sectors. Not only the technical elements but in how to approach problems and business requirements in any sector.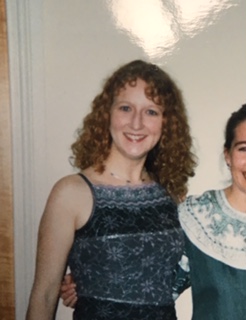 Here is a flashback to my DMEM days!