Owner, Motion Technology Services Limited

Martin Fitchie
Why did you pick the University of Strathclyde as an institution?
When I signed-up, I had no idea of the impact that the University of Strathclyde and the city of Glasgow would have on the rest of my life!
I chose the University of Strathclyde because it was only one of few that offered this type of Product Design Engineering course.
It greatly appealed to me and it was cutting edge.
This coupled with the University's reputation and heritage, it's geographical location and the lure of Glasgow as a transforming and exciting city, were the key drivers for me.
Why did you choose your programme?
I enjoyed both technical and art subjects at school. The Product Design Engineering course was an ideal choice for me, combining the opportunity to express my creative side within an engineering context.
In the years since, I've realised how important my small group of undergraduate peers, who came from many different backgrounds, were to me. We worked closely together on many projects, sharing ideas and helping each other learn. The relationships we developed hold true today, as most of us are regularly in touch 20 years on!
I graduated in MEng Product Design Engineering before continuing to study for my PhD within the department's CAD Centre.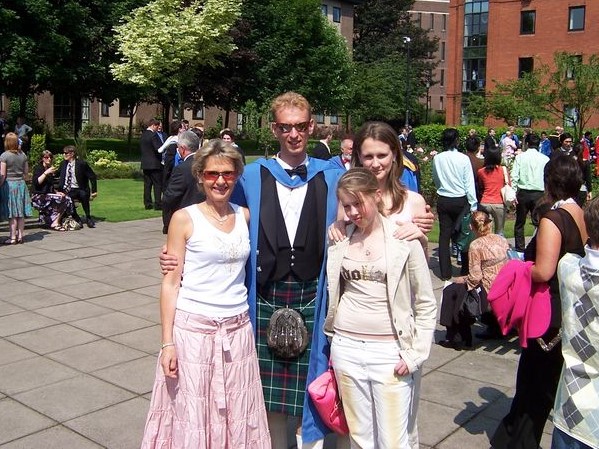 Did you gain any additional experiences throughout your degree?
As part of my degree I spent one summer on placement within the Oil and Gas industry with Ferguson Group who are one of the most successful modular container companies worldwide. The best thing about working within a 'real-world' environment was the realisation of the value of 'knowing what you don't know'! Reciprocally, I witnessed what I had learned in my degree could be successfully applied to the business environment. It was greatly satisfying when the company's Director told me he had been impressed with how I had presented a 'design process' and it was something he wished to implement for the future in the company.
In my final year I was fortunate to have the opportunity of an Erasmus 'Stage' at the The École Nationale d'Ingénieurs de Tarbes (ENIT) in the south of France. Aside from the benefits of the second language experience, it was fascinating to see the similarities and differences in the way engineering was taught between Scotland and France. The overall experience of living and studying in a foreign country left me with a huge passion for travelling and working overseas that I went on to live. Many of my favourite memories remain with me from my time in France.
What was it like studying in DMEM?
I fondly remember the 'DMEM family' atmosphere.
The lecturers and support staff were always accessible. It was a small group that was well integrated. Who could ever forget the technicians, who wanted to see your projects realised at least as much as you did yourself!
Being imbedded within the wider globally renowned Engineering faculty meant there was a wealth of expertise, knowledge and equipment to hand. DMEM is well integrated across the other faculties and within industry, be it Architecture, Mathematics or Medical – it was one of the great advantages of taking a subject with so many touch points.
What key skills did you learn as part of your studies?
The versatility of the design process, that was the core and backbone of our studies, cannot be underestimated. I realised how the fundamentals of this process, of identifying a need through to realising a design, could be applied to any product or service. Having this understanding gave me the flexibility to consider a wide range of business landscapes and not be restricted to a single application area.
My engineering background was invaluable to the first company I worked with.
I was able to oversee infrastructure installation at events as well as managing the testing and data entry, something that someone with a sports background alone would not have been so well equipped for.
Why did you decide to do a PhD?
After graduating I felt my academic goals had not been fully realised and that there was something missing in terms of achievement and learning. At this same time a research opportunity arose within DMEM's CAD centre that was within the automotive industry that was an area of interest to me.
How did the PhD benefit you and your career?
My career quickly departed from my PhD subject of automotive engineering design and data visualisation but the skills that I took with me proved invaluable. Writing my PhD thesis taught me how to produce concise documents and clearly laid-out strategic plans, to benefit my clients and colleagues. Even my understanding of data visualisation came into its own last year when I was able to provide expert advice to one of the biggest European sports federations on how to present newly available athlete performance statistics in intuitive and attractive ways on TV. The developed graphics can now be witnessed on the live televised events.
Where has your career gone since you have left?
Through my involvement with the Centre for Sports and Recreation, I started doing data entry at live, televised athletics events in the UK. The work quickly developed, and I was soon travelling to the world's best sporting venues delivering services for the IAAF, UEFA and the Rugby World Cup, to name a few.
Following a stint managing a contract for TV graphics for the Scottish Premier League, I decided to follow one of my sporting passions and qualified as an Alpine Ski Instructor to teach in Zermatt for 2 years. I relocated from Switzerland to Vancouver to work on the 2010 Winter Olympics where my responsibility was to oversee the delivery of the timing, scoring and results services for the Snowboard events. London 2012 followed, where I worked on the Sailing event, Radio Frequency management and the development of procedures for the Olympic Games.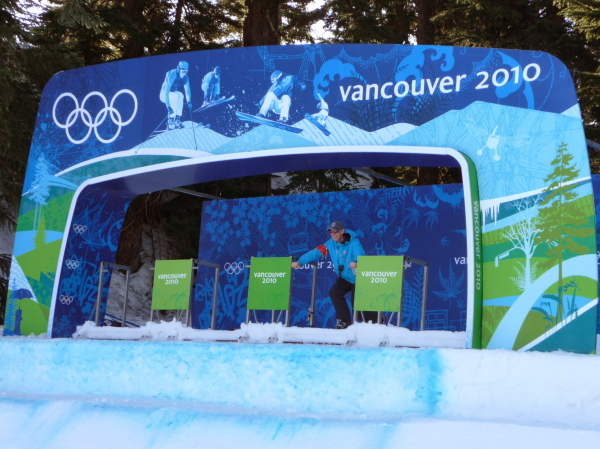 When the Glasgow 2014 Commonwealth Games were announced, it became my ambition to head the Results Technology Service in my 'home-town'. I realised this ambition and returned to Glasgow. I was responsible for end to end planning and delivery, with a team of 30 staff, 170 contractors and 400 volunteers. I knew the volunteer team would benefit greatly having people with technology experience and an understanding of sport. To achieve this, I turned to DMEM, presenting the roles to students within the new Sports Engineering degree and ultimately benefiting from some highly skilled and motivated students!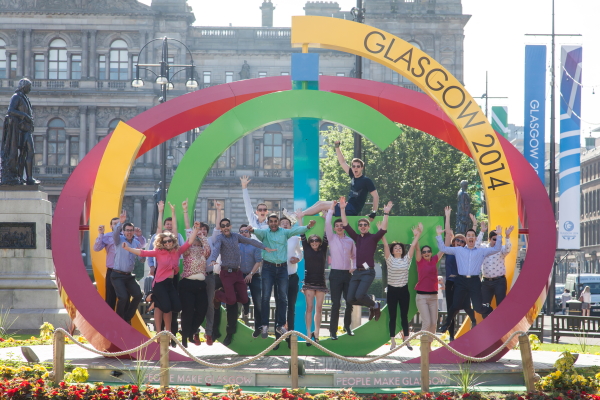 The challenge of sport has always played a core part of my personality and in 2016, I returned to Zermatt to celebrate my 40th birthday by fulfilling a childhood dream of climbing the Matterhorn.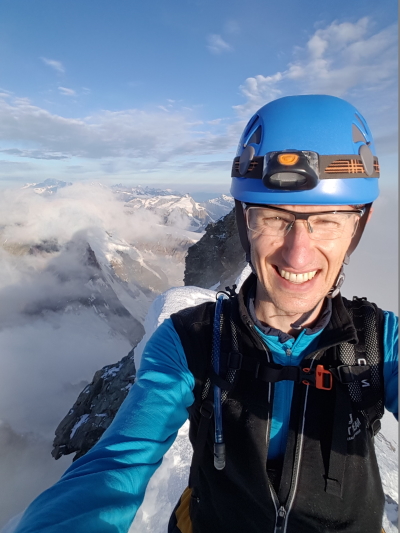 Glasgow, renowned and ranked as one of the world's Ultimate Sports Cities, announced its intention to co-host the inaugural European Championships with Berlin in 2018. This was an innovative event with a sustainable model and the potential to become one of the biggest events in the multi-sport calendar. Following a short conversation in a Glasgow pub at the end of 2014, I found myself as the Head of Technology for the Championships, tasked with creating and overseeing a strategy that would prove to be critical to the success of the Championships and how its story would be told to the athletes and the public throughout Europe and the world.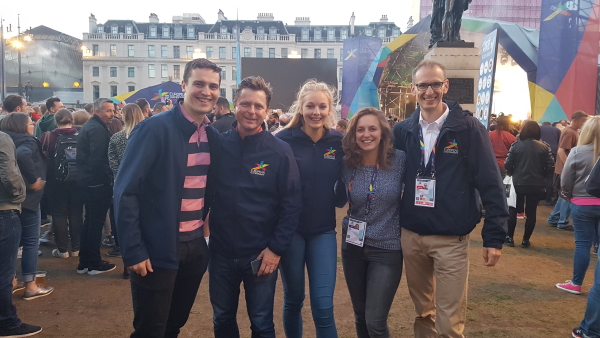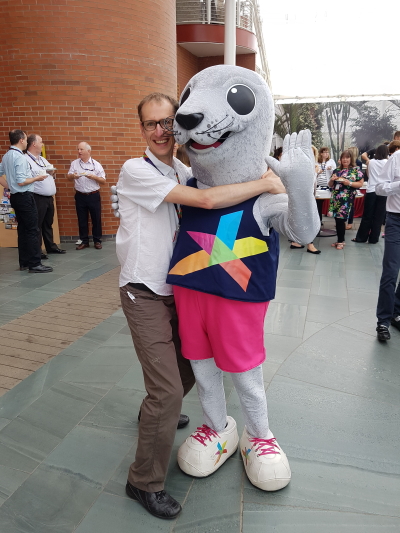 What are your ambitions for the future?
Following the European Championships, I decided to set up my own consulting business where I could use my ability and experience to help organisers understand and deliver the technology for their events. Cue Motion Technology Services Limited, that incorporated in early 2019.
Motion Technology Services is currently consulting for Glasgow Life and the Olympic Games technology partner, Atos.
Last week I met up with an old colleague at an event in Italy and agreed a collaboration to provide state-of-the-art chip-timing services in Scotland and the UK. This week I am attending the National Events Conference in Gleneagles where I hope to contact my first clients for this service.
What excites you about the future of technology and business?
My work has given me the opportunity to interact with many interesting organisations and leading suppliers and innovators in timing and scoring, broadcast, networking and communications technologies.
Earlier this year I was invited to the Yahoo Sports Technology Awards in London by AVID who were nominated for their innovative approach to delivering technology for the European Championships. It was fascinating and hugely inspiring to see the wide variety of products and services of the other nominees and winners, ranging from sport performance devices, broadcast content enhancements to athlete welfare applications.
As the future of manufacturing becomes more automated, we are turning into a world of consumers where entertaining each other will be at the heart of society. This is already being seen with the rapid rise in digital media and online content and it is witnessed in the growing sports industry. The sport industry's reliance upon technological solutions and consumption of data is ever-increasing along with the size of the industry itself. It could not be a more exciting time to be involved!
If you could tell your 18-20-year-old self some advice, what would it be?
I would love to be able to go back in a time machine and try all the different avenues and opportunities that presented themselves.
But given this is not possible, I cannot look back and regret any decision. What is important to me is to appreciate my experiences and the lessons they gave me, and to value what can be learnt from the people who we interact with throughout the journey.
What would you say to someone considering studying in or working with DMEM?
Talk to as many people as you can in the department to get a real feel of what the course is about and what makes the department tick. Take a wider look at the University and what interests you that can supplement, complement or balance your life while you are studying or working with DMEM.
Glasgow is a city of transformation. Get out and take some time to explore it and get a feel for it. You will discover the innovative and friendly nature of the city is threaded throughout the heart of the University.