CEO, The Leadership Academy of Barcelona

Steven MacGregor
Why did you decide to study a PhD with us?
I always say I had two lives at DMEM, before and after joining the sports union.
I first did an MEng in Product Design Engineering and perhaps enjoyed myself a little too much with student life! I eventually joined the Uni Harriers in my 5th and final year and was eager to return to competitive athletics after racing a lot growing up in Motherwell.
I thought the PhD would give me an excellent opportunity to push the boundaries in sport and resolve a feeling of unfinished business during the MEng. I also enjoyed the final research project of my MEng, had a good relationship with my eventual supervisor Avril Thomson and we won a grant to fund a PhD – so all the ingredients were there.
I had a fantastic time in this "second life" and would captain the University Cross Country team and Scottish Universities select, gaining a Double Blue in Athletics and Duathlon and progressing the second year of the PhD in Stanford and Carnegie-Mellon.
DMEM and Strathclyde, with massive influence from the Sports Union and Deputy Head of Sport Anne-Marie Hughes, gave me the perfect platform to do both my studies as well as my sport.
Why did you pick the University of Strathclyde as an institution?
The initial choice goes back to 1994 when leaving school to start the MEng.
I don't think I was ready to move far from home and Strathclyde was a natural choice given its proximity and excellence in Engineering. I felt most at home after my first visit there and though I had another few choices my father died suddenly in the summer after leaving school, so the 'home' theme became even more important.
What was it like studying in DMEM?
I loved the autonomy, freedom and informality of the department while always encouraging the highest standards of excellence.
It really was like a family and no-one took themselves too seriously.
Fun and learning went hand in hand.
What key skills/approaches did you learn as part of your studies?
I feel privileged to have learned about design in a globally renowned centre of excellence. This has given me the creative confidence necessary to succeed at a time when design thinking has become so popular in the areas of management and leadership in which my career is based.
One of the key areas I learned at DMEM is not to be afraid of experimentation and not getting it right first time. As time has gone by I increasingly value the importance of failure. I saw a quote recently that said "success is a carefully curated set of failures" and the mind-set necessary for that to happen was forged for me at DMEM.
Where has your career gone since you have left?
The week after defending my PhD I moved to Spain with no understanding of the language and two suitcases. That was March 2003 and I still vividly remember landing in a noisy Bilbao to start a post-doctoral position in the Mondragon Cooperative. I stayed 18 months between San Sebastian and Bergara before moving to Catalonia, with the very Scottish weather of the Basque Country a key factor!
I've lived a very entrepreneurial existence in Girona and now Barcelona since then, first founding a cycle tours company and teaching at different business schools and Universities before founding The LAB in 2007. I pioneered the teaching of health and wellbeing at IESE Business School, ranked number 1 in the world for executive education by the Financial Times, and have written a couple of books in the health, wellbeing, and performance space.
I've been fortunate enough to continue travelling and teach different cultures, from Shanghai to Doha and Buenos Aires.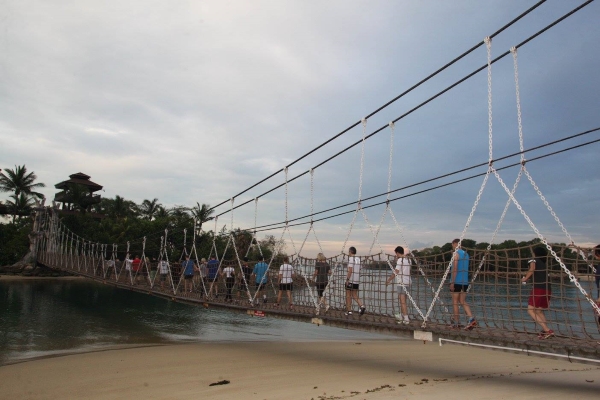 A photo of me taking executives on a sunrise mindfulness walk before class on Sentosa Island in Singapore in 2015.
We've delivered our Sustaining Executive Performance program to over 20,000 managers worldwide.
Other memorable experiences include delivering a keynote in Spanish to over 1000 attendees in Lima and appearing on BBC Business Live in London to talk about the importance of sleep for business performance.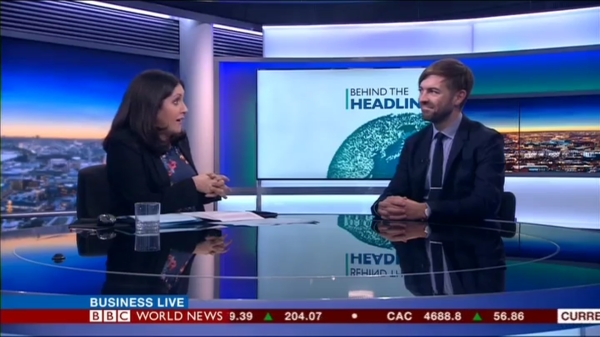 I'm still working it out. I run a small business so have all the usual pressures of that, but most of the time its great fun. No one day is the same. I could be travelling, delivering content in a program, writing, building client relationships, developing a proposal, doing research, or interviews.
Go on, make us jealous, what is it like living and working in Barcelona?
It really is a great city to live in. Not too big but still loads to do. The quality of life is very good and culturally speaking Catalans and Scots can be quite similar. At times there isn't quite the critical mass of business and so travelling to the big global cities is necessary.
Having said that there is solid growth in key sectors with a burgeoning entrepreneurial scene and increasing influx of talent from abroad. We live near the Camp Nou so to see Messi in action now and again is a true privilege.
I also run for the club. Of course everyone knows the football team and they have other professional sports like basketball and amateur sports including athletics. I'll see a lot of the first team at the new "Masia" when I go for physio or a check-up and I joke that I'm the first Scotsman to sign for FC Barcelona since Steve Archibald!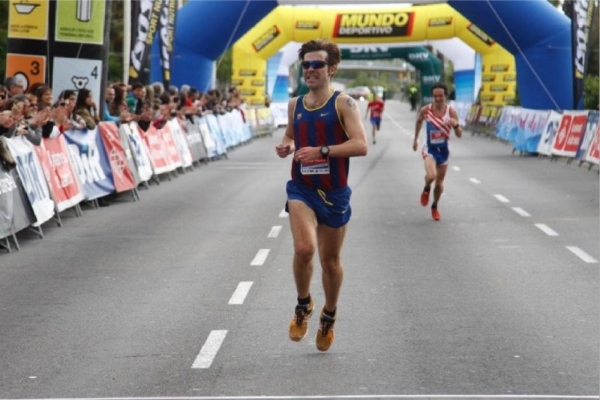 What are your ambitions for the future?
I simply want to impact positively on peoples' health. As many as possible.
I'd also like to bring that closer to home at some stage, since my actual exposure to Scotland since leaving DMEM has been quite limited. And of course keep learning and having fun. The great thing about the area in which I work is that it forces me to keep mindful of my own health and wellbeing.
What excites you about the future of the business sector and work?
I think we live in a fascinating age. Plenty of challenges of course, but so many opportunities to make the world a better place. The opening chapter in my last book was called "The best time to be alive" and I think design and health have a massive part to play in helping us all continue to move forward.
If you could tell your 18-20-year-old self some advice, what would it be?
I have no regrets, though I would emphasise on: never be afraid to try and fail, trust your gut, and cherish friendships.
What would you say to someone considering studying in or working with DMEM?
Go for it. The experience will last forever. And join the Sports Union.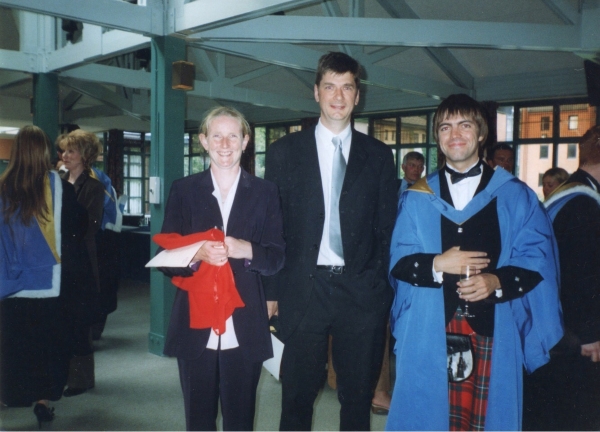 Steven MacGregor Quick Facts
One of the world's top experts on leadership, health and wellbeing in the work environment.
Taught over 20,000 executives through the 'Sustaining Executive Performance' program, including the IMD in Lausanne, CEIBS in Shanghai.
Founder of The Leadership Academy of Barcelona (LAB) delivering global programs for clients that include McKinsey, Salesforce, and Santander.
Author of 6 books, his latest book, 'Chief Wellbeing Officer', published in 2018.
Keynote speaker and guest professor in several of the world's leading business schools.