Undergraduate award

David Cunningham Quality of Life Award
The David Cunningham Quality of Life Award is an award honouring David Cunningham, our department's highly respected Director of Operations. David sadly died on Saturday 8 October 2016, at the age of 47, following a yearlong battle with brain cancer.
David Cunningham
David joined the University in 2004 as Technical Support Officer and Line Manager for the our technical team. In 2007 he was instrumental in establishing a new Digital Design & Manufacture Suite on level 3 of the James Weir Building. This space brought together CAD, 3D printing equipment and scanning technologies creating a resource that's still unique in Scotland today.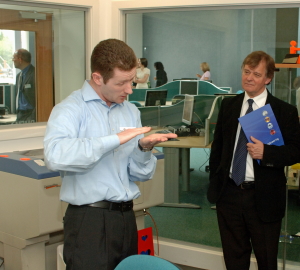 In 2008, plans for the development of the Advanced Forming Research Centre (AFRC) at Inchinnan were drawn up. David was involved in the design, construction and commissioning of the new building and the centre's equipment. David cemented his reputation as a highly effective project manager.
In 2011 he was asked to join the Faculty's team, involved in the Weir Advanced Research Centre (WARC). As the WARC Project Manager, David chaired the weekly project meeting. The intelligence, rigour and good humour he brought to this task became cornerstone of the Centre's success.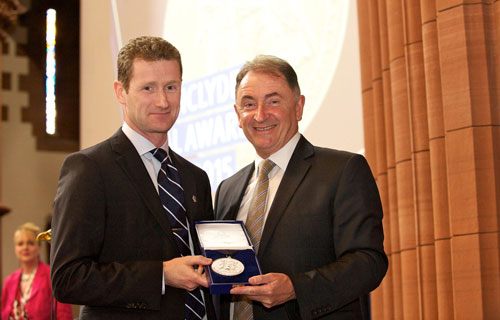 In 2012, David was appointed as Director of Operations in DMEM and led the Department's operational activities in IT and admin, as well as technical. In 2012, the James Weir Building suffered extensive fire damage and David played a crucial part in the aftermath, ensuring the Department was able to continue to function during this challenging period.
In 2014, David was a Strathclyde Medal Winner for recognition of his contribution as a "Major force in leading operations". He undoubtedly epitomised the values underpinning this accolade. We miss David every day here in DMEM and in the wider University community. However we know we're privileged to have had the opportunity to work with such an outstanding colleague and friend, and to have this award to pay homage to David.
The Award
The focus of the Award is on 'the improvement of quality of life' through product design, manufacturing or engineering management. Quality of Life can be perceived as the quality of an individual's daily life or of the lives of communities. This takes into account physical, emotional and social aspects, and can be across a range of areas, like: reducing dehydration in dementia patients shaping of prosthetics purification of water in developing countries reducing childhood obesity improving quality of life in impoverished communities through new supply chain models, etc.
Who's eligible?
The Award is open to any student in Years 4 and 5 who's undertaking an individual project which addresses an issue relating directly to improving quality of life. The winner will receive £500, a certificate and a great addition to their CV!
Award Partnerships
This Award was created in partnership with the Weir Group and ENABLE Scotland.
Theresa Shearer, CEO of ENABLE Scotland added, "ENABLE Scotland has a long and proud history with the University of Strathclyde, where we see a true alignment of our own values and mission for an equal society, with the ethos of the University as the place of useful learning to enable this. We are therefore delighted to support the David Cunningham Quality of Life Award."
So how does it work?
Register your interest by emailing us with:
1. your name and project title
2. a short description of how your product/process intends to improve quality of life. This should include:
an outline of the context
the nature of the problem
a note of the beneficiaries (approximately 500 words) the quality of the project
Deadline
What happens next?
We'll shortlist based on the above. A panel of representatives from DMEM, Weir Group and Enable Scotland, will select the finalists in April.
And then?
Final presentations will be in May. Finalists will be invited to an interview to discuss their idea in greater detail. You'll chat about your final solution, its contribution to quality of life and what the award would mean to you. You'll have 10 minutes.
A winner will be selected, assuming the candidate meets the requirements of the Brief and is deemed to make a distinctive contribution to an aspect of quality of life.
Previous Winners
2019
Liam Green 'Improving stress and anxiety in young adults on the autism spectrum'
"Sensegg is a smart tactile stimulation device for young adults on the Autism Spectrum which aims to provide tangible engagement and teaching of controlled breathing methods which recent studies have shown can greatly help Autistic individuals control heightened stress and anxiety. Sensegg aims to teach the user these beneficial controlled breathing techniques with the long-term goal of improving mental health and the ability to cope during difficult situations."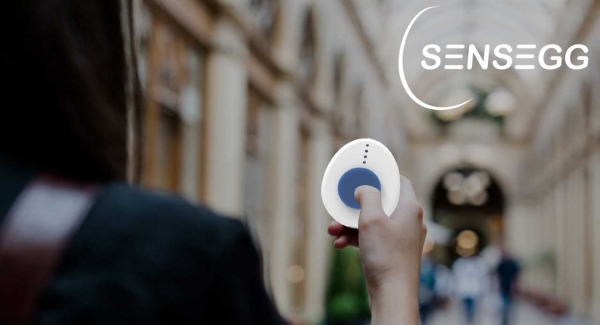 "Sensegg makes use of modern technology, ergonomic and human-centred design to create a physical product and mobile application which makes the theory of controlled breathing techniques more tangible and easier to understand for autistic young adults.
"Much of the research for this project involved engaging with primary users and stakeholders throughout the design process not only to learn first-hand about their experiences with Autism Spectrum Disorder but also to allow them to provide feedback on the design and project direction.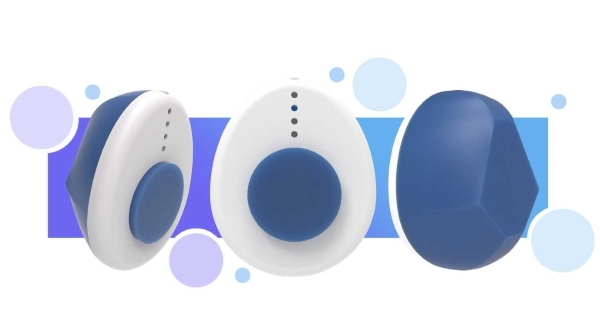 "The physical product is made from a soft-touch toxic and allergen free silicon which the user can grasp and hold to relieve physical stress, once activated the product simulates a controlled breathing pattern using haptic feedback which the user can follow with their breathing. Sensegg helps by acting as an object of focus to keep the user engaged in their breathing during distressful situations.
"The user can connect the device to their smartphone to control the vibration settings for their device to suit their individual needs or preferences. The mobile app is also designed specifically to help the user understand the benefits of controlled breathing and allow them to track their progress, keep an anxiety diary and better understand their mental health and emotions. During the development of Sensegg, the product also showed potential to help individuals who suffer from panic attacks or heightened general anxiety."
2018
Bethany Ripley 'Improving postural stability for Parkinson's disease patients'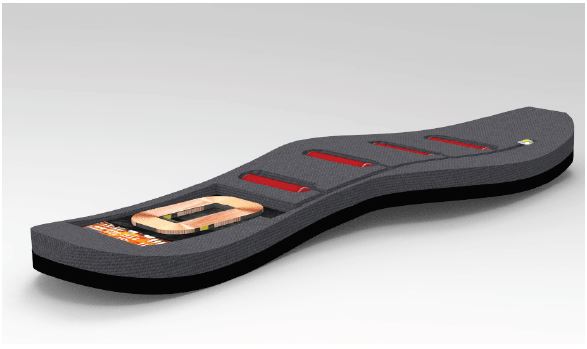 "I developed a vibrating insole harnessing the positive effects of vibration therapy through the inclusion of multiple low-frequency vibrators.
"The insole has been designed to sit discretely within a users shoe, avoiding unwanted attention.
"The product I designed stimulates the body's tonic vibration reflex. This creates sustained muscle contractions like those elicited during vigorous exercise. By stimulating this reflex, you're heightening the user's sensory perception. This decreases their likelihood of falling. By continually stimulating the muscles, you can improve the users blood flow, in turn decreasing the likelihood of resting tremors, and again relieving a factor of poor postural stability.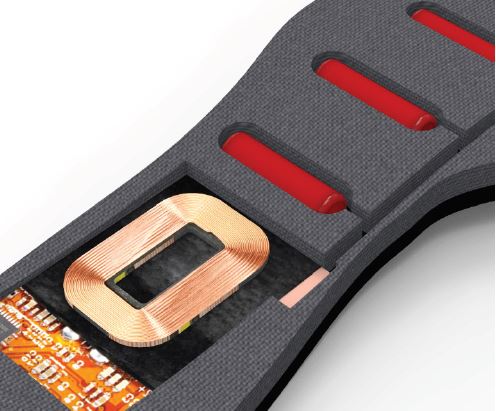 "The product has undergone initial testing. So far, this revealed a likelihood of decreased postural sway when using the vibrating insoles. The testing has also demonstrated an increase of muscle activity induced by the vibration. This shows promise of providing a viable solution to the identified problem.
"During my research phase, I was told that 'sometimes asking for help feels like they're [patients] admitting defeat to illness'. My product aims to provide the user with some control over their symptoms, and in turn give them back some of their much-craved independence and quality of life."