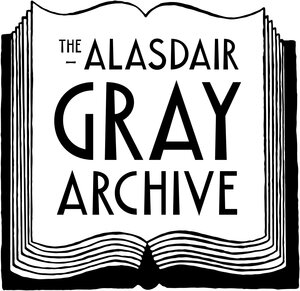 The University of Strathclyde's Creative Writing team are delighted to announce 'LANARK &', the 1st International Online Alasdair Gray Symposium, which will take place on 23rd April, 2021, 15.00-18.00 GMT. This event is timed to coincide with the 40th anniversary of the publication of Lanark, Gray's seminal novel, by Canongate Books back in 1981. It is open to artists, writers, critics, academics, fans of Gray's many works and especially to students, both undergraduate and postgraduate, inside and outside Scotland. Featuring academic responses, creative commissions, recordings and discussion panels, the Gray Symposium will finish with the announcement of the Call for Papers for MAKING IMAGINED OBJECTS - ACROSS SPACE AND FORM, The 2nd International Alasdair Gray Conference. This will take place in 2022.
Register in advance for THE ALASDAIR GRAY SYMPOSIUM here.
NB:
The 2nd INTERNATIONAL ALASDAIR GRAY CONFERENCE will be hosted by the Universities of Strathclyde & Glasgow in June 2022. The conference has two keynote speakers: Jenny Brownrigg (Exhibitions Director, GSA) as well as the internationally renowned, multi-award-winning novelist, short story writer and long-time Gray support, Ali Smith.