Our Mooting Society is one of the most successful in Scotland. With opportunities to travel and socialise with a wide legal network, it's a great way to kick-start your legal career, testing your court room skills while you study.
What is a moot?
A moot is a fictional legal case which usually centres around a simulated appellate court case
The word 'moot' can be traced back to the Anglo-Saxon era of British history. The meaning has evolved slightly over time and today, we understand the term 'moot' to refer to a fictional legal case which usually centres around a simulated appellate court case. It differs from a mock trial because a moot does not feature a jury or bench trial. Therefore, a moot court will not hear from witnesses, feature cross-examination or the presentation of evidence. The case will typically be arranged as an appeal from a lower court focused solely on the application of the law to an accepted set of evidentiary assumptions and facts to which the competitors have already been introduced.
How does a moot work?
Student moots normally consists of two teams of two mooters.
Each team makes submissions (presents) their prepared arguments to a judge or bench of judges (who are sometimes aided by a clerk). Each team consists of a senior counsel and a junior counsel, with the senior counsel usually speaking for longer and on the more contentious legal issues.
The order of the speakers and the time allocated to each will vary across competitions and jurisdictions. As a guide, in our internal competition junior counsel has 10 minutes and senior counsel has 15 minutes.
The judge has three tasks:
to probe each of the mooter's arguments
to decide who has won the legal argument
to decide who has won the moot
Most often it is the team which displays the superior advocacy skills who will triumph and not the team with the winning legal argument.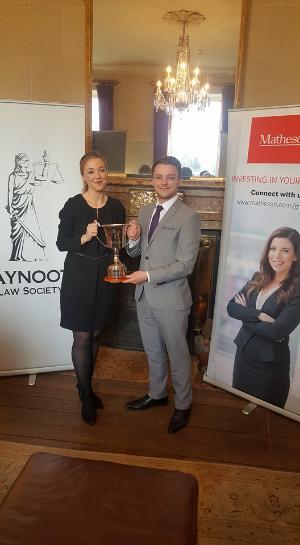 Why moot at Strathclyde?
Win work experience at a leading law firm
In the past, winners have been fortunate enough to win short periods of work experience with our sponsors. This has included the global law firm CMS and is an invaluable opportunity to get your foot in the door, experience working life and make contacts in a leading law firm.
Increased career prospects
Extra-curricular activities like mooting will help you to stand out from the crowd.
Not only will you improve your ability to think under pressure but it increases your confidence speaking in public and compels you to deliver a clear, precise, well-structured argument.
Improved legal research and analysis skills
Students who have taken part in mooting report that they gain a practical understanding of how to apply the law and that their overall research and analysis skills greatly improve. Often this will reflect favourably in their overall coursework performance.
Practical courtroom experience
As the internal competition progresses, students are exposed to increasingly experienced courtroom practitioners as judges. Through the quarter-finals to the final, mooters are judged from members of the Faculty of Advocates, Sheriffs, High Court Judges and Justices sitting in the Supreme Court. These final rounds are held amongst the Glasgow Sheriff Court, High Court in Glasgow, Court of Session in Edinburgh and even the Supreme Court in London.
The society and more importantly the student finalists, have been fortunate to have had a number of extremely distinguished members of the judicial bench judge the final in the last few years. In 2018, Lord Matthews judged the final in the High Court in Glasgow. The final has also been held in the UK Supreme Court in 2019, with Lord Reed presiding and in 2022 in front of Lord Hughes.
The opportunity to make submissions in front of such distinguished judges and to receive their feedback is a priceless opportunity.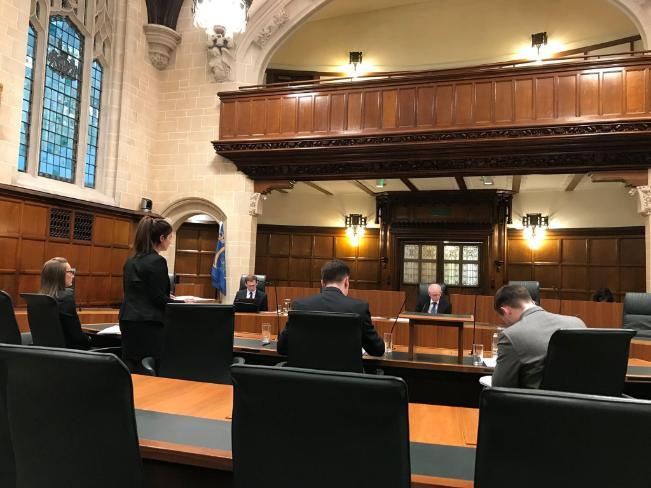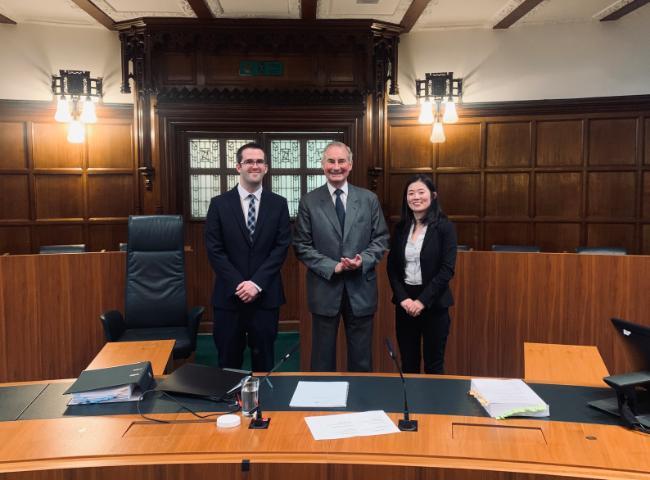 Networking opportunities
Training sessions and moots are run and judged by experts in the legal profession, meaning that mooting is a great way to network and share interests with the wider Scottish legal community.
It is also a great way also to meet fellow law students at Strathclyde. The society also holds regular social events throughout the academic year.
Win a trip to the UK Supreme Court in London
The society run trips to both the UK Supreme Court in London and to the Court of Session in Edinburgh. Key members of the legal world give up their time to share some of their experiences with students.
You will also have the chance to watch some of the top advocates make submissions in front of our most experiences judges.
How do I join the Mooting Society?
Membership is free to Strathclyde students. You can sign up to this year's internal competition by emailing strathunimoot@gmail.com or attending one of our introductory events. The 2022/23 internal competition will commence in late November 2022.