Law School Professor awarded the Royal Scottish Geographic Society Honorary Fellowship
Prof Francesco Sindico has been awarded the prestigious Royal Scottish Geographic Society Honorary Fellowship. The award was presented to him at an event at the Concert Hall in Perth on Thursday 27 October 2022.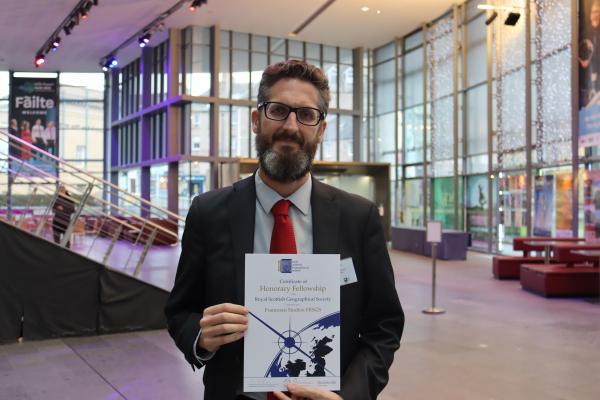 Established in 1884, the Royal Scottish Geographic Society is Scotland's educational charity and learned society that provides intelligent and insightful commentary on world issues from a geographical perspective. It promotes the study and wider awareness of geography and its contribution to the understanding of environmental, cultural and social issues in Scotland and internationally.
The RSGS Honorary Fellowship is a prestigious award conferred for services to the RSGS and/or contributions to society and sustainability through the wider discipline of geography. The first award was presented in 1888 and recent awardees include Jojo Mehta, Mark Carney, Greta Thunberg, Laurent Fabius, Christiana Figueres and Manuel Pulgar Vidal. Prof Sindico is the first award recipient with a legal background from the University of Strathclyde.