News

CYCJ adapts 'rights respecting' report for younger audience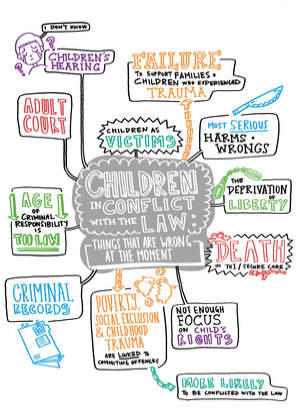 The Centre for Youth & Criminal Justice (CYCJ) report that calls for 'rights respecting' reform to Scotland's youth justice system has been adapted into a version for younger readers, giving them an understanding of the issues around Scotland's youth justice system.
'Rights Respecting? Scotland's approach to children in conflict with the law' was launched at the University of Strathclyde's Kilbrandon Lecture on January 31, 2020. The report is the first of its kind to translate the United Nations Convention on the Rights of the Child (UNCRC) into Scottish specific actions to improve policy, practice and experience in youth justice, based on Scotland's commitment to incorporate the UNCRC into Scots law by 2021.
The child friendly version of the report was designed in collaboration with young people from the CYCJ and Staf led project Youth Justice Voices, who gave useful feedback on style and content. This includes the use of infographics and illustrations to highlight key points. This version is primarily aimed at readers aged 12 to 18, and it is recommended that younger children reading it do so with an accompanying adult.
Claire Lightowler, CYCJ's Director, said:
"As a centre that focuses on improving the justice system for children and young people, we strongly believe they should have access to the work we do that applies directly to their own lives and experiences. With recent (and welcome) confirmation that the Bill for the incorporation of the UNCRC into Scots Law will go ahead as originally planned, it was extremely important to us that children and young people are a part of this journey.
"We hope that this resource begins to offer opportunities for greater involvement and engagement, with a better understanding of the issues that affect them. We are always keen to work with children and young people on the changes they want to see."
Since it was published, Claire's report has received widespread positive acclaim. "This robust and impressive report is the first piece of work that comprehensively examines Scotland's youth justice system from a rights-based perspective," commented Bruce Adamson, Children and Young People's Commissioner Scotland. And Alison Reid, Principal Solicitor at Clan Childlaw, praised it as "an immensely important, thoughtful, comprehensive and timely analysis of Scotland's record in respecting the rights of children in conflict with the law".