Estates Services

Grounds & Gardens Team
The Grounds Team at Strathclyde promotes good environmental practice in grounds maintenance. The team ensures a safe and aesthetically pleasing environment for all campus users. Our campus has various vibrant garden and green spaces. The grounds can also be used for events, filming, student activities and research projects.
The Grounds Team colleagues are located across three sites: John Anderson Campus, Ross Priory and Stepps Sports Ground. Each site has a Head Gardener or Head Grounds Person. They have daily responsibility for the servicing and maintenance of the sites' hard and soft landscapes areas.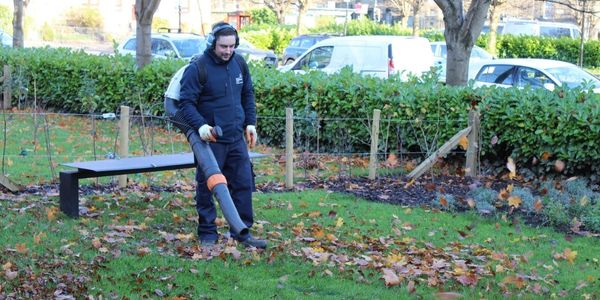 What we do
The duties of our skilled, flexible and adaptable team can change quickly on a day-to-day basis. They can depend on weather conditions or emergency requests from the Estates Helpdesk or work colleagues. Here's just a small selection of what we do:
Enhancing biodiversity at Strathclyde through:

the introduction of wildflower meadows
planting new trees
installing bird boxes

Lawncare
Removing graffiti
Keeping paths safe and clear
Ensuring the sport pitches at Stepps meet the specifications required by the governing sporting bodies
Maintaining the golf course and walled garden at Ross Priory
Commissioning and periodic review of biodiversity surveys across the University estate.