New separation processes for the production of pharmaceuticals
Four million euros for the top European research project CORE to develop innovative separations for highly pure chiral pharmaceuticals.
Most Pharmaceuticals are Chiral
Since amino acids, enzymes and cell receptors are chiral nowadays also most new pharmaceuticals are chiral. Chiral molecules occur in left- and right-handed configurations called enantiomers. Despite their similarity, the biological activity of these enantiomers can be completely different. Probably the most known example of this is the chiral pharmaceutical thalidomide [in figure 1] used in the 1960s. While the R-enantiomers prevent morning sickness during pregnancy, the S-enantiomer influences embryonic development and resulted in birth defects in newborns. Another example is Naproxen for which the S-enantiomer is a painkiller, while the R-enantiomer induces liver damage.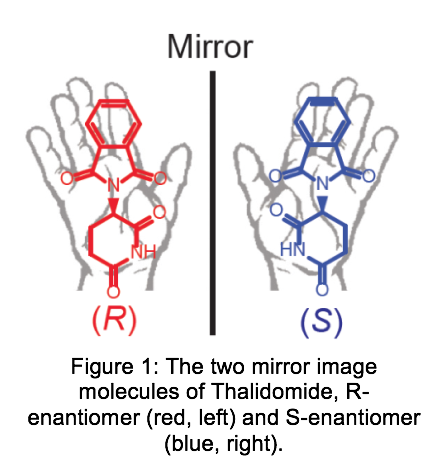 Enantiomers are Challenging to Separate
"While it is of paramount importance to pharmaceutical industry, the successful and efficient industrial separation is still a huge challenge", the coordinator of the CORE Network Prof. Joop ter Horst says. "This is because these molecules physically and chemically behave the same, and therefore we need clever process tools to take them apart. Within CORE we will target the development of these new tools in close collaboration with world-class academic partners and industrial collaborators in order to develop, accelerate and enhance the processes to obtain highly pure chiral pharmaceuticals."
The Approach: Continuous Hybrid Processes
Prof. Joop ter Horst continues: "The CORE Network explores three approaches. First, we will expand the applicability of chiral separation through crystallisation by exploring the variety of crystal forms of chiral compounds. In parallel, we will identify separation opportunities by developing innovative hybrid processes combining synthesis and crystallisation. Lastly, we will develop continuous versions of these separation processes for which the link of CORE to the Strathclyde-led CMAC Future Manufacturing Research Hub is of utmost importance." CMAC is a UK-wide EPSRC funded centre which accelerates the industrial adoption of continuous manufacturing for the production of high value and high quality pharmaceuticals using low cost and sustainable manufacturing processes.
The CORE Network
CORE is a four-year, €4 million, European Commission-funded Marie Sklodowska Curie Action (MSCA), Innovative European Training Network (ETN) comprising eight full and seven associate partners. CORE will employ 15 Early Stage Researchers on a three year research-training programme to develop tools, approaches and methods within the area of crystallisation-enhanced resolution, the process to obtain enantiopure molecules of chiral compounds.

More information can be found at www.coreitn.eu