Strathclyde Sport

Hampden Sports Clinic
Hampden Sports Clinic is based within one of the consultation rooms at Strathclyde Sport.
Hampden Sports Clinic will work with you to develop a bespoke programme that supports your goals, whether it is recovering from injury, regaining your mobility, or improving your fitness. This can be as simple as walking again after a significant injury to getting back to your favourite pastime to improving your fitness to smash P.B in your next marathon.
Hampden Sports Clinic is the country's leading sports injury and rehabilitation centre, dedicated to the treatment, diagnosis, and management of sports injuries and musculoskeletal conditions. Their team of specialist doctors, physiotherapists, sports scientists, sports massage therapists, podiatrists and biomechanists who have amassed decades of experience are driven by the needs and goals of our patients.​
The clinic doesn't just treat elite athletes or issues related to sports injuries. They deliver evidence-based treatment protocols tailored to every individual's needs and assist in surgical rehabilitation aimed at getting the best possible outcome for everyone that comes through the clinic. Every day, they work with people of all ages and backgrounds to make sure they function at their very best, day after day.
As a leader in sports and musculoskeletal medicine, they strive to ensure they are constantly at the forefront of new developments in sports medicine and rehabilitation to deliver optimal patient outcomes.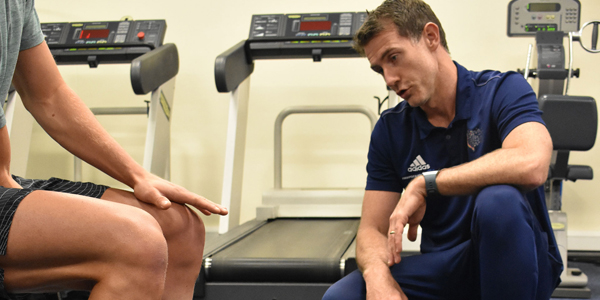 Physiotherapy
The Physiotherapy team at Hampden Sports Clinic use a variety of techniques to reduce pain, improve function and rehabilitate you and your injury. To treat any issue correctly, their physiotherapists will carry out a detailed assessment which involves testing musculoskeletal structures, observing movement patterns and performing functional tests to establish the exact nature of your issue.
Once they have formulated a diagnosis, they will thoroughly discuss their findings and answer any questions you may have. This will allow them to then put an effective and bespoke treatment plan in place. Once any problems have been established, your dedicated physio will structure the best form of treatment.
Below is a list of just some of the conditions they treat effectively in the clinic:
Musculoskeletal Conditions
Post - Surgical Rehabilitation
Neurological Conditions
Repetitive Strain Injuries
Sports Related Injuries
Sports Massage
Massage is an ancient modality that has been renowned for its physiological and psychological benefits for thousands of years. Regardless of how the tension or injury was acquired, massage can be instrumental in the recovery process and can be a great tool in supplementing your physiotherapy sessions.
There are many different types of massage therapy all centred around improving emotional and physical wellbeing. It may be that you are suffering from aches and pains caused by your work environment or lifestyle, have recently become active, or are training for your first marathon, rest assured in all these instances massage can help you.
Hampden Sports Clinic are committed to truly understanding your specific needs so that you get the best possible service. They recognise everyone is unique and their massage therapists will draw on their in-depth knowledge of physiology and anatomy to carry out the most appropriate type of therapy for you.
Massage therapy can help you in several ways:
Relax and release stress
Prevention. It is an essential tool to help prevent injury during periods of intense training, as it brings awareness to areas of muscle tension and stimulates blood flow increasing oxygen back into hard-working muscles promoting recovery
Injury Treatment. Massage can help relieve pain and resolve many symptoms throughout the body - muscle tension, circulation problems, muscle imbalance, joint mobility, postural issues
The team of qualified massage therapists at Hampden Sports Clinic bring a wealth of experience and expertise in various forms of massage techniques such as:
Relaxing Therapeutic Swedish Massage
Remedial and Sports Massage
Deep-tissue massage
Cupping massage therapy
Myofascial Release Techniques
Muscle Energy Techniques (MET)
Assisted Stretching (PNF)
IASTM (Instrument Assisted Soft Tissue Mobilisation)
K-Taping
What to expect
If you are comfortable in shorts please wear or bring a loose-fitting pair. You are welcome to change when you arrive at the clinic. It is always a good idea to be hydrated and bring water with you as a sports massage can be thirsty work. At the end of the first session the therapists will advise you on any further treatments you would benefit from. At all times you have access to the unique multi-disciplinary team inside the clinic, led by their Sport Medicine Doctor.