Hampden Sports Clinic is based within one of the consultation rooms at Strathclyde Sport.
Hampden Sports Clinic will work with you to develop a bespoke programme that supports your goals, whether it is recovering from injury, regaining your mobility, or improving your fitness. This can be as simple as walking again after a significant injury to getting back to your favourite pastime to improving your fitness to smash P.B in your next marathon.
Hampden Sports Clinic is the country's leading sports injury and rehabilitation centre, dedicated to the treatment, diagnosis, and management of sports injuries and musculoskeletal conditions. Their team of specialist doctors, physiotherapists, sports scientists, sports massage therapists, podiatrists and biomechanists who have amassed decades of experience are driven by the needs and goals of our patients.​
The clinic doesn't just treat elite athletes or issues related to sports injuries. They deliver evidence-based treatment protocols tailored to every individual's needs and assist in surgical rehabilitation aimed at getting the best possible outcome for everyone that comes through the clinic. Every day, they work with people of all ages and backgrounds to make sure they function at their very best, day after day.
As a leader in sports and musculoskeletal medicine, they strive to ensure they are constantly at the forefront of new developments in sports medicine and rehabilitation to deliver optimal patient outcomes.
More Hampden Services including Sports Massage will be coming soon, to the clinic at the University of Strathclyde Sport. Keep an eye online and social for more information.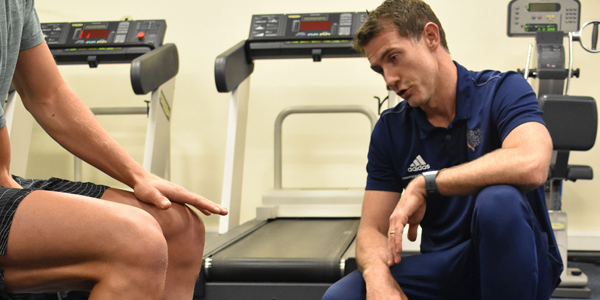 Physiotherapy
The Physiotherapy team at Hampden Sports Clinic use a variety of techniques to reduce pain, improve function and rehabilitate you and your injury. To treat any issue correctly, their physiotherapists will carry out a detailed assessment which involves testing musculoskeletal structures, observing movement patterns and performing functional tests to establish the exact nature of your issue.
Once they have formulated a diagnosis, they will thoroughly discuss their findings and answer any questions you may have. This will allow them to then put an effective and bespoke treatment plan in place. Once any problems have been established, your dedicated physio will structure the best form of treatment.
Below is a list of just some of the conditions they treat effectively in the clinic:
Musculoskeletal Conditions
Post - Surgical Rehabilitation
Neurological Conditions
Repetitive Strain Injuries
Sports Related Injuries