Graduate & Degree Apprenticeships

Information for employers
Strathclyde is delivering the new generation of work-based learning.
Known as Graduate Apprenticeships in Scotland, and Degree Apprenticeships in England, our new apprenticeship degrees provide employers with a fully-funded pathway for current employees and new recruits to achieve undergraduate and master degrees.
Work-based learning
Our new degrees allow learners to combine academic study with work-based learning while in full-time employment.
Combine academic study with work-based learning
This unique approach supports our learners to progress and achieve the academic skills required for a degree, while applying their knowledge and expertise in your workplace.
Apprentices earn University credit and secure industry recognition from professional accrediting bodies.
Strathclyde's Graduate & Degree Apprenticeship programmes build on our:
academic excellence
understanding of innovative learning technology
award-winning course design and delivery
delivery of effective work-based learning
Our understanding of the needs of both the learner and employer are clear in the structure of our programmes. Our learners undertake an online learner journey, as part of an online community of other learners and University staff.
Benefits of a Graduate or Degree Apprenticeship with Strathclyde
we support work-based, online learning, rather than traditional day-release schemes
both the learner and employer enjoy flexibility
the need for on-campus attendance is significantly reduced
combine study with work commitments
you develop industry-ready graduates who really understand your business
recieve regular updates on your learners progress
Develop your workforce
At Strathclyde, our industrial focus and external engagement provides an unparalleled foundation for apprenticeship degrees of the highest standard. We deliver carefully designed programmes that suit the needs of both the learner and the employer.
Industry-ready graduates
Our professional approach to work-based learning uses fully qualified work-based assessors who are regularly onsite with each learner individually. This helps them to bridge the boundary between theory and practice and provides support in gathering evidence of competency.
Graduate Apprenticeships are enabling us to address emerging skills gaps as well as supporting wider growth and development for our employees whilst vitally supporting future plans for the business. These work based degrees offer a fantastic opportunity to employees who have perhaps been in the business for some time but with no formal degree, or new recruits recently hired from school.

As an employer, we benefit greatly from the apprentice's blend of academic learning applied alongside their unique knowledge of the company which, combined, delivers real value back into our business.

Paul Hudson, Operations Director, Volvo Rigid Hauler and Terex Trucks
Contact us today to discuss how we can train and develop your team.
Current Apprenticeship programmes
Graduate Apprenticeships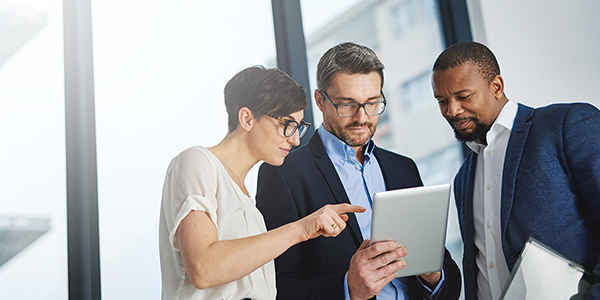 Senior Leaders
Graduate Apprenticeships are supported by Skills Development Scotland and the Scottish Funding Council.
They were developed in partnership with industry and the higher education secors, with support from the European Social Fund.