Kate McLean
Centre for Lifelong Learning Tutor
Previous experience with CLL
I have had the great pleasure of teaching with the CLL for the past nine years. My first class was called 'The Geography of Murder' looking at crime fiction and place within the UK. Since then, I have primarily taught various literature classes, from Shakespeare which I absolutely love, to some of the classics including Jane Austen and Film to American women authors and even an off-piste evening class on Cheese Board Basics!
Involvement in the pilot programme in April
I was absolutely thrilled to have the chance to teach an online class, Bitesized Shakespeare, as part of the pilot programme in April. It was exciting learning how to use Zoom (I hadn't even heard of it before March), and I thoroughly enjoyed every minute of our class! What a joy to share thoughts and insights in real time with a group of lovely and enthusiastic students! Seeing friendly faces and having interesting discussions felt like a breath of fresh air each week during the lockdown.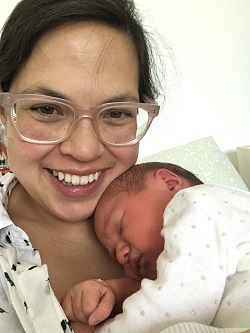 I feel especially lucky to have had this opportunity to teach online and it suited my circumstances perfectly. A little over a year ago my family relocated to Nottingham for my husband's work and the online programme allowed me to teach when I wouldn't have been able to otherwise. Additionally, by our last class I was nine months pregnant with a humongous bump! So, due to proximity (or lack of) and pregnancy, teaching with the online programme was a delightful surprise and fantastic opportunity. For me, it really was a silver lining to the cloud of these crazy times.
Our daughter Sophia Jasmine was born on the 16th of June and her big sister Genevieve, who is five, is loving being a big sister:)
Future plans
I am eager to continue to work with CLL in the future, through more online classes if possible, and hopefully in person too! Our goal is to get back to Scotland as soon as we can. I love the accessibility and ease of online teaching, but I also can't wait to be able to greet my students in person once again when the time is right!