Our subjects

Entrepreneurship degrees
What is entrepreneurship?
Entrepreneurship is the process of setting up, launching and running a business. It is also the act of seeking investment and production opportunities.
Why study entrepreneurship?
Entrepreneurs can change the way we live and work. An entrepreneur's enterprises can improve standards of living, create wealth, jobs and the conditions for a prosperous society. As long as the business world exists, entrepreneurship is an increasingly important area of study across all levels and disciplines.
Strathclyde Business School
Strathclyde Business School was founded in 1948 and is a pioneering, internationally renowned academic organisation with a reputation for research excellence.
One of four faculties forming the University of Strathclyde, the Business School is triple-accredited (AACSB, EQUIS and AMBA) and was the first business school in Scotland to achieve this accolade in 2004. The Business School is home to seven subject departments and a number of specialist centres, all of which collaborate to provide a dynamic, fully-rounded and varied programme of specialist and cross-disciplinary courses.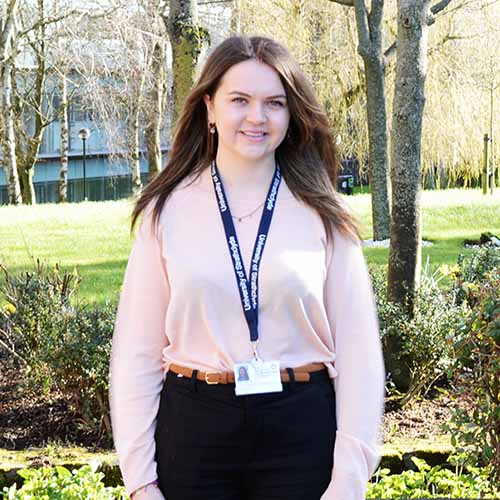 It's a fast moving field which is constantly changing. Every single day there's a new advancement about this technology, and there isn't a lot of academic work on it yet, so I spotted my niche and ran with it.
Amy Hyslop
Entrepreneurship PhD
Why study entrepreneurship at Strathclyde?
The University of Strathclyde in Glasgow is an award-winning academic institution - the only to have won Times Higher Education University of the Year award twice!
Our Hunter Centre for Entrepreneurship – endowed by Strathclyde alumnus, entrepreneur and philanthropist Sir Tom Hunter - is one of the largest university-based centres of entrepreneurship in the UK and is home to a team of recognised entrepreneurial experts.
Our courses equip students with real-world skills that are highly valued in the increasingly competitive employment market. Career prospects are excellent. You'll have the potential to work in all sectors of industry, in organisations of various sizes, from SMEs to large corporate companies.
Accreditation
Strathclyde Business School holds Gold Small Business Charter Accreditation from the UK Association of Business Schools, making us part of an elite group of institutions at the forefront of entrepreneurship in the UK. We're now one of only five universities in the UK to have the Gold Award, recognising our world-leading support for scaling Scottish firms through innovation, internationalisation and leadership.