Start-up companies in the University of Strathclyde community have staked their claims for funding in a competition hosted by the University's flagship entrepreneurship programme.
Strathclyde's Inspire100 event saw companies founded by students and alumni compete for prizes worth a total of £10,000 to help their businesses get off the ground.
They made their three-minute pitches to a judging panel of experienced investors and entrepreneurs during the competition at the University's Students' Union.
The event featured pitches from a diverse range of companies, in fields including fitness, sustainability, technology and coffee. Two awards were on offer: one was for start-ups which are currently part of Inspire's Accelerator programme and are working towards investor readiness, while the other was for start-ups, which have been through the Accelerator programme already and are currently seeking investment.
The Accelerator prize was awarded to Christopher Hoy for his sustainable product development company Paperflüte and the Investor-ready prize went to David White for his sport and fitness goods company BGR Training.
Paperflüte is a sustainable consumer product company, which aims to help reduce use of plastics. For his first product range, Christopher has developed high-quality, paper-based alternatives to the best-selling children's toys.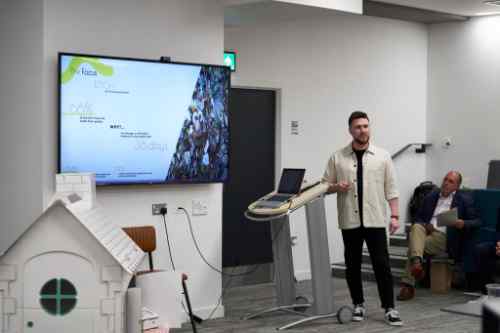 Christopher said: "Inspire 100 was a great event and the first time that I'd been able to get the product in front of people. Being able to showcase it in person made such a difference, and the event gave me a real confidence boost in terms of how people reacted to the product and the feedback from the judging panel.
"I'm looking to launch a KickStart campaign soon, so I'll be putting the funds towards that – it really couldn't have come at a better time for the business."
The BGR is the world's first retractable and portable gym, consisting of bars, grips and rings. BGR Training is creating sensor technology that will transform the BGR to become smart and connected with next-generation AI coaching capabilities. The company was also recently a winner in the Scottish EDGE pitch competition for businesses.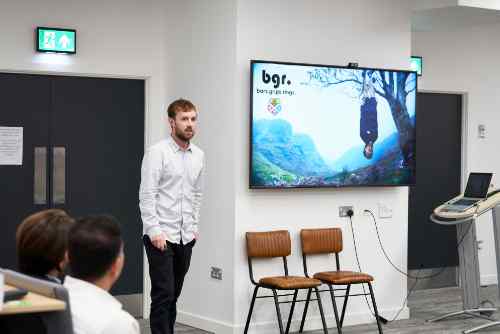 David said: "After having sat in the audience for so many previous Inspire 100 events, it was great to finally have the opportunity to pitch to the strong network that it attracts.
"I am obviously thrilled to receive the funding prize money that will help me strengthen sales as I aim to grow the business, but I am equally thrilled with the connections I made during networking and the opportunities that could develop as a result."
Other pitches in Inspire100 were made by: Javier Gutiérrez of tea and coffee company Caribbean Goods, also a recent Scottish EDGE winner; Saber Khayatzadeh of software company CrackMap and Janani Prabhakaran of luggage storage company Unbaggaged.
Dr Olga Kozlova. Strathclyde's Director of Innovation and Industry Engagement, gave the welcome address at the event. She said: "We had great pleasure in hosting the first in-person Inspire100 event since the pandemic began and heard many fascinating ideas for ambitious, inventive businesses.
"The role of Strathclyde Inspire is to support new generations of adventurous and bold entrepreneurs. For an economy, and indeed a society, to thrive, it needs exactly this type of entrepreneurially minded individuals and nurturing these companies is one of the major contributions we can make.
"We offer our congratulations to our winners, and to all the competitors, and we look forward to them continuing to flourish."
Judges for the competition were: Siobhan Moore, Investment Manager with Social Investment Scotland; Niki McKenzie, Joint Managing Director of Archangel Investors Limited, and Neil Logan, co-founder Chief Executive Officer of Incremental Group and Strathclyde Senior Enterprise Fellow.
The event was chaired by Strathclyde Inspire Supporter David Bowie and the guest speaker was Allan Cannon, Strathclyde alumnus and founder of space technology company R3iot.
This Inspire100 event was supported by Santander Universities.