A University of Strathclyde programme that helps small business owners to develop their management skills has been praised by a UK Government Minister.
Help to Grow Management is a 12-week, UK Government-funded programme delivered in Scotland by Strathclyde which helps participants to build their capabilities in areas such as leadership, innovation, digital adoption, employee engagement, marketing and financial management.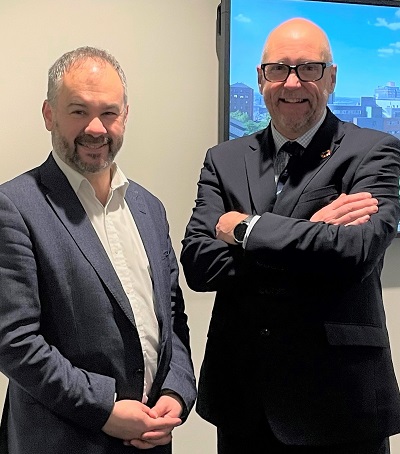 Since launching in August 2021, Strathclyde has seen more than 100 participants join the programme from companies with an aggregate turnover of more than £263 million.
During a visit to Strathclyde, Paul Scully MP, Minister for Small Business, Consumers and Labour Markets in the Department of Business, Energy and Industrial Strategy, met Professor John Anderson, Head of SME Growth & Board Development at Strathclyde Business School and Help to Grow Management lead.
Great work
Mr Scully said: "The University of Strathclyde is doing great work in delivering the Help to Grow: Management course at its business school, helping dynamic entrepreneurs in Scotland seize the opportunities on the horizon as we recover from the pandemic.
"The Help to Grow: Management scheme gives small business owners access to world-class leadership and management training, providing the skills and know-how needed to increase productivity and grow their business."
Professor Anderson said: "The Help to Grow Management programme at Strathclyde offers an outstanding opportunity for small business owners to enhance their management and strategic capabilities, build resilience, develop their value proposition and reach into growth markets whilst being supported by academics, and experienced business owners.
"Thanks to funding from the UK Government the cost of the programme – at £750 per participant – provides unparalleled value to experience an in-depth quality curriculum at a triple accredited business school, tailored to small businesses.
Taking part in the programme is an opportunity for small business owners to learn, reflect and take action to grow their business.
Light-bulb moments
The programme is open to any small or medium-sized enterprise from any sector based in UK employing between five and 249 people which has been operational for at least one year.
Programme participant, Zoe Lee, Chief Financial Officer of Edinburgh-based technology company Stellar Omada, said: "The Help to Grow Management programme at Strathclyde has given me a huge level of comfort that we're heading in the right direction and doing the right things, along with a few light-bulb moments!
"As well as the opportunity to meet and network with new people, I've personally taken lots from it and I'm excited about the year ahead and vision for Stellar Omada in 2022."
This is a UK Government funded programme and all details, including eligibility and applications, are through the Small Business Charter.
Further information about the Help to Grow Management programme can be found on the University of Strathclyde's website.