The Director of the University of Strathclyde's Institute of Photonics has been elected as a Fellow of an international organisation dedicated to promoting the science of light.
Professor Jennifer Hastie has been elected to the Fellowship of Optica, which is devoted to 'Advancing Optics and Photonics Worldwide.' She has received the accolade 'for leadership in the photonics and quantum technology community and pioneering technical contributions in the area of narrow-linewidth lasers.'
She is among 129 members, from 26 countries of the Society's 2024 Fellow Class. The election process is highly competitive, as Fellows can account for no more than 10% of Optica's total membership.
Professor Hastie joined the Institute of Photonics as a PhD student in 2000 and was appointed its Director in 2022. She leads an Institute of 40 staff and more than 30 postgraduate students, which carries out extensive research into photonics technologies and devices.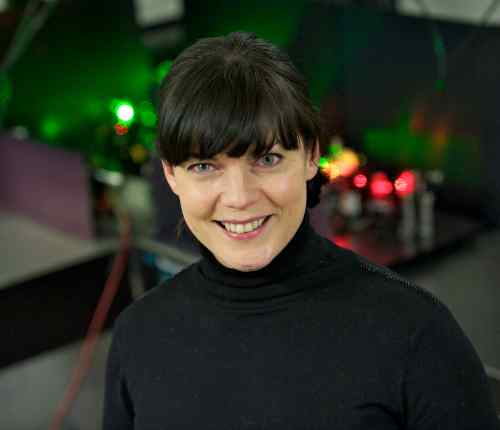 Professor Hastie said: "I am honoured to have been elected as a Fellow of Optica. The organisation gives recognition to professionals who extend the horizons of photonics and it creates a real sense of global community, adding to the possibilities of our research."
"Photonics is at the heart of a vast, and increasing, amount of everyday technology; and photonics research underpins many next generation technologies under development, including those in quantum technologies, health technologies, sensing, and communications, all of which play a key role in knowledge exchange and business engagement at Strathclyde. I look forward to continuing to share ideas and experience with my colleagues at Strathclyde, in Optica and worldwide."
Michal Lipson, 2023 Optica President, said: "Congratulations to the 2024 class of Optica Fellows. It is a pleasure to honour these members who are advancing our field and society. We are grateful for their exceptional work and dedication."
Research led by Professor Hastie has gained an international reputation in the field of narrow linewidth semiconductor disk lasers. During her career, she has authored more than 80 published research articles and conference papers, and her research has a main focus on optically-pumped semiconductor and solid-state lasers.
Professor Hastie is also an elected senior member of IEEE (Institute of Electrical and Electronics Engineers). She was previously an elected senior member of Optica and, as an elected Fellow, joins her colleague Professor Martin Dawson, Director of Research at the Institute of Photonics and head of the Strathclyde-hosted Fraunhofer Centre for Applied Photonics (CAP).
Candidates for Elected Fellows are recommended by Optica's Fellow Members Committee and approved by its Awards Council and Board of Directors.