Two University of Strathclyde researchers have joined an international summit in Barcelona of community ventures for the promotion of safer cycling to school.
Dr Deirdre Harrington, a Lecturer in Physical Activity and Health, and Dr James Bonner, a Research Associate in Strathclyde's Hunter Centre for Entrepreneurship, attended the event, alongside representatives of the Shawlands Bike Bus, based in the south of Glasgow. They discussed possible research opportunities with academics from other institutions.
Bike Buses were also represented from cities including Portland, Frankfurt, Worcester and Vic.
A Bike Bus is formed by a group of people who cycle, scoot or wheel together on a fixed route to a particular location, at a set time and with established stops. Shawlands Bike Bus is one of the most well known Bike Buses globally, owing to its social media presence and the passion of the families who founded it.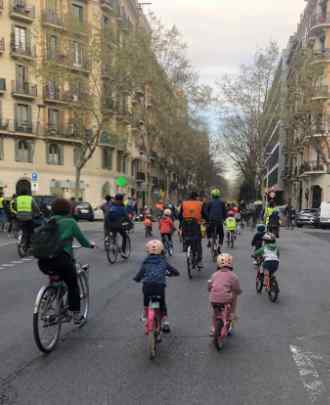 Dr Harrington said: "Seeing the enthusiasm and passion the families had for their communities and the value of their own Bike Buses really inspired me.
"Researchers are now coming together to look at cycling advocacy, urban planning, health and wellbeing, carbon targets and social justice through the lens of the Bike Bus. Here at Strathclyde and further afield, Bike Buses are inspiring cross-disciplinary research."
A first draft of a Barcelona Declaration on the Bicycle Bus was produced at the event. It will be used to call for political leaders to re-prioritise urban space and resources for child-friendly, healthy and safer streets. In addition, a joint strategy was developed and participants rode with Barcelona's Sant Antoni line bike bus.in
An agreement was also reached on a commitment to work on the expansion of the global BikeBus network. An increase in the number of connected cities and organisations will allow the definition and development of the necessary actions to achieve in a short term more bike-friendly and child-friendly cities.
A virtual BikeBus event is to be held at the end of 2023 and a second summit is scheduled to take place in Frankfurt in 2024.
Dr Harrington and Dr Bonner represented Strathclyde's newly formed Active Mobility Hub, which is bringing together researchers and practitioners with a professional or personal interest in active mobility, such as walking, cycling, wheeling or scooting).
The University of Strathclyde is committed to more sustainable travel and has been recognised as a Cycle Friendly Campus by Cycling Scotland. As part of this commitment, all staff and students at the University are eligible for free membership of the Glasgow OVO Bikes network of commuter bikes.