Why Strathclyde?

Sustainable Strathclyde
We are Sustainable Strathclyde
We're the University's driving force on sustainability and carbon reduction.
We support the University in its aims to become Net-Zero for carbon emissions by 2040, and to build a greener and more climate-resilient campus.
From every light that's turned on, to every journey taken in a University vehicle, we monitor the carbon impact and look for ways to make it more eco-friendly.
We also work with staff and students to promote active travel and sustainable waste management, and to increase awareness of climate change.
Strathclyde Innovation Forum
Grand Challenge Five: Our Strategic Plan
Strathclyde has been at the forefront of environmental sustainability for many years, and there is much work ongoing. However, the pace required to address climate change requires us to redouble our efforts to have a substantial impact and deliver on our targets. We would welcome your innovative ideas on how we further reduce our greenhouse gas emissions and enhance our efforts on sustainability to achieve net zero.
Climate change & social responsibility
The University's Climate Change and Social Responsibility Plan has four key aims. These detail the steps Strathclyde will take to reach Net Zero emissions by 2040:
tackle climate change, ensure resilience and reduce resource use
be socially responsible
collaborate with others and embed sustainability across the institution
share learning and knowledge to help ensure continuous improvement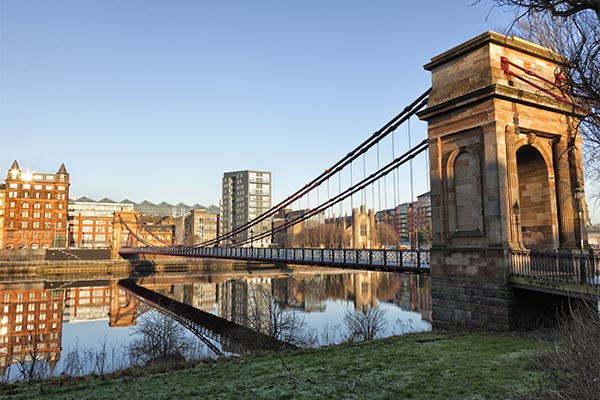 Climate Neutral Districts
As part of the development of Glasgow City Innovation District, the University of Strathclyde is leading an ambitious project to create a 100% renewable climate neutral and climate resilient area within the district. The project aims to integrate heat, power, transport, climate adaptation and wellbeing solutions that will benefit everyone in the area of the Innovation District.