A team of students at the University of Strathclyde has won an award at an international challenge in the design and building of an autonomous marine craft, after overcoming challenges which meant they were able to compete only in the last round of the competition.
The StrathVoyager team took the Team Spirit Award at the Njord Marine Autonomy Challenge at NTNU in Trondheim, Norway, against six opponents from five nations – Norway, Turkey, India, the US and Portugal.
Competitors brought their vessels to the Havet Arena in Trondheim, where they took part in a series of challenges and events, including manoeuvring, docking and collision avoidance.
Judges presented StrathVoyager with the award for the "commitment and spirit," particularly in being the youngest team competing and being able to compete only on the last day after a number of setbacks.
A team member's luggage, containing part of the boat, was lost and recovered too late for any testing to be carried out. The next day, a radio frequency module short circuited and, while it was replaced, it again prevented testing on the first day and participation in the manoeuvring challenge.
The team then decided to opt out of the docking challenge on the second day and focus on the final challenge of obstacle avoidance. It turned out to be a good decision, as the docking challenge proved difficult for their opponents and yielded few points.
Strathclyde's team is part of the Strathclyde Union-registered Marine Robotics Society (MRS), which has gained more than 50 student members in its first year. Based in the University's Department of Naval Architecture, Ocean, and Marine Engineering (NAOME), students from a range of departments and academic levels have come together to work on, and learn about, robotics and autonomous systems used in maritime environments.
The StrathVoyager team consisted of Panagiotis Louvros, Wang Zhao, Paul Lee, Mauro Arcidiacono, Kaja Gorska, Charalampos Tsoumpris, Alexander Dixon, Nilesh Ohol and Marvin Wright
Team captain Panagiotis said: "Participating in this prestigious international event is already a significant success for our young team, and being awarded the Team Spirit Award is a remarkable team achievement and recognition of the students' hard work over the past 12 months."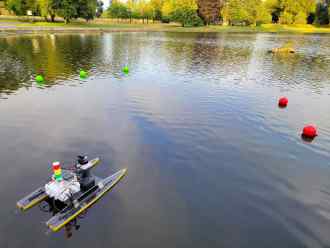 StrathVoyager's Autonomous Surface Vehicle (ASV) is the pilot design project of MRS. The catamaran platform has been designed to be highly modular, allowing future students to upgrade components while also facilitating ease of repair and transport. Fitted with a range of sensors, including a 3D camera, 3D Lidar, and IMU (Inertial Measurement Unit), the onboard Nvidia Jetson computer is programmed to fuse sensor information, enabling the boat to simultaneously localise and map the environment and take advantage of cutting-edge Deep Reinforcement Learning AI technology for decision making and, as a result, autonomous navigation".
Dr David Dai, a Research Fellow in NAOME, is Academic Mentor for MRS. He said: "The Team Spirit Award is a testament to the exceptional synergy, collaboration, and camaraderie that define the society. The young team has fully embraced the University's values of being People-oriented, Bold, Innovative, Collaborative, and Ambitious over the past 12 months.
"It is a pleasure to be involved with such a talented, energetic, and enthusiastic team and support and guide them as an academic mentor."
MRS President Marvin said: "I would like to say thank you to everyone who has contributed directly, or indirectly through advice in conversations, to help us build the society's first autonomous platform.
"We aim to expand our collaborations with organizations like RINA and are open to further collaborations and sponsorships. In the future, we want to build on this great success and continue to attract curious minds to design and build more autonomous platforms."
The team received financial support from the Strathclyde Alumni Fund and NAOME NAOME and EU's Horizon 2020 AUTOSHIP project (agreement No 815012)to cover travel and hardware costs. Further generous support was provided by the Kelvin Hydrodynamics Laboratory, which assisted in manufacturing the 3D printed catamaran platform and conducting static and dynamic hydrodynamic tests, and the ARCHIEWest High Performance Computer providing HPC core hours for Deep Reinforcement Learning Algorithm training.".
The Njord Marine Autonomy Challenge was hosted by the Norwegian University of Science and Technology and was supported by maritime stakeholders including DNV, ABB, and Kongsberg. The overall winning team was Autobee from Turkey.