Distinctive Strathclyde
Our people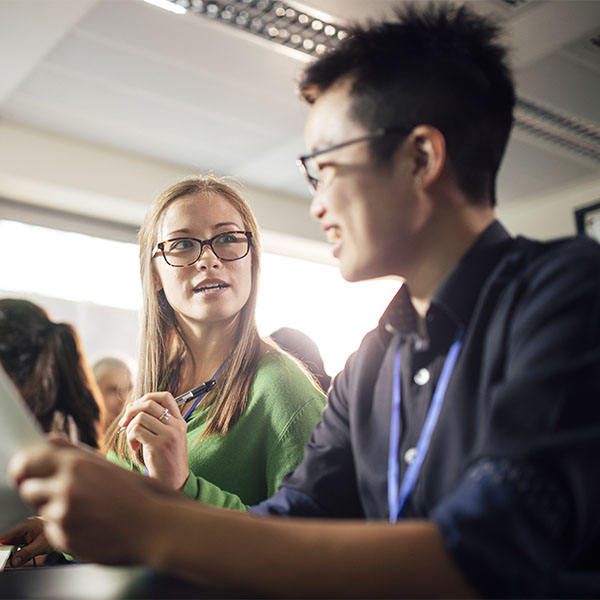 Our strength is our people and our 2025 plans will be underpinned by the implementation of our complementary People Strategy which places staff at the heart of our plans and recognises that their collective talents, effort and commitment will deliver the University's ambitious Vision for 2025.
Our overall Strategy is owned by the whole Strathclyde community and each individual has a contribution to make to ensure we achieve our objectives and continue to live our values of being bold, ambitious, innovative, collaborative and people-oriented. We will undertake detailed workforce planning across all parts of the University and ensure a focus on staff health and wellbeing through Thrive @ Strathclyde. In doing so we will ensure our People Strategy enables us to provide a supportive and rewarding working environment while allowing us to develop our capabilities for the future and look after our health and wellbeing.
The University's commitment to maintaining a healthier and safer workplace is enshrined in our People Strategy, to ensure we can provide an inclusive, diverse and people oriented working environment. This is demonstrated through our achievement of NHS Scotland's Healthy Working Lives Gold Award for multiple years.
Thrive@Strathclyde will provide a framework to enhance the health and wellbeing of the whole University community, integrating a supportive health and wellbeing strategy into day-to-day decision making and business operations. Our Workplace Mental Health Action Plan is for all Strathclyde staff and will be delivered through cross-organisational collaboration to develop mental health awareness, provide tailored mental health and wellbeing support and help colleagues to thrive.
The five strategic themes across our People Strategy and our Strathclyde Staff Pledge will ensure we continue to implement a range of sector leading, socially progressive, people-oriented policies over the period to 2025. For example, we will:
Create an inclusive, diverse and people-oriented environment where all staff are appropriately challenged and are able to balance work and life commitments
Identify the roles for the future through workforce planning, and work to attract and retain the best local, national and international talent to support the delivery of our Strategy
Ensure our leaders consistently epitomise our values and have the capability and confidence to engage, develop, challenge and reward our staff, to take measured risks and deliver excellence
Encourage shared celebration of Strathclyde's achievements through implementation of a 'Strathclyde Shared Success Scheme'
Delivering net zero and promoting sustainability
Strathclyde has been at the forefront of environmental sustainability for more than one hundred and fifty years. The scale of the University's contribution to our understanding of how to protect the world around us is both long-standing and significant. Through research and innovation, we have helped shape modern renewable energy. Through education and teaching, we are producing thousands of graduates who go on to put sustainability at the centre of the energy industry.
Through the brightest minds tackling the biggest challenges, we are helping shape the policy landscape, which is allowing society to see sustainability not just as a set of problems or an initiative but as a driver for innovative solutions and an absolute necessity. We are guided by the Intergovernmental Panel on Climate Change timeline and aligning with Scottish Government commitments: the scale of change necessary over the critical period to 2025 clearly requires us to bolster our efforts.
Over the period of this Strategy we will take bold action to address UN Sustainable Development Goal 13: Climate Action and to co-ordinate our efforts with those of the Government, Glasgow City Council and other partners. Universities have a pivotal role to play and the Strathclyde community is determined to rise to the challenge. We will intensify our rate of change in relation to energy, travel, waste and resource use, water use and fuel use, in order to meet this global challenge.
We will implement our Responsible Investment Strategy. We will adapt our estate to cope with our changing climate. We will continue to consider the social impact of our operations at a local city, regional, national and international scale. It is critical that we work with others to deliver 'at scale' change, particularly at city region scale.
The University met its strategic carbon reduction target of a 25% reduction of the 2009-10 baseline ahead of the 2020 target delivery point, but significantly greater intensity of action is now required and our milestones and target reflect our determination to increase the pace of change. Our response to climate change and our drive to sustainability is set out in our Climate Change and Social Responsibility Policy, which is structured around four aims:
Tackle climate change and reduce resource use
Be socially responsible
Collaborate with others to embed sustainability across the institution
Share learning and knowledge to help ensure continuous improvement
Through concerted action, and with close student, staff and community involvement in design and delivery of change, we will drive towards net zero emissions and are committed to achieving a net-zero carbon campus – we will regularly review progress and re-set our ambition. We will establish the necessary structures, governance and leadership required to ensure integration of climate action into decision-making processes and our Climate Change and Social Responsibility Plan will present key deliverables designed to enable achievement of our net zero KPI, ensuring our pace of change in delivering net zero is at least as fast as our wider institutional ambitions and that we frequently review and adapt as required.
Our focus on the United Nations Sustainable Development Goals as part of our vision as a socially-progressive university goes much further and deeper than Climate Action – our cross-University approach is enabling increased understanding and delivery of impact. The University is a signatory of the SDG Accord, is establishing a Centre for Sustainable Development with a focus on SDGs, and is committed to delivering and contributing towards the SDGs by means of inspiring, reporting and learning from each other.
The Strathclyde Commitment
The University is mindful of its place in the community both locally and within the city of Glasgow and its wider environs. We are transforming our campus, with investment to exceed £1 billion by 2025 to create a first-class working and learning environment for our students and staff and we spend around £100M per annum on goods, works, services and our capital investment programme. Our major projects are carried out under the socially progressive Strathclyde Commitment: Socio Economic Impact & Community Benefits Strategy, which goes beyond fulfilling legislative requirements to ensure community benefits are built into all significant contracts and delivered in partnership with suppliers.
Developed as a means of engaging with and enhancing the local area by leveraging the University's annual spend through our procurement activities on goods, works and services, many of the benefits are educational – for example, the creation of apprenticeships, work placements, studentships and targeted benefits for – alongside other benefits to the local community.
Through the ideas and initiatives underpinning the Strathclyde Commitment we are creating opportunities for local people and the University to work together, to develop skills and knowledge and, at the same time, to measure the impact of the developments being undertaken.
An example is the University's installation of a Combined Heat and Power District Heating project, which employed 14 apprentices, created multiple work placements and student internships, and engaged local community groups and schools. Through this project, we also worked to targets for local employment by working with local SMEs. We are also securing community benefits through other contracts where it is appropriate and proportionate to do so for example, some ICT and legal services projects, and ensure consideration of sustainable measures, carbon footprint, human trafficking and fair working practices.