Continuous Improvement blog

Benefits and Baseline Data
I was asked to take on my first project – YIKES! – to look at improving the administrative compliance of the Modern Apprentice programme. I was determined to do it the right way, to not miss any important steps out and to do a good job. Through good fortune, the team allocated to the project were enthusiastic, willing, and eager to make a difference. Armed with our project stages model and coffee and biscuits for the team (not just for me!)I set off into the project room eager to make sure that the project ran smoothly.
The Modern Apprentice programme at Strathclyde works in partnership with Skills Development Scotland (SDS). The project team were the university's Organisational Staff Development Unit (OSDU), who run the programme at Strathclyde. Our goal was to improve the Modern Apprentice process to increase efficiency and compliance with SDS.
Benefits? We haven't done anything yet!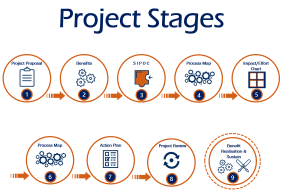 My determination to complete this project the best way that I could meant that I used our Project Stages approach. The project proposal was pinned to the wall in the project room for reference. The first workshop held with the team concentrated on exploring what benefits could be achieved by looking at the MA process. At first I had a couple of worries that there might not be any benefits that the team could identity. We hadn't started the project, we hadn't even written one post-it! These worries were quickly quashed.
What's in it for me?
When the team really began to think about all the types of benefits that could be achieved by them, they became excited at the thought that making changes and implementing their own ideas might mean that they would receive fewer audits – having a positive impact on their stress levels. They considered the possibility of having greater clarity on their roles and responsibilities, improving the communication, and better distribution of tasks across the team. This really got the ball rolling and very quickly, measureable benefits were identified.
What can we actually measure?
Thinking about the benefits that could have a positive impact on them meant that the project team began investigating how they would be able to show their hard work. Could they make positive changes to the compliance with SDS, possibly reducing the number of SDS audits, and being able to generate more income? Taking it a step further, we began thinking about how each benefit could be measured:
Is it a piece of information that was already being tracked?
Is it something that would have to be gathered manually?
Is there no way that it could be measured?
By considering all of these things, we were able to come up with a list of measureable benefits, how they could be measured, what was required to demonstrate them and who would be responsible for gathering the information.
What's next?
With a successful benefits workshop under my belt, I moved on through the project stages all the way to stage eight – Project Review. I made it! There is still some work to be done. Stage nine – Benefit Realisation & Sustainment needs to happen before I can officially say that I successfully completed my own project. I am confident that the benefits identified at the start of the project will be realised – maybe not all of them, but the majority of them will be. Critically, because of the early identification of benefits and gathering of baseline data, I know I'll be able to measure the success of our endeavours against each benefit.