As a lean leader you need to create the right environment – meaning you need to provide a supportive atmosphere, assist with ensuring that the team has the right resources and that they feel safe to test the boundaries for improvement – a positive encouraging environment.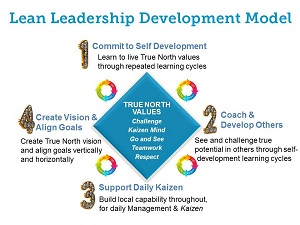 Most of our work is focused within the Higher Education sector, but we have learned and adopted approaches from other sectors including manufacturing, health, and other public sector organisations.
I believe we can also learn from other less obvious sources. For example, can you think of any exponents of Lean Leadership in a sporting context? What about football?
I think one of the most successful exponents of the principles of Lean Leadership outwith a manufacturing or an HE environment is Pep Guardiola and below I hope to show how by mapping his behaviours, activities and beliefs on to Jeffrey Liker's Lean Leadership Model.
COMMIT TO SELF DEVELOPMENT
Key reasons for his job choices – Self Development. Pep famously only likes to stay with any club for 3 full seasons before moving on to a different challenge with a different club. It's no coincidence that these clubs have been in different countries and in different leagues to maximise his opportunity to learn from the different styles, environments, and cultures.
Repeated Learning Cycles – A quick You Tube search of Pep Guardiola drills will reveal a standard 11-man box drill predominant in the returns. You'll see the Barcelona, Manchester City and Bayern Munich players all doing this, repeating the learning patterns and Pep in among them, tweaking and educating as he goes.
Pep is a great coach which is not to say he doesn't have a coach. Mikel Arteta, his number 2, is an ever present sounding board for ideas and tactics. The Manchester City owner, Sheik Mansour, is the one to keep him grounded and focused. Famously after their Champions league elimination he counselled Guardiola, forcing him to learn from it and look ahead, and make history by winning the domestic treble.
COACH AND DEVELOP OTHERS
If we look at the advances in several of the Manchester City players under his tutelage, such as Sergio Aguero, Bernardo Silva, Kevin De Bryne, we see evidence of this almost obsessive dedication to improvement by coaching. Possibly the greatest transformation is in Raheem Sterling. Is he really the same player who during the World Cup couldn't have hit a barn door when holding the handle? Now he's a deadly finisher. When asked how this happened he simply said practice. Everyday Pep took him aside and made him finish 100 chances in practice. After each one Pep would have an observation about power, technique, weight distribution until it became second nature.
SUPPORT DAILY IMPROVEMENT
Standard Work – Pep has a way to play, a method, no matter who the opposition or what the occasion. This committed belief allows players to understand and practice the process assured in the knowledge the outcomes will look after themselves. He builds capability throughout the squad by having several players able to perform in each position, who then fit into the same process.
CREATE VISION AND ALIGN GOALS
Pep sets the overall direction of the clubs footballing ambition, in the 2018/19 season the goal was to win every competition Manchester City played in. He identifies the method or process the team will use to achieve this, i.e. the way they play. This removes any need for doubt or uncertainty throughout the season. As a player this means your destiny is in your own hands. If you are not driving for the same goals, you'll not be playing. Leroy Sane, young player of the year last year, has been a fringe player this season as he doesn't work hard enough without the ball in the way Pep's process demands. John Stones, Pep's most expensive defender, again not first choice as his use of the ball is careless.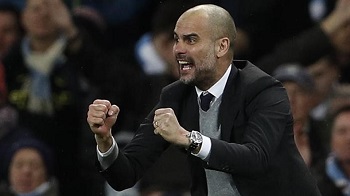 Everybody knows what is required of them to fit into the process, their goals are aligned and clear. Focus on the process – there is no alternative.
I think possibly the most impressive thing about Pep Guardiola is his adoption of these Continuous Improvement principles in life. It's not an add on to how he works but the way he works. There's no better example of this than after the 2019 FA cup final. The team have just been presented with the cup, history made, the first domestic treble. He seeks out Raheem Sterling who is celebrating on the pitch and singles him out for some coaching on an incident in the game he's just witnessed that he'd like him to improve on next time! I don't think Raheem can believe it.