Continuous Improvement blog

New beginnings (in lockdown!)
I find that starting any new job is often a mixed bag of feelings and emotions. Nervousness, excitement, fear, joy, confusion...
For me, these usually come from things like navigating a new culture, learning new processes, and trying to fit in with the new team.
When I joined the Continuous Improvement Directorate at the start of April, I was absolutely over the moon to be joining such a wonderful team and to get the opportunity to do something I'm passionate about.
Already in lockdown, I knew I'd be working from home but was positive and enthusiastic, and grateful to still be working. I expected some of the usual challenges and didn't worry too much about the working from home part since I'd done it occasionally in the past.
But it wasn't long before I realised this situation was very different and I was in totally new territory.
I've faced a lot of unfamiliar challenges in a short space of time, but I've also learned loads of new skills, made some valuable contributions, and personally developed in lots of positive ways.
Building relationships
One of the biggest challenges for me has been building relationships and missing out on the social part of work. I'm very much a people person so it's tough not being able to get to know my team and others in the way I'd like to, and for them to know me.
I've always felt supported and very welcome, and it's great to have the virtual tools to connect, but nothing can beat the energy you get from physically being around each other. And it's all the small, "in-between" moments that I'm missing, where you really get to know someone.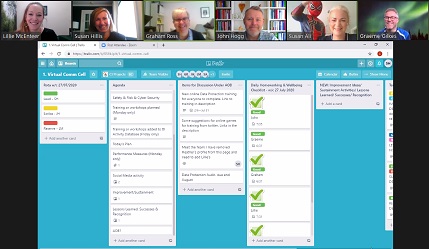 One thing that's helped me connect is our Daily Stand Up (or Communication Cell). Every morning at 9am we meet on Zoom and run through a standard agenda. It includes things like our plan for the day, any improvement ideas, and we now have a spot for recognition- something I brought with me from my last job. This is where we can recognise someone for doing something and it's a really nice way to share positivity and gratitude.
It's also helped to have one-to-one meetings and social chats where things are more relaxed and people are more open. Susan Ali and I are often the last two people to hang up from a meeting and usually end up briefly chatting about life. Those small moments are so important to building connections.
Asking questions
I do miss the opportunity to get up from my desk and go and see someone to ask a question. This is especially important for a new member of a team.
A big value in any new team member though, is often the questions they ask with a fresh pair of eyes. Questions can lead to reflections on why something is done in a certain way which often leads to improvements.
The environment in the team, and the University in general, is so innovative, encouraging, and supportive that I've always felt comfortable to raise questions or improvements. Having regular, standard meetings like the Daily Stand Ups, one-to-ones, and team planning and performance, have been great opportunities to openly ask questions.
New ways of working
I love delivering training and workshops and this was one part of my new role that I was really excited to do more of.
Initially I struggled with the thought of not being able to do this in person for a long time to come. But then I quickly realised I'm learning a whole new set of skills I might not have otherwise learnt.
We're converting all our products for online delivery and I'm helping to define standards for how we do this. We're using a range of tools including Miro, an online collaboration tool, and I love the creativity it brings. I've been able to add value by accidentally becoming the Miro expert, even sharing tips and tricks with people around Strathclyde and with our Lean HE friends at the University of Waterloo in Canada.
So while the way I thought I would be working has changed, I'm happy to be building on my skillset and becoming an effective facilitator online as well as in person.
Health and Wellbeing
As I'm sure many others at home have experienced, the health and wellbeing aspect has been a challenge.
This isn't specific to being a newbie, but I guess there can be different types of uncertainty around expectations and values when you're still trying to figure out the organisation.
One of the reasons I wanted to join the University of Strathclyde was because of their values and respect for people. I've genuinely felt this from day one with clear communication from all levels, having days dedicated to rest and recuperation, and the creation of resources like the Wellbeing & Working from home hub and new online staff induction.
As part of our team's Daily Stand Up we also have a Homeworking and Wellbeing Checklist. This has really helped keep the focus on wellbeing and to build discipline and routine. It prompts us to make sure we're taking regular breaks and some time out for ourselves. Sometimes if we haven't done it, we get a message from Susan...which is nice to know she's looking out for us!
Staying motivated and productive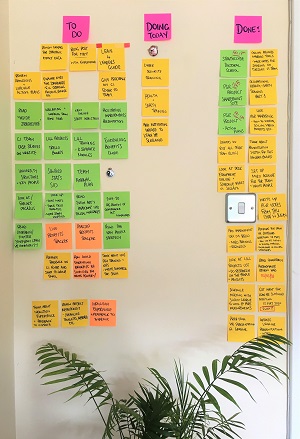 This challenge I know will be an ongoing one for me and many others. I still have super productive days and other times where I feel very distracted.
I took some advice from Graeme to dress for work, arrange my workspace, plan my day, and of course, Don't sit near the fridge! I've found it so important to get ready for work as I normally would because without the physical environment, this helps me switch into my "Work Lil" persona and stay professional.
To help plan and keep on top of my work, I created my own Kanban board on the wall beside me with basic To Do, Doing and Done columns. I've always been a huge fan of visual management and I love planning and organising so having a system that works for me, and one that I can physically interact with, makes a big difference to my productivity.
Ups and downs
Starting a new job during lockdown has certainly been the strangest start to any new job I've had so far. But for every challenge there's been a lot of positive upsides and opportunities, and I'm learning new things all the time.
I've accepted that it's normal not to know everything right away in a new job and to be patient with the time it takes to adjust. But I can also see that as time goes by and I learn more, I can make a few changes, little by little, and things will get better and better.