Continuous Improvement blog - Collaborate

Three Cheers for the Continuous Improvement Directorate
The Library has always had an ethos of continuous improvement. With changing customer needs and preferences, together with fast-paced changes to technology platforms, it couldn't be any other way. This has never been more true than in the past year, when we have changed our service portfolio considerably and rapidly, to help support customers who are working and learning remotely, whilst also continuing to provide an on-campus service for those who don't have access to a safe study environment or connectivity at home.
Collaborating with the Continuous Improvement Directorate over the past five years has really helped to develop, highlight and promote this ethos, both within the University and in the wider sector. They have supported us in 3 key areas – achieving operational efficiency, providing training and development opportunities and supporting our Customer Service Excellence accreditation project.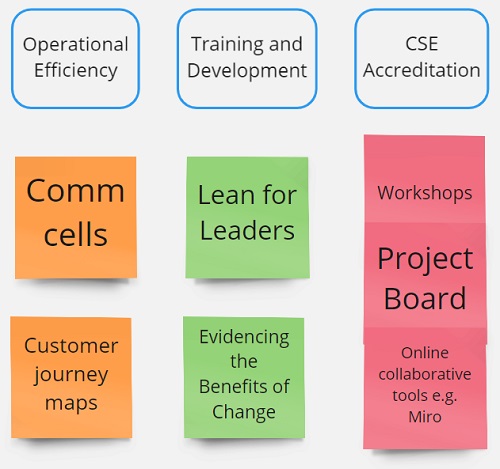 Extract from a Miro board. We all love a post-it note!
Many of the Library's operational improvements begin at comm cells. Susan Hillis worked with several teams to introduce these innovative meetings, and they have become a core part of our culture. We continue to hold comm cells via Zoom while we work under a hybrid working model. Concerns raised at meetings, and the identification of causes and countermeasures, ensure that problems or inefficiencies are identified and solutions progressed, ultimately leading to better services for customers. The collective responsibility and empowerment within teams to improve processes gives everyone a voice and has proven to be motivational. Comm cells also enable teams to highlight successes by noting positive customer feedback and to celebrate the individual achievements of team members. Lessons learned are captured, which ensures knowledge is shared and is also passed on to other teams where relevant.
Customer journey mapping is another technique that the team have introduced us to, and we have found it to be an invaluable way of looking at our processes from the customer perspective. Sometimes we get so wedded to the way things have always been done, we need to use a technique or tool that provides us with distance and a different perspective. Customers have also produced journey maps for us, which has been insightful.
A number of Library staff completed the Lean for Leaders and Evidencing the Benefits of Change courses offered by the Directorate – like the name suggests, the training has helped us to use Lean techniques to identify and eliminate wastes within our processes. A number of 'Lean for Leaders projects' were completed afterwards, which have resulted in a formal complaints and feedback system, a better Library membership process, improved reporting of e-journal usage statistics and a streamlined thesis digitisation process. Lean for Leaders was a memorable training course and mnemonics like TIM WOODS to identify wastes really stick in the mind.
With collaborative process improvement practices and Lean techniques in our toolkit, we set about gathering evidence to show that we were worthy of Customer Service Excellence (CSE) accreditation – a UK government award which assesses excellence against 57 individual elements. Once accredited, organisations are reassessed each year meaning that CSE is itself a framework for continuous improvement. Without hesitation, we approached the Continuous Improvement Directorate for their support and input. Susan Ali and Heather Lawrence provided representation on our Project Board and facilitated workshops to kick-off evidence gathering for us. With Jackie Ryan as project manager, project champions were recruited from each area of the Library. They worked in groups during the workshops to identify our key strengths and suggest supporting evidence for our submission. The Directorate encouraged us to use Benefit Exploration Maps, which focussed our attention on our customer groups, and were a jumping off point for discussions. In November 2019 our external assessor visited the Library and we achieved CSE accreditation with fantastic results, indicating that we are going beyond what is required for the standard and what is seen elsewhere in the sector.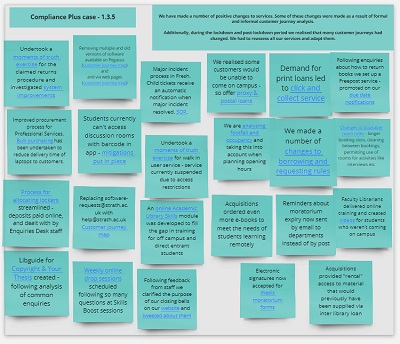 When our Annual Review came around in November 2020, mid pandemic, we had to change our entire approach. We turned again to the Continuous Improvement Directorate, and Susan Ali and Susan Hillis facilitated remote workshops for evidence gathering. They introduced us to Miro – an online tool that facilitated our evidence collation and organisation. It's a bit like a big white board, with templates for mind maps, customer journey maps, roadmaps and flowcharts. It was such a useful platform that we used it to present our evidence to our assessor during the remote assessment. Again, we achieved a brilliant outcome, with the assessor specifically praising the complaints system which was a Lean for Leaders project.
Extract from a Miro board, showing how we gathered our CSE evidence to make a case for a compliance plus award for element 1.3.5
Huge thanks to the Continuous Improvement Directorate for all their support and guidance over the past few years. They remain a member of our CSE Project Board and, as members of Strathclyde's Continuous Improvement Network, we will be sure to keep pace with the supportive and inspiring work of the Directorate and also to contribute ideas from the Library as we continuously improve.