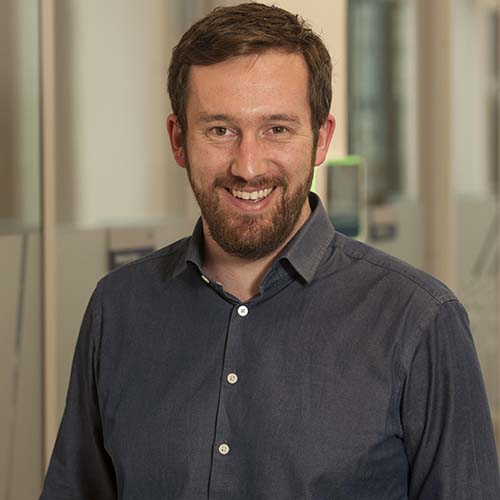 How would you describe Strathclyde University in three words?
Industrially Focused Research
What attracted you to work at Strathclyde?
I studied at Strathclyde University, all the way through to completing my PhD here in 2012. I have always loved the campus, the environment and the positive attitude that exists here in both students and employees alike. My positive experience as a Strathclyde student encouraged me to look for and apply for a job here. I was particularly attracted to studying and, ultimately, working in this institution because of its drive for industrially relevant research and because the department of Electronic and Electrical Engineering (where I am based) is one of the best in the UK.
What has your experience been like working at Strathclyde? 
My experience working here has been great! It is a really interesting and diverse place to work. There are always lots of activities going on around campus and plenty of things you can get involved in. The opportunities provided by the University have made my experience even better and include conducting impactful research in state-of-the-art facilities, being involved in cross faculty collaboration, and engaging directly with external academic and industrial partners to design new engineering solutions. All of this has and is continuing to make my experience a very positive one. 
Do you like working in the city centre of Glasgow and what are the highlights of this?
Even though Strathclyde University is in the middle of Glasgow city centre, it very much feels like a University campus. Working in Glasgow is fantastic and everything is on your doorstep while you are at work - restaurants, bars, shops and transport - all of the local amenities you will need. I particularly like the fact that by traveling no more than between 10 to 30 minutes out of the city centre you could find yourself in the middle of the countryside, enjoying a peaceful setting if you ever need to get out of the city. 
Why do you like working at the University of Strathclyde?
For me, it is the people that make this a great place to work. The nature of my research means that I am regularly working collaboratively with my colleagues around the university on multi-disciplinary projects to achieve great outcomes which I am able to translate into the classroom. Engaging with colleagues, other staff members and students at all levels is one of my favourite things about working here. 
For me, it is the people that make this a great place to work. 
What has been your greatest achievement while working at Strathclyde?
Reaching my current position has been my greatest achievement while working here. I worked hard towards becoming a Lecturer through Chancellors Fellowship scheme, being a post-doctoral researcher at the university prior to securing this post. To be considered as someone who is capable of taking on a five year Chancellors fellowship with the chance to be appointed as a Senior Lecturer at the end of this term is very rewarding indeed. 
Does anything significant stand out to you about the University?
The support network I have developed and the mentoring offered by more experienced staff at Strathclyde has been fantastic. The flexibility in my day-to-day activities and the opportunity to set my own objectives and career goals for development is also a major highlight. 
What has your Career progression been like and have you had access to any opportunities working here at the University?
Upon completion of my PhD in 2012, I secured the position of Research Associate and developed in this role for 2.5 years. I was then promoted to the position of Research Fellow prior to being appointed as a Chancellor's Fellow in 2017. Each move has been an upwards progression for me in terms of my career development and each step takes me closer to achieving my ultimate career goal of becoming a Professor.
Without the development opportunities and Strathclyde University's investment in me as a person, I wouldn't be where I am today.
I think my story demonstrates that career progression is encouraged and likely here if you work hard and take the opportunities on offer. Strathclyde University has helped me develop to a standard that allowed me to be successful in my Chancellor's Fellow application. Without the development opportunities and Strathclyde University's investment in me as a person, I wouldn't be where I am today.