George Wyllie, the Whysman
To tie in with the current Glasgow-wide Whysman Festival celebrating the work of artist, George Wyllie, this month we have picked some images from our George Wyllie Archive.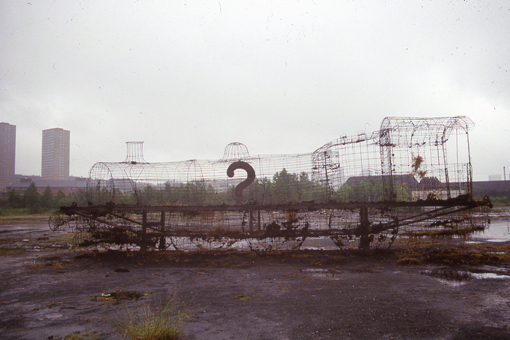 George Wyllie is one of Scotland's most popular artists. Born in Glasgow in 1921, he first became a sailor and then a customs officer, but rapidly acquired a national and international reputation as an artist and sculptor. His work, which he called Scul?ture, was famous for its question mark motifs. His best known works are 'The Straw Locomotive,' 'The Paper Boat,' 'A Day Down a Goldmine', 'Equilibrium of Spires' and 'The Cosmic Voyage.' Wyllie also worked in theatre, writing, installations and film.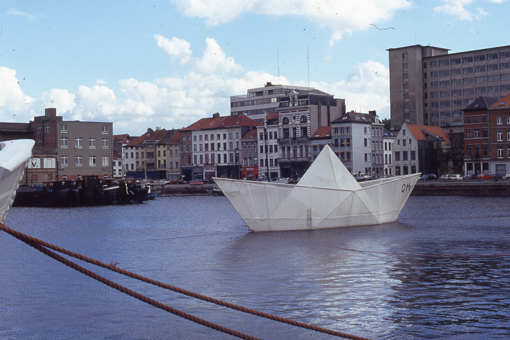 The Archive, which Wyllie generously donated to the University of Strathclyde in recognition of his long standing association with the University (he staged his first ever solo exhibition in the University's Collins Gallery in 1976), is a comprehensive record of his work. There are extensive series of slides and photographs, sketches, notebooks, press cuttings and scrapbooks which document both the finished art projects and exhibitions and the work that went into creating them, often carried out in his own workshop and garden at his house in Gourock. Also in the collection are Wyllie's lectures and writings as well as a fascinating interview with him. The Archive is a remarkable record of a remarkable man.
The Archive is open for all to consult. Please contact us to arrange a visit.
Victoria Peters, University Archivist
Further information:
George Wyllie papers (ref: GB 249 T-WYL)