The Anatomy of Melancholy
The Anatomy of Melancholy, by Robert Burton (1577-1640) is a fascinating tome that has exerted enduring influence since it was first published in 1621. This edition, from our Anderson Collection, was printed in Oxford in 1651, and was the final edition to be personally revised by Burton before his death. Adopting the fictional persona of 'Democritus Junior', Burton addresses his readers in such an entertaining manner that Samuel Johnson described the work as 'the only book that ever took him [Johnson] out of bed two hours sooner than he wished to rise'. The Anatomy of Melancholy served as a therapeutic compendium for its readers, but producing the book was also a form of self-help for its author, Burton confessing that 'I write of melancholy, by being busy to avoid melancholy…'


"Me thinks I hear, me thinks I see
Ghosts, goblins, fiends; my phantasie
Presents a thousand ugly shapes,
Headless bears, black men, and apes,
Dolefull outcries, and fearfull fights,
My sad and dismall soul affrights.

All my griefs to this are jolly,
None so damn'd as Melancholy"

Burton's encyclopaedic volume covers many aspects of human emotion. He references the writings of classical authors and contemporary medical men in order to dissect the condition of Melancholy, which, according to ancient and medieval medicine, was attended with gloominess and depression, and arose from an imbalance of the four bodily humours - blood, phlegm, black bile and yellow bile – with an over-preponderance of black bile.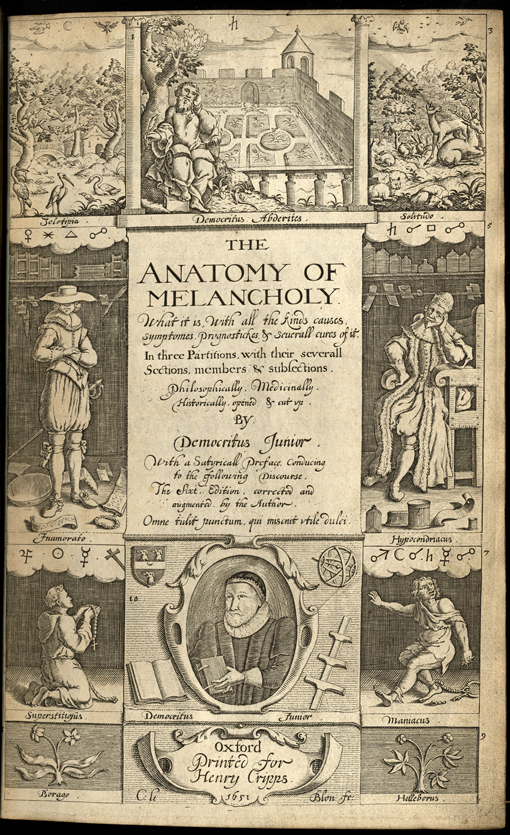 The decorative frontispiece and accompanying 'Argument of the Frontispiece' neatly encapsulate the content of the book, which is divided into three parts:

Partition 1 examines the definitions, symptoms and likely causes of melancholy

Partition 2 is mainly concerned with the full range and variety of cures

Partition 3 concentrates on the particular type of melancholy which afflicts lovers including religious melancholy

From its first edition up to the present day, the Anatomy of Melancholy has always found a particular audience amongst poets and writers, influencing the likes of Laurence Sterne, John Keats and Anthony Burgess. A complex and unusual book, littered with notes and Latin quotations, it is well worth dipping into for contemporary medical remedies, amusing anecdotes, and curious, obscure observations on subjects such as werewolves, witches, alcohol, gambling and tobacco.


Carol Stewart, Senior Library Assistant
Further information:
The Anatomy of Melancholy, Robert Burton. Oxford,1651. Anderson Collection (ref: 50/18)

The Anatomy of Melancholy: A Selection. Edited with an introduction by Kevin Jackson, Manchester 2004. Andersonian Library D 820.5-9 BUR

J. B. Bamborough, 'Burton, Robert (1577–1640)', Oxford Dictionary of National Biography, Oxford University Press, 2004; online edn, Oct 2009

Melvyn Bragg 'In Our Time: The Anatomy of Melancholy' BBC Radio 4 12 May 2011