Papers of Verity Lambert
BAFTA – The British Academy of Film and Television Arts –supports and promotes the production of film, television, video games and interactive media and the BAFTA awards ceremonies are the pinnacle of the UK entertainment calendar. With the Orange British Academy Film awards fast approaching on Sunday 13 February, tension is mounting amongst the nominees. This year's star line-up includes Javier Bardem, Jeff Bridges and Colin Firth (for leading actor), and Annette Bening, Julianne Moore and Natalie Portman (for leading actress). All want their hands on the coveted BAFTA mask!
Designed in 1955 by the US sculptor Mitzi Cunliffe, the masks have become internationally-recognised symbols of excellence in the art forms of the moving image. Based on the traditional concept of the theatrical tragicomic mask, the reverse depicts a screen image around one eye and an electronic symbol around the other, symbolically linking dramatic production and television technology. Here at Strathclyde University Archives we are delighted to have, in our care, two of the iconic BAFTA masks. But to whom did they belong and what led them to our archive?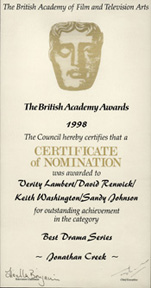 The answer lies in the career of Verity Ann Lambert (1935-2007) OBE, internationally acclaimed television and film producer. Gifted to the University in 2008, the BAFTAs form a unique and integral part of the Papers of Verity Lambert (T-LAM), and are representative of an exceptional and pioneering career in the entertainment industry. The first was awarded for Best Television Drama Series for Somerset Maugham's Short Stories in 1969, whilst the second, the Alan Clarke Award for 'outstanding creative contribution to television', was presented in 2002. Hailed as the most influential and inspirational drama producer of her generation, Verity was in fact nominated for a further four BAFTAs during her lifetime: for Best Drama series - Shoulder to Shoulder (1974); The Norman Conquests (1977); Jonathan Creek (1998); and for Best Comedy series - May to December (1990).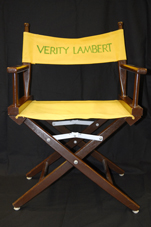 Born in North London in 1935 and educated at Roedean and the Sorbonne, Verity's television career began as a secretary working at Granada. Over the next forty years, driven by her love of literature and drama, she worked her way up through the ranks at ABC, the BBC (becoming their youngest and only female drama producer at the time), London Weekend, Thames Television (as Controller of Drama), Euston Films (becoming Chief Executive), and Thorn EMI Screen Entertainment (as Director of Production), before launching her own independent production company Cinema Verity in 1985.
It is thanks to Verity that a huge and extraordinarily diverse range of dramas have been brought to our screens over the years, including such highlights as Budgie, Shoulder to Shoulder, Rock Follies, Rumpole of the Bailey, the two international Emmy-award winners Edward and Mrs Simpson and The Naked Civil Servant, Minder, Reilly-Ace of Spies, GBH, Class Act, and Jonathan Creek. Her film forays include Dreamchild, Not for Publication, Clockwise and A Cry in the Dark (winner of four Golden Globe nominations and Six Australian Film Institute Awards). She is, however, perhaps best remembered as the founding producer of the legendary cult series Doctor Who (1963): without Verity the annals of sci-fi drama may, today, truly be very different!
Throughout her prolific and wide-ranging career, Verity was renowned for her flair, determination and innovation, her independence and charm, and her sharp, exacting eye with scripts. She made her name with drama that was intelligent, popular and extraordinarily varied and worked with everyone from Edward Fox and Sam Neill, to John Cleese and Alan Davies; Holly Aird and Joanna Lumley, to Hayley Mills and Meryl Streep. A recurring theme in her work was the role of women in society and it is fitting that in 2007, she was posthumously awarded the Women in Film 'Working Title Films Lifetime Achievement Award'.
Indeed, Verity received a host of domestic and international awards and marks of esteem throughout her career and these form an integral part of her archive today. One recognition of which she was particularly proud was the honorary degree of 'Doctor of Laws' presented to her by the University of Strathclyde in April 1988, and as a result, she arranged that her personal archive would be gifted to the University.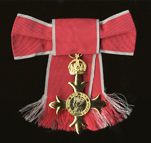 Other collection highlights include: her OBE medal, awarded for services to film and television production (2002); her 'Fellow of the British Film Institute' award (1998); photographs, including from various production sets, and her inscribed producer's chair – bright, distinctive and a commanding presence on set, just like Verity herself.
Kirsteen Croll, Archives Assistant
Further information:
GB 249 T-LAM Papers of Verity Lambert