Daniel Defoe's History of the Union
In this month in 1707, the Act of Union between England and Scotland was passed. To commemorate this important piece of legislation as well as to fuel the ongoing debate surrounding the Scottish Referendum, our choice this month is one of our rare books: The history of the union between England and Scotland, written by Daniel Defoe and published, over fifty years after his death, in 1786.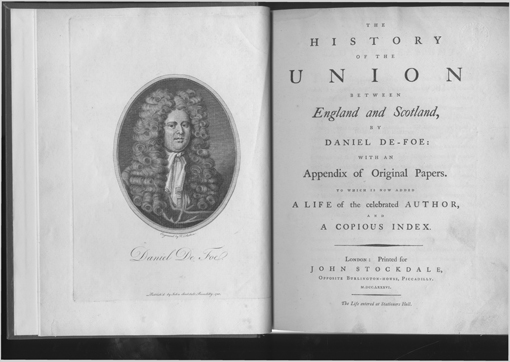 Whilst Defoe is best known for his literary works including Robinson Crusoe and Moll Flanders, he was also a political activist, writing pamphlets in support of King William and Queen Mary, and later Mary's sister, Queen Anne. In fact he wrote over 500 pamphlets, books and journals on various topics including politics, crime and religion. This book is a work of propaganda by Defoe on behalf of the British Crown and Government that acts as a commentary on the history of the Act of Union, starting in 1606 with the reign of King James I. Defoe also details the arguments for and against the Union.
At one stage in the book, Defoe documents the reaction in Scotland, particularly Glasgow, to being 'imposed upon' and the trouble that ensued all over the country. Defoe visited Glasgow in 1707, the year the Act of Union was passed, a visit which he later recorded in A tour thro' the whole island of Great Britain, published in three volumes a few years before his death in 1731.
The History of the union between England and Scotland is not the only work Defoe wrote on the Act of Union. He also wrote a propaganda pamphlet against the Pope and the King of France entitled: A seasonable warning: or the Pope and King of France unmasked; A pamphlet in favour of the Act of Union between England & Scotland. This is housed by the British Library and was written a year before the act was passed by Queen Anne.
Jennifer Brosnan, Archives Assistant
Further information:
Daniel Defoe, The history of the act of union between England and Scotland, 1786. Rare Books (D 41.1069 DEF).
Paula R. Backscheider, 'Defoe, Daniel (1660?–1731)', Oxford Dictionary of National Biography, Oxford University Press, 2004; online edn, Jan 2008
Daniel Defoe, A tour through the Island of Great Britain, 1778. Robertson (D 820. 6-9 DEF).
William Hazlitt, The works of Daniel Defoe: with a memoir of his life and writings, 1840-1843. Rare Books (D 820.6-9 DEF).