The New Dominie
The University of Strathclyde's Jordanhill Campus, home of the former Jordanhill College of Education (1907-1993), and part of the University since the merger of the two institutions in 1993, will close in the summer 2012. To mark the end of the University's physical association with the Jordanhill site, this month we focus on the Jordanhill College archive and showcase some cartoon gems from its student magazine, the New Dominie.
Taking its name from the Scots word for schoolmaster, the New Dominie was published several times each year from the mid-1920s until 1966 and served both as a forum for serious writing and debate, and as an outlet for humorous observations and satire on all aspects of College life. As well as lampooning their fellow students and College staff, the magazine's contributors sketched keenly-observed caricatures of the Glasgow schoolchildren upon whom they were unleashed for supervised school practice sessions, known as public criticism or 'crit' lessons. During these lessons, budding teachers learned to recognise several common 'pupil types', as illustrated in the March 1953 edition: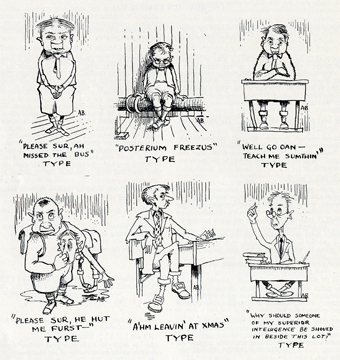 The fashionable 'Teddy Boy' determined to leave school at Christmas (image 5) may date these cartoons firmly to the 1950s, but the range of behaviours and attitudes depicted are no doubt still familiar to teachers today.
Public criticism lessons, in which the College's Methods Department staff would assess each student's performance as they taught a class of children, were a core component of teacher training courses from the earliest times. The students viewed them with a mixture of dread and trepidation. In the words of one New Dominie contributor, 'the temperature rises, the fever engulfs one, the cold sweat breaks on the brow, and the heart-beat is accelerated. If the patient comes through the 'crit'-ical period safely, his resistance to subsequent bouts is greatly increased. Day by day his resistance improves until at last he finds himself totally immune to any further attacks and emerges C.M. (or Compos Mentis).'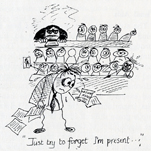 This anxiety surrounding the 'crit' lessons is portrayed to great comic effect in the New Dominie, and particularly in the following sketch from the Spring 1962 edition. Watched by the brooding spectre of his Methods lecturer at the rear of the classroom, a nervous student fumbles through the pages of his lesson plan whilst the pupils take full advantage of the situation to chat amongst themselves, share pictures with their friends, have a snooze, or laugh out loud at the student's discomfort (note also the 'blank face' of one pupil in the middle row!).
And for those whose 'crit' assessment did not go well, the magazine became an outlet to vent frustrations against their assessor . . .
For all its fun, however, the New Dominie also testifies to the trainee teachers' genuine affection for the College, its picturesque campus, and to the mixture of sadness and anticipation felt by many when their time there was at an end. As staff and students now prepare to leave the Jordanhill Campus for the very last time, this sketch from the March 1953 edition seems particularly poignant: 'Out of the Doors, down the Drive . . . through the Gates – Cheerio!'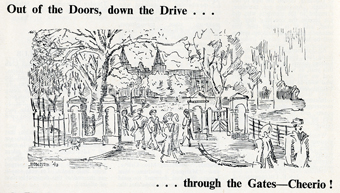 Anne Cameron, Archives Assistant
Further information:
The New Dominie, 1926-1966 (ref: GB 249 JCE/21/3/3)
Margaret M. Harrison and Willis B. Marker, The History of Jordanhill College of Education 1828-1993 (Edinburgh, 1993) D 378.4144 HAR
James Scotland, The History of Scottish Education (2 vols.; London, 1969) D 370.9411 SCO