Bidloo's Anatomical Atlas
As the nights get darker and the weather colder, look no further than our latest item of the month for inspiration as Hallowe'en approaches. Take a glance at the illustrations in this fascinating, if macabre, volume from the Anderson Collection, the 'Anatomia Humani Corporis'.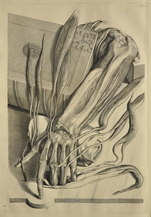 Published in 1685 by the Dutch anatomist, Govard Bidloo (1649 – 1713), 'Anatomia Humani Corporis' was the first large-scale anatomical atlas since Vesalius' 'De Humani Corporis Fabric' of 1543, and heralded a more scientific approach to anatomical illustration. The appeal of this large folio volume lies in its illustrative plates: one hundred and five beautiful, detailed, but often grotesque drawings of the human body and dissected organs by Gerard de Lairesse, one of the finest artists of his time. The Latin text provides a brief description of each plate. A Dutch edition was also published in 1690.
Unfortunately, the volume's large size and considerable cost led to poor sales, which prompted the publisher to sell three hundred unbound copies of the plates to the English surgeon, William Cowper. Cowper took the plates, conducted his own research, and published both together as 'The Anatomy of Humane Bodies' in 1698, claiming the work as entirely his own. This became the biggest case of plagiarism in the history of medicine. Bidloo, who assumed Cowper was preparing a legitimate translation of his work, accused Cowper of a being an 'ambitious miserly scoundrel and thief of literary knowledge'.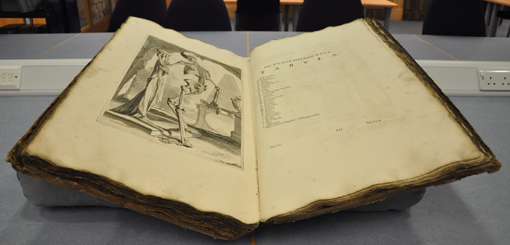 Our copy of the 'Anatomia Humani Corporis' appears in an early catalogue of the Anderson's Institution library (c 1799) as 'Tabula Anatomica'. The catalogue describes the condition of the volume as 'dirtied and abused', and it would appear to have seen little care ever since; however, it is soon to receive some overdue love and attention under the rolling conservation project for the Anderson Collection, which began in 2002. The book will be deconstructed, cleaned, repaired and then rebound by skilled book conservators in order to preserve it for future researchers. Before we send it away, however, we have taken the opportunity to photograph the illustrations. All one hundred and five plates can now be viewed in our flickr gallery…if you dare!
Carol Stewart, Senior Library Assistant
Further information:
'Bidloo, Govard' Dictionary of Scientific Biography, Volume 15, pp. 28 - 30, Andersonian Library RD 509.22 DIC
Beekman (1935) 'Bidloo and Cowper', Annals of Medical History, Volume 7(2), pp. 113 - 129
Anatomia humani corporis, Govert Bidloo. Amsterdam, 1685. Anderson Collection