John Anderson and Benjamin Franklin
In 1788, the American statesman and scientist, Benjamin Franklin, returned to spend his last years at home in Philadelphia. Franklin was afflicted with 'the Gout and Stone', which caused him to largely withdraw from public life until his death in 1790. However, he endeavoured to keep up his correspondence, and managed to reply to a letter he received in February 1788 from Mr John Anderson of Glasgow College. This letter (ref: GB 249/OA/2/6) is our featured item for September, as this month the University of Strathclyde will be visited by the 'Friends of Franklin' from Philadelphia, who are touring Scotland in Franklin's footsteps.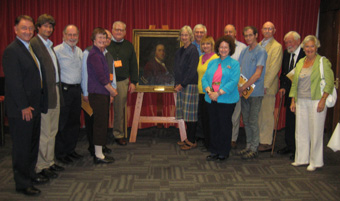 Benjamin Franklin came to Scotland twice, in 1759 and 1771. He was especially keen to visit the country's seats of learning, and on both occasions he spent time with the Professor of Natural Philosophy at Glasgow College, John Anderson. In 1759, Anderson accompanied Franklin on a trip to Dunkeld, Perth and St Andrews, where Franklin was presented with an honorary diploma. During this journey, the gentlemen probably had much to discuss in the field of natural philosophy, for Anderson must have been fascinated by his fellow scientist's experiments with electricity and lightning.
But Anderson and Franklin had a great deal more in common, as they shared a concern for the dissemination of useful and practical knowledge. Franklin's efforts in this regard, which culminated in the creation of the University of Pennsylvania, had commenced in 1749 with the publication of his paper 'Proposals for the Education of Youth in Pensilvania', in which he argued:
| | |
| --- | --- |
| | "As to their Studies, it would be well if they could be taught ever[y] Thing that is useful, and ever[y] Thing that is ornamental: But Art is long, and their Time is short. It is therefore propos'd that they learn those Things that are likely to be most useful and most ornamental. Regard being had to the several Professions for which they are intended." |
Franklin's radical proposal to deliver a more practical and useful form of education is still espoused by the modern day University of Pennsylvania.
Franklin's example may have inspired John Anderson to set up his 'anti-toga' classes for the working men and women of Glasgow, and to leave instructions in his Will for the foundation of a new educational establishment after his death. In 1796, Anderson's Institution was duly established by his trustees, and has evolved into the present day University of Strathclyde. This excerpt from the Will echoes Franklin's own proposals for Pennsylvania, with Anderson envisaging that
| | |
| --- | --- |
| | "…from these small beginnings, this institution may become a seminary of Sound Religion; Useful Learning; and Liberality of Sentiment." |
To this day, Strathclyde remains guided by Anderson's concept of a 'place of useful learning'.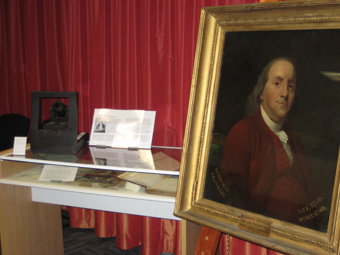 When Franklin returned to Scotland in 1771, he again visited John Anderson, who gave him a tour of the Glasgow College lecture halls and experimental laboratories. As they progressed from room to room, they most likely discussed Anderson's plans to erect a lightning conductor on the College building, both to protect the building and to facilitate electrical experiments. The conductor was erected on the College steeple in 1772 and was the first of its kind in Glasgow. Anderson's personal collection of books – which he bequeathed to form the original library of Anderson's Institution – includes a fairly comprehensive section on eighteenth-century natural philosophy and electricity.
In 1786, Anderson published the first complete edition of his Institutes of Physics. He enclosed a copy of this work when he wrote to Franklin in February 1788, believing that it "may amuse you; and be [of] use to some young Lecturer in Philadelphia: for, from the experience of thirty years, I am convinced that the plan is good…" Anderson's letter also comments on the second volume of Sir John Dalrymple's Memoirs [of Great Britain and Ireland], and gives his opinion on carronades.
Franklin's reply to the letter is brief, but he declared himself "much pleased with your Institutes [of Physics]; and I think your Remarks on the History [Dalrymple's Memoirs of Great Britain and Ireland] are just". It is a testament to their enduring friendship and to Anderson's warm hospitality that Franklin personally replied to Anderson, despite his failing health. Though often viewed as an eccentric, meddlesome character, John Anderson was clearly an inspirational teacher – a quality prized and encouraged by Benjamin Franklin.
Carol Stewart, Senior Library Assistant

Further information:
GB 249 OA John Anderson papers
GB 249 OB Anderson's Institution records
Papers of Benjamin Franklin at the American Philosophical Society
Crawford, Ronald (2008) 'Enlightenment themes in education – Benjamin Franklin and John Anderson' GB 249 OA/8/186
Nolan, J.B. (1938) 'Benjamin Franklin in Scotland and Ireland, 1759 and 1771' Andersonian Library D 973.2092 FRA/N
Muir, James (1950) 'John Anderson : pioneer of technical education and the college he founded' Andersonian Library D 609.24 AND/M
Butt, John (1996) 'John Anderson's legacy : the University of Strathclyde and its antecedents, 1796-1996' Andersonian Library D 378.4144 BUT