Key facts
Start date: September

Study mode and duration: Work-based learning in combination with online and on campus study, 18 months part-time

NCSC Certification: Fully certified by the National Cyber Security Centre. The certification means the programme meets the criteria defined for Scottish Graduate Apprenticeship Master's Degrees providing a General Foundation in Cyber Security.

Scholarships: 25 fully funded places available

Graduate Apprenticeship: Applicants must be employed in Scotland, in a role involving cyber security
Study with us
gain a masters degree whilst in paid employment
flexibility to work and study, with classes and learning structured to fit around work and other commitments - you don't need to be online at specific times
designed in partnership with industry, you'll learn from experienced, industry-facing cyber security academics and researchers
attend classes at our city-centre campus one day every three weeks to learn directly from our experts and network with peers
I've really enjoyed the MSc Cyber Security Graduate Apprenticeship. The content is engaging, I've learned a lot about new topics and it's also helped to reinforce my current knowledge. Integrating work with studying is definitely something I would consider again.
Steven Morrison, Caseblocks
Back to course
Why this course?
Critical to an organisation's cyber security protection is the ability to understand and articulate security threats, challenges, protection methods and security mechanisms, and to be able to differentiate between excellent security and snake-oil security.
Our MSc in Cyber Security graduate apprenticeship is focused on building this expert knowledge and the skills that industries need in the essential field of cyber security. As an IT professional with a cyber security remit, with support from your employer, you'll gain a masters degree whilst spending the majority of your time applying your learning to your professional practice and integrating your knowledge back into the workplace.
Created in partnership with industry, our MSc Cyber Security combines academic knowledge with advanced skills development. You'll learn the latest cyber security strategies, theories and techniques, focusing on how to protect and defend information systems from attack.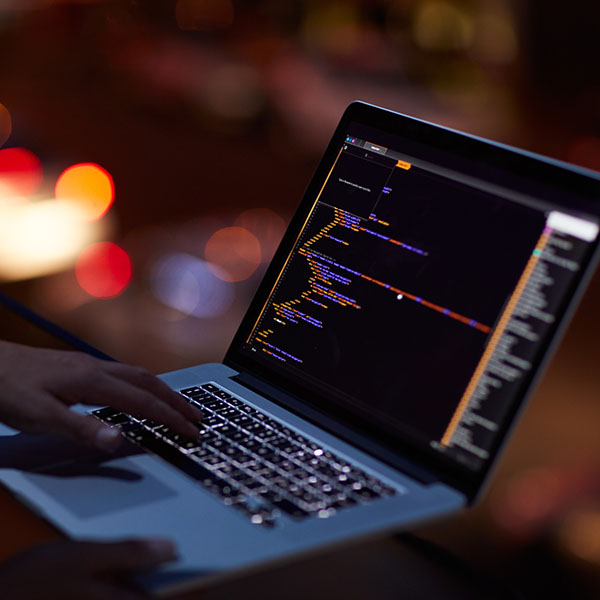 Chat to a student ambassador
If you want to know more about what it's like to be a Science student at the University of Strathclyde, a selection of our current students are here to help!
Our Unibuddy ambassadors can answer all the questions you might have about courses and studying at Strathclyde, along with offering insight into their experiences of life in Glasgow and Scotland.
Chat now!
Go back
Course content
Your studies will focus on integrating learning with the world of work. During the first 10 months, you'll study three core modules followed by three specialised modules, alongside work-based learning.
In the final eight months, you'll undertake a research project and dissertation module. Beginning with six weeks of research methods training, this module will support you to develop your own research topic in an area related to your work as you continue to apply your academic knowledge and new skills within your workplace.
Information Security Fundamentals
An introduction to information security by presenting key concepts and mechanisms (authentication, access control and cryptography), information security management, information risk management, and the legal and regulatory environment.
Advanced Information Security
A practical appreciation of email, web and network attacks and defences, covering both wired and wireless networks, controls such as firewalls, and intrusion detection and prevention systems, with consideration of their usability aspects.
Advanced Topics in Information Security
A deeper understanding of symmetric and asymmetric encryption; a practical appreciation of operating system and host-based attacks and defences; software security; database and datacentre security; and an introduction to emerging security topics, such as cloud computing and the internet of things.
Information Security Research Project and Dissertation
An in-depth appreciation of the skills necessary to conduct research in information security (surveying of literature, experimental design, data collection and analysis study design, quantitative and qualitative data analysis techniques, research project management, and research ethics), and their application within a dissertation on a work-related research project carried out under academic supervision.
Work-based Learning in Information Security
Students will demonstrate the application of aspects of the degree course within an industrial context and develop professional skills by undertaking personal development planning and building an e-portfolio of work-related evidence for various cyber security professional competencies.
Digital Forensics and Incidence Response
A practical in-depth appreciation of how to conduct forensic investigations in accordance with legal and ethical guidelines, and the design and implementation of incident management and response procedures from the perspective of ensuring cyber resilience and meeting incident reporting compliance requirements.
Compliance and Operational Security Management
A focus on cyber resilience and business continuity with an in-depth appreciation of the practical skills necessary for security monitoring and event management, and the design and application of procedures for restoring operations after security incidents while ensuring compliance with legal and regulatory requirements.
Vulnerability Assessment and Security Testing
A practical in-depth appreciation of vulnerability assessment and remediation, penetration testing and code security testing as a means of assessing the effectiveness of security controls within the context of compliance auditing and from a "purple" team perspective.
Learning and teaching
You'll combine academic theory with professional practice, typically spending about 80% of your work time in your job, and 20% on developing expert knowledge and skills through a combination of online and on campus learning.
You'll be required to attend classes on campus one day every three weeks, with the dates for all classes across the academic year supplied in advance to support planning your work and learning commitments. In addition, you'll undertake around 15 hours of flexible learning a week, through our award-winning Virtual Learning Environment complemented with learning directly in the workplace supported by our team of dedicated Learning Advisers. These advisers are employed by the University to facilitate and support the work-based learning and assessment elements of your MSc in Cyber Security.
Assessment
Each module involves a range of formative and summative assessments, including online discussion contributions, online quizzes, practical laboratory exercises, and individual and group assignments, such as written reports, face-to-face and video presentations and reflective reports.
Support from the University
As a MSc Cyber Security student, you'll be a full University of Strathclyde student, with access to the same facilities, support services and learning resources as our students who study full-time on campus.
On enrolling, you'll be given a laptop preloaded with the software required for the programme.
You'll also receive one to one support from a learning adviser, who'll meet you twice per term in your workplace to discuss your portfolio of work-based learning activities, help you identify evidence for these, and monitor your progress.
Support from your employer
We work directly with numerous employers who nominate current or recruit new employees, to undertake our MSc in Cyber Security. We also have students who join us directly, with the support of their employer.
The Graduate Apprenticeship is a partnership between you, your employer, and the University - the full support of your employer is essential. You can read our employer guidance for the MSc Cyber Security.
Back to course
Entry requirements
Each application is assessed on a case by case basis. You will typically have a 2:1 BSc Honours degree in Computer Science or a related discipline. We also welcome enquiries from applicants with non-traditional qualifications and/or relevant work experience. You must:
be employed in a role with an aspect of cyber security, for a minimum of 21 hours a week. Furloughed staff are also eligible.
live and work in Scotland for the duration of the programme
have the agreement of your employer to undertake the MSc Cyber Security
Successful candidates will be required to sign a tripartite agreement prior to registering for the MSc, between them, their employer, and the University. This ensures all parties are fully committed to the programme for its duration.
Back to course
Fees & funding
Fees may be subject to updates to maintain accuracy. Tuition fees will be notified in your offer letter.
All fees are in £ sterling, unless otherwise stated, and may be subject to revision.
Annual revision of fees
Students on programmes of study of more than one year should be aware that tuition fees are revised annually and may increase in subsequent years of study. Annual increases will generally reflect UK inflation rates and increases to programme delivery costs.