MSc Hydrogeology

Steve Kumwenda
Steve, from Malawi, studied our MSc Hydrogeology Distance Learning programme to gain the professional training that is required for those working as Hydrogeologists in his country (and throughout the world). Here he tells us why he chose to do the distance learning course at Strathclyde...
I am Steve Kumwenda, a 2016 – 2019 Common Wealth Distance Learning Scholar in MSc Hydrogeology at the University of Strathclyde, Scotland.
It has become very apparent that most countries in the Sub Saharan Africa will continue to depend on groundwater sources for drinking water and other uses as rivers and surface water bodies are increasingly becoming stressed due to climate change and increase in metropolitan population. This, in essence, is shifting the dependence of water abstraction sources from surface water to groundwater. Therefore, I decided to pursue the Distance Learning MSc in Hydrogeology Course at the University of Strathclyde in order to be part of the global solution to the worldwide water supply and water security challenges through a professional understanding of development and management of groundwater resources. The MSc Course is already proving highly relevant for the Malawi water sector as the country has not enough professionally trained Hydrogeologists.
Studying as a Distance Learning student gave me ample time to multitask the demands for my current work, as a Programme Hydrogeologist, at BASEflow as well as have some time with my family. BASEflow is a Malawian organization, founded in 2017, that is working to improve the sustainability of groundwater sources in rural Malawi.
The Distance Learning MSc in Hydrogeology has given me practical and theoretical learning to help my country meet its Sustainable Development Goals in 2030 and beyond.
What did you enjoy about the MSc course?
I got excited with the understanding of the percentages of freshwater availability on this planet. The fact that 98% of the world's available freshwater for use still fascinates me to date and gives me the drive to still dig deep into understanding of this vital resource.
What would you say to students considering studying by distance learning at Strathclyde?
It offers the great opportunity for them to develop themselves into a career of absolute technical and specialised field that offers great opportunities in the field of water resources management and development not only at National level but regionally and globally as well. Studying on a distance learning mode also offers some space for engaging in other day to day livelihoods particularly those with young families and demanding jobs
What is a Common Wealth Distance Learning scholar?
Commonwealth Distance Learning Scholarships are offered for citizens of certain developing Commonwealth countries. These scholarships are funded by the UK Department for International Development (DFID), with the aim of contributing to the UK's international development aims and wider overseas interests, supporting excellence in UK higher education, and sustaining the principles of the Commonwealth. The scholarships are highly competitive.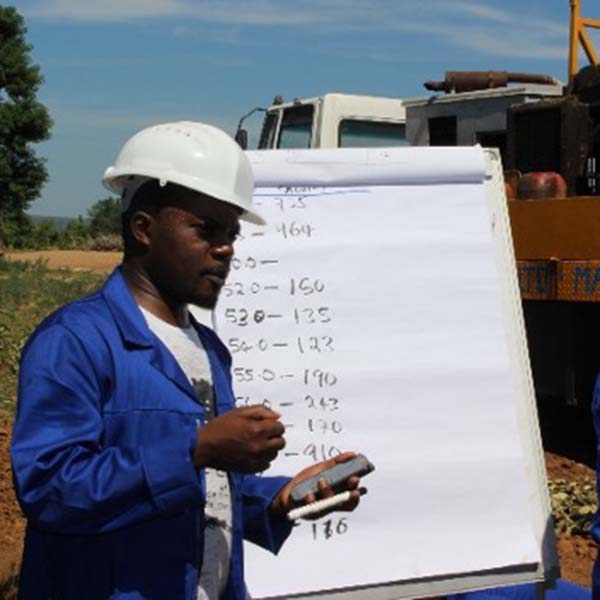 Steve onsite at the professional borehole drilling standards practice course in Malawi that was meant to build the capacity of Government and other groundwater supply Institutions' technicians.