Key facts
Start date: September

Accreditation: AACSB, AMBA & EQUIS

Study mode and duration: 12 months full-time
Study with us
study modules in both marketing and engineering as part of this integrated course
understand how technology and innovation open the way to new business opportunities
opportunity to work on a group project within industry
Back to course
Why this course?
The 21st century is witnessing an unprecedented growth in technological innovation, across all business sectors. This Masters degree, unique in Europe, brings together the fields of marketing and engineering in an integrated course that enables graduates to pursue a professional career in either direction with tremendous success.
Today's business professionals are required to have a strong understanding of how technology and innovation must meet with the demand for technology driven products and/or services. However, the majority of business undergraduates lack the necessary educational background that would allow them to fully understand how emerging technologies open the way to new business opportunities. Likewise, graduates from engineering lack the necessary business background that would enable them to focus their innovativeness and skills in economically sustainable ideas for new products and/or services.
Our Department of Marketing in Strathclyde Business School and the Department of Design, Manufacturing & Engineering Management (DMEM) in our Faculty of Engineering, have collaborated to develop a Masters-level programmes to bridge this gap.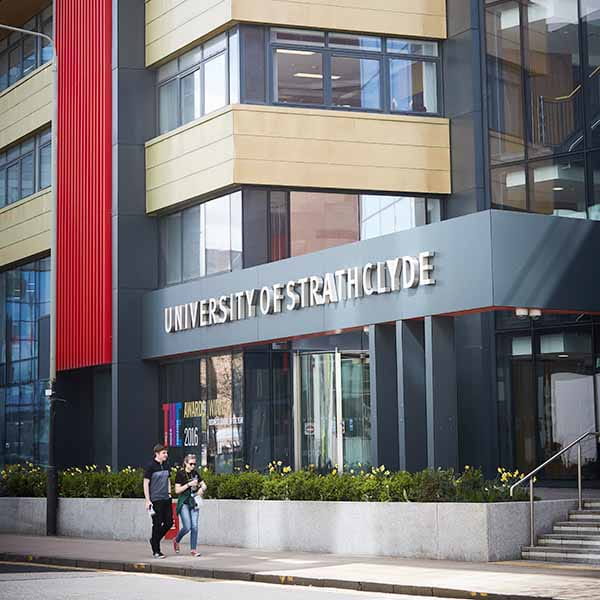 What you'll study
The course comprises two teaching semesters. Semester 1 consists core classes: Brand Management & Product Strategy, Strategic Marketing, Innovation Management and Financial Implications of Innovation.
In Semester 2, you'll have the opportunity to focus on specific topics according to your interests. You'll choose two optional classes from each department. Marketing classes include: Marketing Research, Export Marketing, Services Marketing and B2B & Key Account Management;; Design, Manufacturing & Engineering Management classes: Strategic Supply Chain Management, Management of Total Quality & Continuous Improvement, Design Methods and Supply Chain Operations.
Major projects
During the second semester, in a group with three or four of your colleagues, you'll have the opportunity get involved in the Marketing Works projects. Under the supervision of one of the course lecturers, your group will meet with the customer to be briefed and then work together to prepare a realistic and efficient solution to a real-life problem facing the company.
This is a unique experience that will enable you, not only to use your newly-acquired knowledge and skills in practice, but also to gain a better understanding of the challenges lying ahead after graduation.
Leadership & team building
Throughout the programme you'll have opportunities for group working with your fellow students. This allows you to network with your colleagues and develop key management, team building and leadership skills.
Course awards
Upon successful completion of 180 credits from taught classes, the Marketing Works project and dissertation, you'll be awarded the MSc in Innovation & Marketing Management. A Postgraduate Diploma in Innovation & Marketing Management is available for those who achieve 120 credits.
Guest lectures
Guest lecturers/speakers will cover practical aspects of various classes as appropriate.
Learning & teaching
Teaching will involve lectures, case study discussion and analysis, in-class learning exercises and group tasks. All classes will involve at least one guest lecture from practitioners to allow students to benefit from a real business world perspective.
Where appropriate (eg Marketing Research class) you'll also attend workshops to develop the required practical skills.
Assessment
Assessment will rely on class work and exams (for core classes). The latter will account for no less than 50% and the former no more than 40% of your total mark. The final mark for elective classes will rely on an individual major assignment.
Triple-accredited business school
Meet our students
Alternative classes may be substituted at the discretion of the Programme Director.
Strategic Marketing Management
The aim of this class is to enable students to advance their understanding of the strategic marketing management process, to develop their knowledge of marketing planning and implementing the strategic activities of marketing within organisations in order to succeed in competitive markets.
The class provides an overview of discrete marketing tools used as well as theories and the fundamental terminology used in the field of strategic marketing management. In addition, the class aims to equip students with the analytical skills necessary to be able to implement and assess the outcomes of marketing decision making.
International Marketing Research
Marketing research and customer information provide key input to the development of a company's marketing strategy. The marketing concept is better implemented when information about the market, the competitors and potential buying behaviour is available.
This class introduces the decisions and stages of the marketing research process, within the context of customer and market information now available from a wide range of sources including databases, loyalty cards and the internet.
Strategic Technology Management
This class provides a series of strategic frameworks for managing high-technology businesses. The emphasis throughout the class is on the development and application of conceptual models which clarify the relationships between a firm's strategy, patterns of technological and market change and the processes for the development of organizational capabilities.
This is not a class in how to manage product or process development. The main focus is on the acquisition of a set of powerful analytical tools which are critical for the development of a technology strategy as an integral part of business strategy. These tools can provide a guiding framework for deciding which technologies to invest in, how to structure those investments and how to anticipate and respond to the behaviour of competitors, suppliers, and customers.
The class should be of particular interest to those interested in managing a business for which technology is likely to play a major role, and to those interested in consulting or venture capital.
The class utilizes lectures, case analyses and independent reading. The readings are drawn from research in strategy, technological change and organizational theory. The case studies provide an extensive opportunity to integrate and apply these abstract tools in a practical, business policy context.
The class aims to provide students with an in-depth knowledge and understanding of those key concepts, methods, tools and techniques that are fundamental to effective and efficient running of supply chain operations from suppliers' suppliers to customers' customers. On completion the participants will be able to design and manage operational supply chain planning, scheduling and controlling systems for complex and disparate operations.
The class aims to provide a structured introduction to the Design Management process, issues and tools. On completion participants will appreciate and understand the role of design within an organisation and the organisational structures required for effective design, appreciate the role of design models, approaches and methods, know a variety of aspects including socio-technical elements of design, and appreciate the role of innovation in design and value and performance in design.
Marketing Works: Group Project
The Marketing Works project provides you with a challenging organisation-based, action-learning opportunity to advise a company on a marketing problem/opportunity.
You'll consult your client-firm or client-organisation with the objective of delivering realistic recommendations which, if implemented, could reasonably be expected to help generate strategic marketing plans. The scope of the project is to allow you to work in groups to manage the project at hand, and communicate outcomes to your clients.
The groups are responsible for managing their relationships with their clients, and will be assigned a supervisor from the Department who will oversee the your progress.
Find out more about the Marketing Works: Group Project and see what companies you could be working with.
Brand Management & Strategy
This class provides a detailed understanding of brand theory and application of key brand strategies. Major brands will be reviewed.
Aspects and theories of brand management will be presented and discussed in order to equip you to manage effectively in a global brand environment. You'll gain a clear appreciation of the role of brand strategy within the corporation's operating plan. This will entail consideration of environmental factors causing changes to the structure and composition of the brand portfolio as well as discussion of conceptual issues surrounding the strategic roles of brand management.
A theoretical look at how a company's brand value is created and measured will be a key objective of this core class. Using core brand theories and concepts, this class reviews and applies brand strategies to a variety of business cases. The course is rich in branding theory and will put the theory to practice using branding applications to industry and reviewing key companies branding strategies.
Product Costing & Financial Management
This class aims to provide students with an understanding of strategic aspects of finance in relation to the decision-making process and analysis necessary for efficient management of organisations. Participants will demonstrate understanding of the financial organisation of industrial enterprises, understand, interpret and prepare financial statements and costing models of industrial enterprises, evaluate financial models to facilitate economic decision making, and evaluate the application and impact of performance measurement tools in a business environment.
To stay ahead of the game, corporations must innovate. They must improve their processes, launch new products and services, move into adjacent markets, and even launch breakthrough new businesses. There is just one problem; organizations are not built for innovation, they are built for ongoing operations. Furthermore, innovation and ongoing operations are always and inevitably in conflict. So, how can corporations achieve simultaneous excellence in both?
The central focus of this class is innovation implementation. The importance of the subject matter covered in this course is captured in the widely accepted "truism" that over 90 percent of businesses (as well as non-profit organizations) flounder on the rocks of implementation; either the 'plans' never come into being or get distorted, or the implementation is much costlier and time consuming than anticipated. However laudable the creative idea or innovation intentions may be, if they do not become a reality, they usually are not worth the paper on which they are written. Conversely, high-performing companies excel at execution. This class will provide concepts, frameworks, and tools to help the participant to gain that "execution advantage" while innovating.
Strategic Procurement Management
This class provides the participant with insights into Strategic Purchasing Management, specifically the EXP (Excellent Purchasing Model), which summarizes the purchasing functions and processes at strategic, tactical and operational levels.
This interactive class provide participants with a critical understanding of why procurement is a strategic influence of an organisation, and determining the building blocks that are essential to this, and the skills and attitudes necessary to build a strategic procurement structure, and the functions that make it imperative to the organisation.
A good level of performance across both semesters is necessary for you to progress to the Dissertation stage of the MSc. The dissertation is your opportunity to study, in depth, a specific marketing problem in an area of personal interest.
Dissertations typically involve desk research and literature reviews, then case studies of individual companies or small scale primary research. This provides scope for originality of thought, research fieldwork and analysis and presentation of results.
One from list A taken in semester 1 and one from list B taken in semester 2 (these are indicative and may change in different academic sessions).
List A
This class aims to provide participants with skills and knowledge relating to the use of engineering practices in Project Management with particular respect to the project triple constraint: time, cost and quality.
On completion of the class the participant is expected to be able to:
demonstrate a good understanding of project management practices and practical skills to manage project scope
gain intellectual skills to apply various project planning
scheduling and controlling methods with respect to the project triple constraints: time, cost and quality
develop a good understanding of the inter-dependency between various project management knowledge areas
understand the importance of project stakeholders and their impact on project management
This module aims to enable students to select and apply appropriate design methods as a part of the design process.
On completion of the class the participant is expected to be able to:
select and apply appropriate design methods for a design project
integrate appropriate design methods into a design process to ensure fitness of purpose of all aspects of the problem/context
analyse literature sources to identify design methods suitable for a particular situation
Management of Total Quality and Continuous Improvement
The aim of this class is to provide participants with an in-depth understanding of the key principles, concepts, tools and techniques of total quality management and continuous improvement together with an awareness of how in practice these could be synthesised to design and deliver an integrated continuous improvement programme.
On completion of the class participants are expected to be able to:
understand key principles, concepts, tools and techniques of total quality management and continuous Improvement
apply key principles, concepts, tools and techniques of total quality management and continuous improvement
construct improvement programmes within a particular context
List B
International Services Marketing
Services represent more than a quarter of all world trade and the world market for services is growing at more than twice the rate of the product sector. Over the past two decades, academics and practitioners have become aware of the need to adopt a different emphasis when marketing services rather than products. Many companies producing products are turning to service to provide their differentiation.
At the heart of this elective is the recognition that services present unique challenges, and that building customer relationships through quality service is fundamental to marketing success in every organisation. The aim of this elective is to provide an introduction to the special challenges of Services Marketing with a particular focus on the international context.
This class focuses on exporting, the market servicing mode most commonly adopted by small to medium sized enterprises and firms in the early stages of internationalisation. The class covers both export strategy and export management issues and examines the latest research in export marketing.
B2B and Key Account Management
This class focuses on describing the organisational buying behaviour of the B2B (business to business) customer and highlights the key differences between B2B and B2C (business to consumer) marketing. The theory and practice of relationship-marketing is then discussed so that participants can understand what relationship-management is and the implications for the company's marketing strategy. The class addresses the challenges of identifying Key Accounts, how the supplier can develop a successful relationship with them, and the implications of Key Account Management for the supplier.
On completion of the class participants are expected to be able to:
understand how and why organisational buying behaviour is different from that of individual consumers
comprehend the implications for the marketing manager and the marketing task when selling to another organisation
appreciate the significance of aligning and efficiently using scarce resources between different B2B customers to improve the ability of the supplier to manage a portfolio of B2B customers
understand how to successfully develop and manage a relationship with a B2B customer
Chat to a student ambassador
Want to know more about what it's like to be a Strathclyde Business School student at the University of Strathclyde? A selection of our current students are here to help!
Our Unibuddy ambassadors can answer all the questions you may have about their course experiences and studying at Strathclyde, along with offering insight into life in Glasgow and Scotland.
Chat now!
Back to course
Fees & funding
All fees quoted are for full-time courses and per academic year unless stated otherwise.
Fees may be subject to updates to maintain accuracy. Tuition fees will be notified in your offer letter.
All fees are in £ sterling, unless otherwise stated, and may be subject to revision.
Annual revision of fees
Students on programmes of study of more than one year should be aware that tuition fees are revised annually and may increase in subsequent years of study. Annual increases will generally reflect UK inflation rates and increases to programme delivery costs.
How can I fund my course?
Go back
Scottish postgraduate students
Scottish postgraduate students may be able to apply for support from the Student Awards Agency Scotland (SAAS). The support is in the form of a tuition fee loan and for eligible students, a living cost loan. Find out more about the support and how to apply.
Don't forget to check our scholarship search for more help with fees and funding.
Glasgow is Scotland's biggest & most cosmopolitan city
Our campus is based right in the very heart of Glasgow. We're in the city centre, next to the Merchant City, both of which are great locations for sightseeing, shopping and socialising alongside your studies.
Life in Glasgow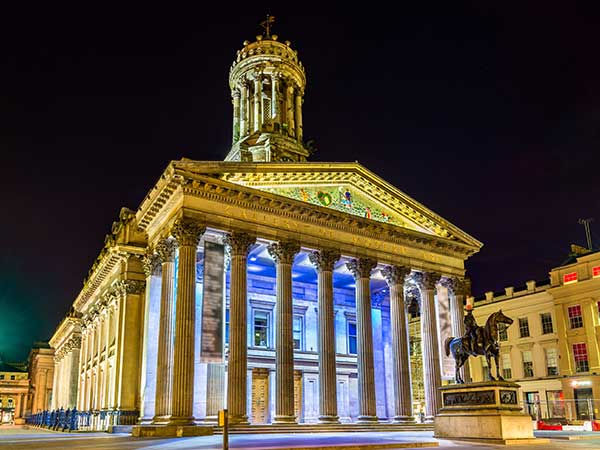 Have you considered?
We've a range of postgraduate taught and Masters courses similar to this one, which may also be of interest.