MSc Supply Chain & Procurement Management

Md Arif Hasan
Arif, from Bangladesh, made a life-changing decision when he chose to leave a career in industry to return to study. After catching up with him it sounds like the decision has paid off! We spoke to him about his motivations and his experience on our MSc Supply Chain and Procurement Management.
Tell us a bit about your background?
I am an operational management professional, and I gained my mechanical engineering degree in 2006 from the Islamic University of Technology (IUT) in Bangladesh.
Right after my graduation, I got the opportunity to start my career with BMW (Executive Motors Limited). That technological exposure propelled my early career, and I was then recruited to work for another global company, British American Tobacco Bangladesh. I worked for three years in different factories, leading more than a hundred employees.
The learning environment of this multinational company allowed management to progress through different departments, and I was promoted and propelled from a factory to the corporate environment. Later on, I got the opportunity to work with other reputed companies, giving me a wide range of industry exposure. In my last assignment, I was the Head of the Department in the leading coating company, Berger Paints Bangladesh.
What were your reasons for deciding to leave your role in industry and study a postgraduate degree?
Learning is my passion, and I always try to gain knowledge from everyone and everything. At a certain point, I felt the urge to gain further training and a degree from a reputed international university as I knew this was something I could then carry with me for the rest of my life. It was a tough decision to leave a promising and set career, but my dream pushed me here to Strathclyde to do something great.
What led you to study at the University of Strathclyde?
As many other students do, I started my search online. I searched for my subject of choice and investigated the high-ranking universities in the UK. The University of Strathclyde immediately caught my eye as a high-ranking university and the rest is history!
There was never a doubt in my mind about the quality of education at Strathclyde.
I found the right course at an affordable cost and was even able to secure a partial scholarship to study here. The bustling city of Glasgow and the exciting environment here also played a part in attracting me, as I think it does with many international students.
It was clear when doing my research that there was also a very welcoming culture at Strathclyde, which is of course important to me as an international student. I came here not just to study but also to have a memorable experience, which I have definitely had.


What do you like about your course?
The courses at Strathclyde are designed to develop our imagination and develop our creativity. On the MSc Supply Chain and Procurement, we have case study presentations every two weeks which encourage us to enhance our knowledge and deliver it to the professional platform. The staff are kind and friendly, which makes it a great environment to study in.
What has been your favourite aspect about studying at Strathclyde?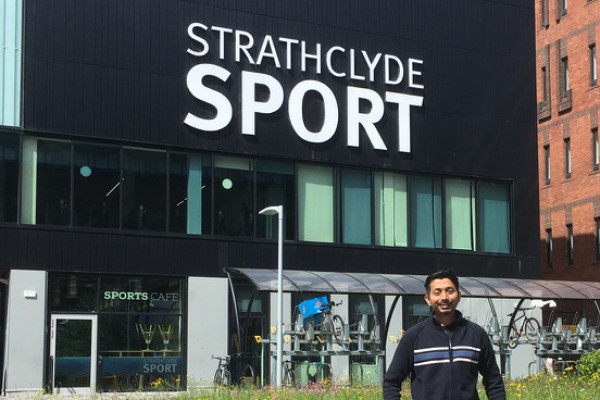 I have made many friends from different countries around the world, who I have not only enjoyed spending time with, but I have also learned from. As an international student, I have always felt safe on the beautiful Strathclyde campus. It feels like home to me, and my favourite place to be is at the gym on campus at the impressive Strathclyde Sport facility, which always gives me a positive vibe.
What do you think of Glasgow and Scotland?
When I came to study here, it was my first time visiting Europe, but I have had many friends who have told me I made a good choice as Scotland is the most beautiful place to visit in the UK. The mountainous landscapes, beautiful lakes, and beaches in Scotland are breathtaking. It is so easy to visit such places when Glasgow is your base as many places are less than an hour's drive away. I was lucky enough to get a part-time job with an American audit company which has allowed me to travel to many beautiful places all over Scotland.
Would you recommend Strathclyde to other people and why?
The reputation of Strathclyde and the growth in my knowledge whilst studying here has boosted my confidence. I have tried my best to utilise all the opportunities provided to me. I believe that I am on the right track to achieving my goals. Based on my experiences I have recommended Strathclyde to my friends and colleagues, and also to prospective students through my role as a student ambassador for the Faculty of Engineering. As a student ambassador I am able to chat with prospective students and answer any questions they might have about studying here. I can honestly say to them that they will not regret the decision to study here.