MSc Sustainability & Environmental Studies

Syeda Zinnia Iqbal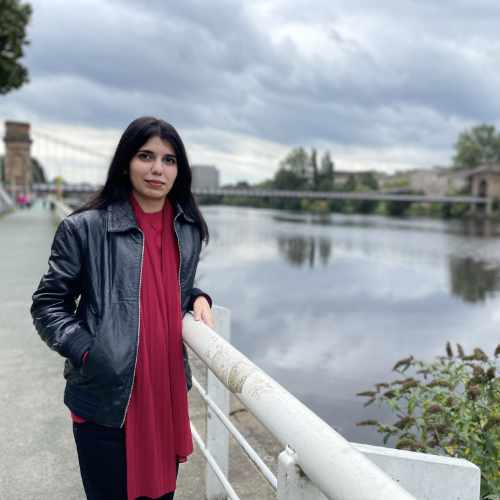 Syeda joined the University of Strathclyde from her home country of Pakistan for her studies for her studies after being awarded a British Council Scholarship for Women in STEM. Here she tells us about her journey and why she chose to study on the MSc in Sustainability & Environmental Studies.
Why did you choose to study at Strathclyde?
When I was looking into Strathclyde's course list, I discovered the MSc in Sustainability & Environmental Studies, which immediately made me interested in the University of Strathclyde. What really made me choose Strathclyde was the diverse list of classes being offer as part of this course. From Energy Economics to Circular Economy, Strathclyde was the only university that was providing so much freedom to choose classes that really suited my interests. One class in particular that really attracted me was Independent Research Study, which allows students to work on a real-time project in collaboration with an industry partner. This class not only allows me to gain valuable industry experience, but it also provides an opportunity to connect with people in the field.
How did you first hear about the British Council Scholarship for Women in STEM?
I heard about this scholarship through a friend of mine who was a previous scholarship awardee. She told me about this amazing opportunity and also encouraged me to apply.
How has the scholarship helped you with your studies?
This scholarship has provided me with the opportunity to study at one of the top universities in Scotland, which I don't think I would have been able to do otherwise. By removing the financial barrier, this scholarship has taken away all my financial concerns, giving me lots of time to study, gain knowledge and concentrate fully on my studies to secure better grades. I am able to focus solely on my studies without the need to worry about having to secure and work in a part-time job in order to cover my monthly expenses.
What do you like about your course?
What I like the most about my course is the wide variety of classes you can pick and choose from. Honestly having to choose 9 elective classes out of a list of around 20 was very hard, as each one of the classes sounded so interesting and appealing. Whichever area of sustainability and the environment you are most interested in, be it pollution management to public health studies, or social entrepreneurship, this course has something for everyone. Also, the independent studies aspect of the course, such as the projects and opportunities to do my own research, is something I also really enjoy about the course.
What do you like about Glasgow and Scotland? Have you managed to do much travelling whilst here?
Scotland is a beautiful country with such breath-taking scenery and beautiful places to visit. So far, I have managed to visit Edinburgh, Stirling and some of the Highlands including Loch Lomond, Loch Ness and Inverness, but to be honest Glasgow has my heart. It is such a great place to live. Before coming here, I heard about Glasgow being the friendliest city in the world, and when I arrived I realised this is absolutely true. The Glasgow people are very nice and friendly, and they have made me feel so welcome. During the Christmas break, I also managed to go down to England and visit London, York and Leeds.
What has been the highlight of your time here so far?
My whole time here has been amazing, from travelling to lots of different places in the UK, meeting new people and learning something new every day. Every moment has been memorable. I think so far, my highlight has been celebrating the New Year in London, which was something I had always dreamed of doing. Being able to experience it was something that I can't even put into words, and I will always remember.
What do you do in your spare time? Are you part of any groups or societies?
I love exploring new places, and Glasgow has so much to offer, from museums, to parks, to art galleries. Whenever I have the time, I try to visit somewhere new, or I simply go out for a walk to the riverside, which is my favourite place in Glasgow.
Strathclyde has so many student societies to cater for everyone's interests. Currently I am part of the Arts and Crafts Society and also the Strathclyde Pakistan Society. I also take part in events organised by SUMSA, which is Strathclyde's Muslim Students' Society.
What are your ambitions for the future and how do you think your time at Strathclyde will help you achieve your goals?
I plan to work towards the improvement of the environment, mainly in the field of renewable energy in Pakistan. With the knowledge I will have gained from my course at Strathclyde, I will be able to apply my understanding of the sustainable environment to assist in the aim to achieve clean and green energy in Pakistan. I feel I will be able to contribute towards limiting our emissions that are negatively impacting our environment, resulting in the negative impacts of climate change. With that, I'm sure that this degree will open new doors for me in the field of environmental studies, and help me to achieve my goals.
Would you recommend Strathclyde to other people and why?
I would definitely recommend Strathclyde to anyone looking to study in the UK. The world today is a fast-paced and competitive environment and so the courses offered by Strathclyde equip students not only with the theoretical knowledge needed, but they also encourage students to think outside the box and apply the course concepts and learnings in assignments and projects in real-time. Strathclyde also conducts Tech Fairs and Careers Fairs, which gives students an excellent opportunity to connect with various industries and companies and learn more about their graduate schemes and application processes.
The Student Union is also always there to help you and resolve any issues that you have. Overall, it is an excellent place to study and enjoy your student life to the fullest, with so much happening every week.