MSc Sustainable Engineering: Renewable Energy Systems & the Environment

Shaina Agwan
Shaina is currently a student on our MSc Sustainable Engineering: Renewable Energy System & Environment. It was always Shaina's dream to complete a Masters degree in the UK, but it was a financial challenge. With the help of the British Council Women in STEM scholarship, Shaina's dream has become a reality. Here she tells us about the impact of the scholarship.
Why did you choose to study at Strathclyde?
The University of Strathclyde is one of the best Universities in the UK in terms of Engineering and research. It provides industry-oriented learning to its students, which makes them job-ready.
It also has a beautiful campus, and its support for international students is excellent. For example, my admissions contact was so supportive. She always responded to my queries on time, making my transition from India to the UK very smooth. When I applied to study at the University of Strathclyde, I found the application process very easy, and I got the offer in five days, which shows they have a system which is very efficient and quick. Furthermore, the modules at Strathclyde are suited to my interests, which helped me choose this as my study destination for my masters.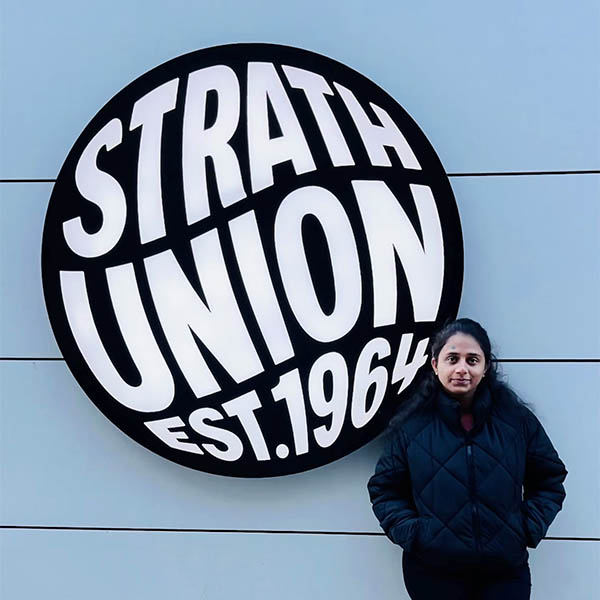 How did you first hear about the British Council Women in STEM scholarship?
It was my dream to study my masters degree in the UK, but financially it was challenging for me and my family to afford. I was searching for a fully funded scholarship, as my academic records were reasonable. I searched on the University of Strathclyde website and found the British Council Women in STEM scholarship and later read all the eligibility and requirements on the British Council website.
The best part for me was that the scholarship was available for the course I was interested in at Strathclyde. The MSc in Sustainable Engineering: Renewable energy systems and the environment was my dream course to study on!
How has the scholarship helped you with your studies?
For me the scholarship has been like a 'light' in my 'dark', challenging world and has very much helped me throughout my studies. It helped me a lot and I can say that without it, I would not have been able to pursue my studies in the UK. The scholarship is covering my full tuition fees and provides me with a monthly stipend for living expenses. It has also covered my full travel and visa expenses.
What do you like about your programme?
My MSc programme in Sustainable Engineering: Renewable energy systems and the Environment has a complete package of diverse modules, for example: energy system analysis, energy resource policies, sustainability, energy modelling, design management power systems, financial management and environmental impact analysis. The programme connects mechanical, electrical, and sustainable engineering together, combined with knowledge on renewables and the environment. My favourite parts of the course are learning about challenges in energy transition and how we can mitigate climate change.
What do you like about Glasgow and Scotland?
Scotland is a tourist destination and famous around the world for its beautiful castles. Scotland is the largest producer of renewable energy in the UK, and here, a lot of the buses are electric. So many projects are based on net-zero carbon, which provides lots of opportunities in the energy transition sector for recent graduates.
Glasgow has a beautiful river named the River Clyde, botanical gardens and many art galleries to visit. Everything here is easy and accessible, from the grocery store to shopping malls. Moreover, the people of Glasgow are very kind and supportive. They are always ready to help you with a beautiful smile.
What has been the highlight of your time here so far?
So far, I am enjoying my studies here. The classes are hybrid (a mixture of online and offline) in nature and all the tutorials are face to face so that we can raise any questions we have with our professors.
Moreover, I have attended the UN Conference of Youth (COY16) as a delegate from the University of Strathclyde. More than 300 young delegates from different countries participated in COY16 to discuss climate change problems and solutions. I interacted with people from other countries, cultures, and backgrounds, and it was a great learning opportunity for me. I also participated in COP26 held in Glasgow, where world leaders met to discuss and make commitments on climate change. It was an exciting opportunity for me and I loved to be involved.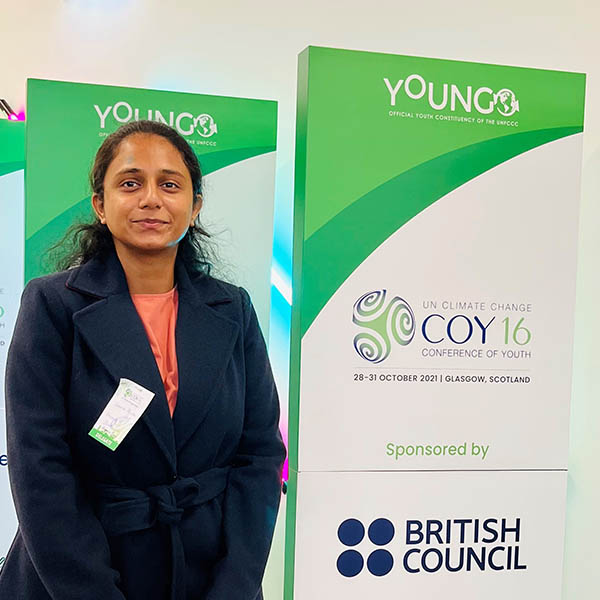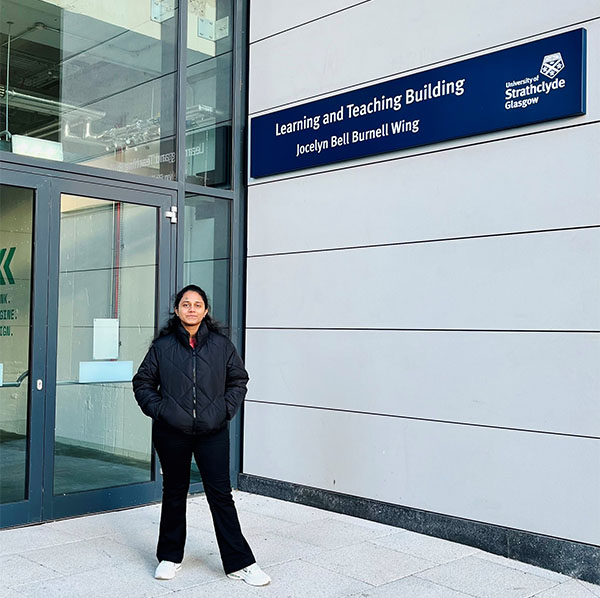 What are your ambitions for the future and how do you think your time at Strathclyde will help you achieve your goals?
I want to gain hands-on experience in an organisation working on renewable energy like Shell or GE power, where I can learn and grow my technical and professional skills. In the long run, I want to become a renewable energy entrepreneur to work in the energy sector in India and provide clean and green energy to the remote villages where there is no electricity or very little electricity. I also want to work for girl's educations in India in the future.
Studying at the University of Strathclyde will surely help me to achieve my future goals; here, the course is industry-oriented, making me industry-ready. The assignments are challenging and need thorough research that increases my learning capabilities. Participating in extracurricular activities during my studies here is easy, and Strathclyde provide lots of opportunities to take part in different societies and seminars. I have joined a few clubs here so that I can learn inclusivity and do well in future.
Would you recommend Strathclyde to other people and why?
I feel pleased to recommend this outstanding University to all. The University of Strathclyde is full of cultural diversity and a great platform to learn, and it has experienced professors who are always there to help you out. The location in Glasgow, Scotland, is beautiful to explore. Strathclyde focuses on the holistic development of students and makes them ready to lead the world. It was the best decision of my life to join the University of Strathclyde, and I am having a wonderful time here during my studies.