Technical Ship Management (MSc)

Ioannis Chalaris
After completing a MEng in Naval Architecture and Marine Engineering in his home country of Greece, Ioannis came to Strathclyde to study our MSc in Technical Ship Management. He had such a great experience that he's decided to continue studying with us on a PhD in Naval Architecture, Ocean & Marine Engineering. Here he tells us about his journey so far...
What were your reasons for deciding to study the MSc Technical Ship Management?
The most important reason for pursuing an MSc degree was my passion for being better every day and my thirst for deep knowledge in the more technical fields of naval architecture and marine engineering. Furthermore, after my graduation from the University of West Attica in Greece and my work experience at the time, I realised that I really wanted to focus and invest in my career. So, studying an MSc was the next step for me to accomplish my dreams and progress in my career.
What led you to study at the University of Strathclyde?
The first time I heard about Strathclyde was in Houston, Texas, when I was participating in a conference that was organized by SNAME (Society of Naval Architects and Marine Engineers). There were some students and researchers from the Department of Naval Architecture, Ocean & Marine Engineering (NAOME) at Strathclyde that told me about life in Glasgow and how it is to study in one of the best universities in the world for naval architects and marine engineers.
That was not just the day I first heard about Strathclyde, but also the beginning of a great friendship!
During my senior year at the University of West Attica, I worked for a classification society as a naval architect. At the same time, I was doing some research related to the available master's degrees that combine management and marine engineering, because during that period I had the opportunity to decide what path I wanted to follow based not only on academic experience but also on work experience. Strathclyde was the answer! I found the MSc in Technical Ship Management, a programme that fit perfectly with my ambitions. Can there be anything better than studying your "dream" course in a university with a great reputation in your industry of choice, like Strathclyde? I guarantee there is not!
What made you want to pursue your MSc studies away from your home country?
"Studying abroad is one of the best experiences someone can ever have!"
What made me choose a master's degree away from my home country was not only the specific subject, but also the opportunity to live in a new city, to embrace different cultures, traditions, and mentality, different from my own and what I was used to in Greece. When you live and study abroad, you have the chance to broaden your mind and adopt a more globalised way of thinking. I strongly believe that studying abroad fits perfectly with someone who wants to pursue a more international career.
How did covid-19 affect your studies?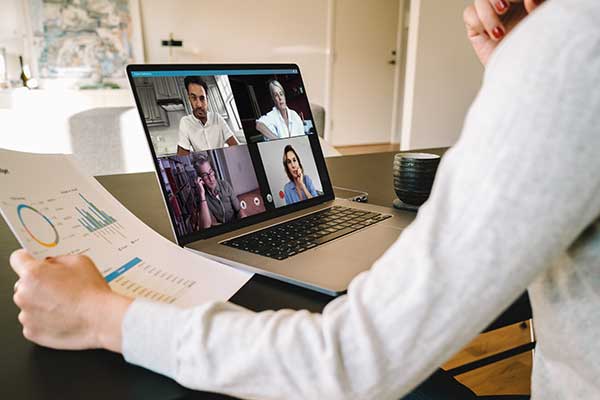 The truth is that Covid-19 was the protagonist of my MSc experience! The whole world was online! Despite what was going on with the pandemic, it wasn't that bad. Strathclyde and the academic staff in my department tried to give the best possible experience to students by giving us the opportunity to work on several projects in groups. We also had access to online conferences, and we were able to network with industry contacts through online job fairs. So, even though I didn't actually get to spend much time in Glasgow, my remote studies were by far extraordinary!
What are the highlights you have found about studying in the Department of Naval Architecture, Ocean & Marine Engineering?
The Department of NAOME at Strathclyde is one of the best in the world, and is currently ranked number one in the UK and number four in the world for Marine/Ocean Engineering by the Shanghai World Rankings. This is not just a title, and it is very easy to see why they are ranked so highly when studying here. Additionally, Strathclyde is a state-of-the-art university that focuses on research that has real impact on society.
There have been many highlights for me, but the stand out element has undoubtedly been the approach of the academic staff and their willingness to help you achieve your goals and be the best version of yourself! They are so supportive of all the students, and always try to push us further to reach our full potential, guiding us through real-life situations, and providing all the guidance we need for our projects.
What made you decide to continue your studies at Strathclyde with PhD study?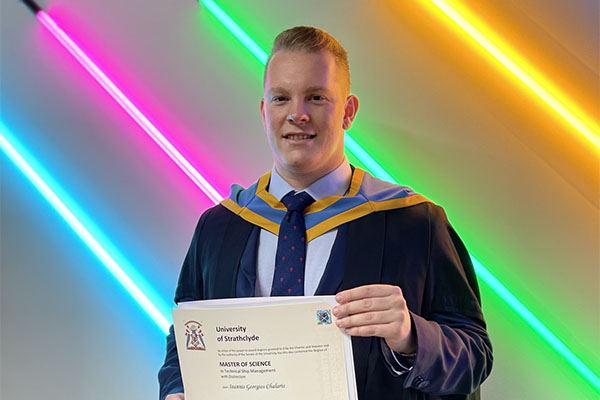 This is proof of never say never, as I had never considered PhD study! However, during my MSc year at Strathclyde, I was introduced to new topics that I had never heard of before and realised new skills that I didn't know I had.
I still remember the day that I discovered my passion for research and development. Specifically, during the module 'Onboard Energy Management and Environmental Protection', I heard the lecturer explain the Life Cycle Assessment methodology and how we can use this to approach some quite important topics of the maritime industry. From that moment, the PhD was the path for me to achieve my dreams of a decarbonised world and a sustainable shipping industry!
Have you had access to any funding opportunities and if so how did they help?
It is more expensive now for students from the European Union to study in the UK, due to Brexit and the change in fees. I was fortunate to find that there are several funding opportunities available for students though, and you just need to take the time to research the options on offer to find the right funding for your course and situation. In my case, I am honoured to be a recipient of a Global Research Studentship Award, which covers the full tuition fees for my PhD programme.
What are your ambitions for the future?
My dreams have to do with a greener and more sustainable planet. From my perspective, I want to focus on how the maritime industry can evolve and lead the world to net-zero emissions! Strathclyde is the right place for me because it gives me the opportunity to do my PhD in the field of Life Cycle Assessment and provides me with all the necessary skills to achieve my dreams!
Would you recommend Strathclyde to other people?
I would totally recommend the University of Strathclyde to someone who has big dreams and is ambitious enough to contribute to a better world! Strathclyde can light up curious minds and will provide the chance to explore new ideas by providing the best studying experience! Especially, if someone wants to study in the department of Naval Architecture, Ocean, and Marine Engineering!
Your biggest opponent is your own self! Through hard work, patience, and persistence everything can happen! Dream as hard as you can and believe in yourself because no one else will do it for you!