PhD in Civil & Environmental Engineering

Dr Manpreet Singh Puri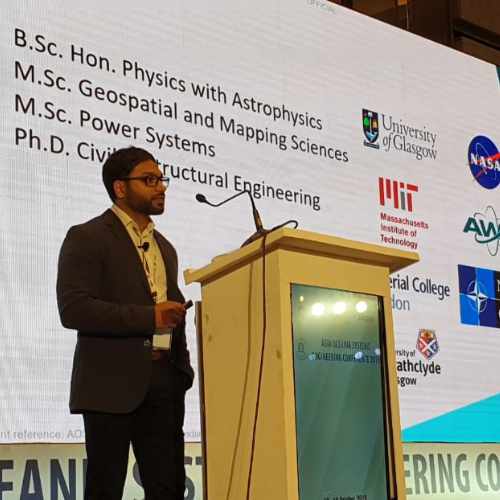 What were your reasons for deciding to study a postgraduate research degree?
I previously studied a Bachelors in Astrophysics and a Masters in Power Systems. Both of these degrees were amazing and taught me a lot in the fundamentals of physics and current applications of systems within the industry. But what I lacked was the hands-on practical experience of physics, in essence engineering. I decided to choose my postgraduate in Civil & Environmental Engineering where I looked at the design integrity and analysis of inflatable space structures. These adaptable membranes can be used not only for the pillars of a space habitat but also be used as the base layer for space arrays and solar sails.
How did you first hear about the University of Strathclyde?
Growing up in Scotland, I always knew about the University of Strathclyde for its excellent record in Engineering and Technology. Strathclyde has numerous partnerships with industry and is known for its published papers and spin-out tech companies.
Why did you choose to study at Strathclyde?
Prior to applying to the University of Strathclyde, I attended two conferences in Toronto and China presenting my research. I was amazed to find attendees at the conference who knew about the University of Strathclyde and its phenomenal record of innovation within STEM. This instilled the concept that the University of Strathclyde is truly a world-class university and has reached every corner of the globe with its influence. I knew if I studied at Strathclyde, I would be more attractive to potential recruiters and industry when pursuing a professional career.
Give some details on the research you were conducting at Strathclyde?
My research revolved around researching, designing and analysing membranes to be used in novel inflatable space structures. These inflatable space structures could be inflatable habitats to be utilised on the lunar surface to origami solar sails which deploy by the change of pressure deploying in a vacuum environment.
Did you collaborate with any industry partners during your research?
Whilst at the University, I had the opportunity to collaborate with industry and other Departments within the University of Strathclyde. For instance, I collaborated with the Department of Mechanical & Aerospace Engineering to develop a novel approach to solar sails utilising inflatable membranes. I worked with the Space Generation Advisory Council investigating the importance of space communication and raising awareness on the topic. I also collaborated with Engineers from NASA to look at inflatable membrane pillars for lunar habitats.
What facilities did you have access to during your time at Strathclyde?
I utilised the Careers Service actively and also took the opportunity to register to numerous self-development courses run by the University from project management to presentation skills.
Were you part of any groups, societies and committees and how did they benefit your time at Strathclyde?
I was very active during my time at Strathclyde whereby I joined the Muary Thai club, was a regular visitor to the University gym and I was also a Student Mentor with the Disability Services. I also volunteered for the summer campus tours for high school students considering Strathclyde for their studies.
What was your favourite aspect about studying at Strathclyde?
My favourite aspect about Strathclyde was the people. From the students, to the mentors and lecturers. Everyone I spoke with was very helpful and engaging. I also loved the fact that Strathclyde had a number of interaction events with industry, this allowed students to liaise directly with industry and prepare themselves for the professional world.
How did you find the community for research students at Strathclyde?
The research community within Strathclyde is very driven. Most researchers that I met at Strathclyde strive for publication and wanted their research acknowledged across the world. This can make the environment a little stressful, but also beaming with positivity and determination. When speaking with my senior colleagues, I was always given advice that would benefit me personally for my own professional development.
Tell us about your journey since graduation, leading to the role you work in now?
I have had an amazing journey since graduation. Not only have I worked overseas but I have worked in several different industries. I started my career working within the space sector with NASA on the MARS Rover as a Structural Engineer. I then moved into the nuclear industry working with AWE within the discipline of Systems Engineering. After AWE, I gained the opportunity to work as an Engineering Manager with AISUS who specialise in asset integrity and inspection services for the Oil & Gas industry.
Currently, I am employed by BAE Systems as the Systems Design Authority within Systems Engineering, working on the future successor to Vanguard, the Dreadnought submarine. Within this role, I am accountable for the Environmental Platform Management Systems that my team within Maritime Services develops.
Do you think your studies at Strathclyde prepared you properly for your career?
Yes, Strathclyde has numerous courses to prepare students for starting their careers. This encompasses everything from interpersonal skills to preparing for interviews. During postgraduate study, I had to complete a certain amount of credits each year, these courses counted towards these credits and therefore meeting postgraduate requirements meant you were also developing and preparing yourself for a life after university.
Would you recommend Strathclyde to other people and why?
I would recommend Strathclyde for three basic reasons:
Strathclyde is a world-renowned University and has achieved numerous accolades for higher education. If you are an inspiring individual, Strathclyde will prepare you in good stead to enter the professional world.
Strathclyde continuously engages industry to see what fundamental knowledge is needed by prospective undergraduate and postgraduate students. This implies that students get the education needed for their career and can see a direct correlation between theoretical classroom study, practical laboratory sessions and real-world application.
Strathclyde is a University that promotes Diversity, Inclusion and Ethics and really strives for all students to receive a fair education. I love this most about the University as every student that attends is important regardless of social, economic or financial background.