Marketing (PhD)

Nada Ghesh
Nada joined us from Jordan to study a PhD in Marketing. Here, Nada tells us what it's like being a postgraduate researcher at the Strathclyde Business School.
About me
Born and raised in Amman, Jordan, I hold a BSc in Marketing, a MSc in Digital Marketing, and I am currently a second year PhD student at the Department of Marketing at the University of Strathclyde. I enjoy learning, I strive for knowledge, and I value research. I view this PhD as an opportunity for personal development and a chance to leave a legacy behind. Aside from academia, I am a huge football fan! I spent most of my life in a football field. From a football player, referee, coach, and match commissioner to finally working at Jordan Football Association.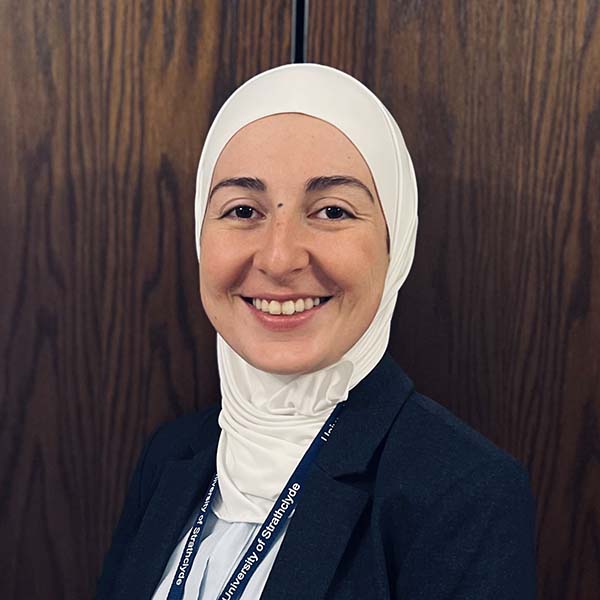 What were you doing before your PhD?
After completing my MSc, I was skeptical about taking the next step into PhD study. More scared than skeptical, to be fair. Given how pivotal a PhD can be, I thought it would be a good idea for me to get a glance at academia before making up my mind. So, I worked as a marketing lecturer for a couple of years before starting my PhD. These two years were the most challenging years of my life, yet the most rewarding. The satisfaction I got from every lecture, every project, every encounter, every collaboration, and every life I touched is just unmatched. That certainly made the decision-making a little easier. And here I am, a PhD student in the Department of Marketing at Strathclyde Business School.
Why did you choose Strathclyde for your postgraduate research study?
I had to make sure that I was picking the right place for my PhD. I am not looking for a degree per se, I am looking for knowledge. Luckily, because I received an unconditional scholarship, I was able to pick and choose where I wanted to study. I always favoured the UK because of its rich culture and diverse community.
Moreover, I did my MSc in the UK so I felt like I am more familiar with the system here. With my proposed PhD topic in mind, I started my search by identifying triple-accredited business schools in the UK. I applied to a good number of schools across the United Kingdom and got several offers. What tipped the scale was my reflections on my feelings after the interview (as part of the admission process). I know this might sound irrational, but the student-supervisor relationship is the main pillar in the PhD journey. I still remember how I felt after the interview I had with the -at the time- potential supervisory team from Strathclyde. It was obvious that I would be in good hands!
Tell us about the nature of your research?
My research investigates artificial intelligence applications in the tourism sector. It aims to understand how these implications impact the customer experience. What I like the most about my research is how dynamic and vibrant it is! There is always something new about artificial intelligence to learn, read, watch, or even experience. I also like that I am addressing a key construct in marketing. The customer experience is a construct that everyone, regardless of their knowledge and background, is familiar with. What makes it even more interesting for me is that I am looking at it from a consumer perspective, which somehow adds a psychological layer that I always enjoy.
What's the Strathclyde research community like?
I am thankful for all the opportunities Strathclyde is offering to equip us with all that we need to become rigorous researchers and create a supportive inclusive research community for everyone. From the PgCert courses, the RDP workshops, the departmental seminars, Strathclyde Business School, and the Doctoral School efforts alongside the various research groups. Not to mention that we are already working alongside world-class academics. The answer to the question though is highly subjective. I personally think that the research community is what you make it. It's all out there for you, but you need to take the initiative and make it happen.
Tell us about the support from your supervisor and the wider Strathclyde team?
Due to the Covid-19 pandemic, I had to start my PhD remotely. That was very challenging, but everyone has been trying their best to make this as smooth as possible. I already mentioned that my supervisory team played a decisive role in choosing Strathclyde and I am not exaggerating. I honestly can't thank them enough for all their support through it all on both academic and personal levels.
As for the wider Strathclyde team, and as a new student it is normal to have so many questions about so many things, the department administrator has always been there for me with answers for all the questions I have in mind, and even before my official enrolment. Also, while being in Jordan, and during the lockdown, I needed some help from the Strathclyde Business School IT team, the faculty librarian, the CAS, and the visa team.
In short, there is always someone to help, just ask for it!
What's the best thing about Strathclyde?
I like the student-centred approach in the PhD structure, and I greatly appreciate the supportive environment. Moreover, I like that the campus lies in the heart of the city centre where everything is within a walking distance.
What would you like to do after your PhD?
I dream about being in a place where I can touch lives and leave a legacy behind wherever and whatever that place is. I haven't given it much thought yet, but I think I would enjoy the teaching/training side of academia.
What's it like being a student in Glasgow?
People Make Glasgow indeed! Glaswegians are very friendly, very helpful, and very, very sociable. The city is rich in heritage and culture, it has so many attractions and breathtaking nature. In short, there is always something fun and new to do in Glasgow. To be fair though, it is freezing cold, but you can always wear extra layers.
What advice would you give to prospective postgraduate research students?
Well, this can go on and on, but… read a lot about your topic. This is a minimum three-year project, so you are devoting three full years of your life to this PhD. Make it worthwhile. Make sure that your topic would be of value by the time you are submitting your PhD. Think ahead. Do your homework, read about the university you are applying for, the department, the faculty members, and their research interests. Choose wisely.
Your relationship with your supervisor above all. Be respectful and transparent.
Look for student communities, get in touch with current students, and please remember that there are no silly questions. Be proactive. Lastly, don't forget to enjoy your journey!
Make it worthwhile. Think ahead. Choose wisely. Lastly, don't forget to enjoy your journey!