BA Marketing

Nicole Pacitti
Nicole has recently completed the BA Marketing degree, here she tells us about her experience...
Why did you choose Strathclyde?
I chose Strathclyde because of the variety of marketing topics on offer and the department's focus on merging academic theory with practical business examples. The undergraduate course also allows students to study additional subjects alongside their marketing classes, helping to broaden their understanding of business and the impact marketing has on other areas. I also wanted to study abroad and when I saw the long list of Strathclyde's partner universities, I knew this would be a great opportunity to immerse myself in different cultures.
What has been your experience of classes?
Covering a breadth of subjects in first to third year helped me identify the areas of marketing which I wanted to focus on in my Honours year. Throughout my time at Strathclyde, I worked on marketing plans for Arnold Clark, Orchard Pig, Brewdog and Apple. Understanding both the academic theory and how this applies to real-life examples has helped me view theoretical frameworks and models from a practical business perspective. Additionally, having completed a Consumer Behaviour module in my second year, I knew I wanted to focus on this for my dissertation.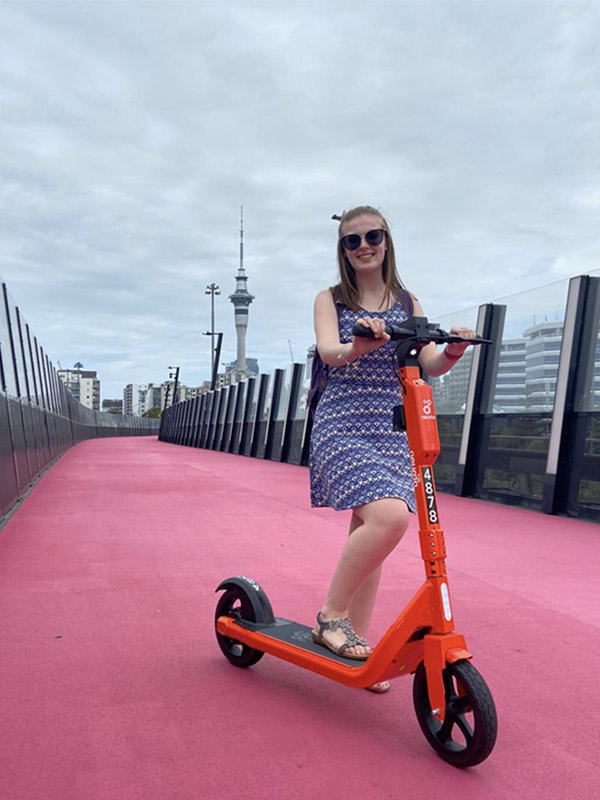 Can you tell us a bit about your study abroad experience?
In my 3rd year I applied to go on exchange and I was given the opportunity to study abroad at the Auckland University of Technology in New Zealand. During my time at AUT, I studied a range of classes: Strategic Marketing, Financial Risk Management and International Business. Alongside my studies, I was able to explore the North Island and immerse myself in Māori culture. I participated in an international student 'Noho Marae' where I learnt Māori songs, dances and had a traditional Māori feast known as a Hangi. I was welcomed into AUT's whanau (family) and met great friends whilst studying in New Zealand.
Where do you see this course fitting into your longer aspirations for study/career in the future?
Whilst studying at Strathclyde I thoroughly enjoyed my Brand Management, Consumer Behaviour and Retail Marketing classes. I knew, upon completion of my undergraduate course, I wanted to focus on positions which would allow me to dive deeper into these marketing areas. Consequently, I accepted a position with Three UK as a marketing graduate where I will rotate around different areas of the business – retail, consumer and brand marketing. The variety of classes, projects and marketing plans I worked on in conjunction with my experience studying in New Zealand really helped me during the interview process for graduate jobs.
Is there anything you would recommend about the courses/what advice would you give to prospective students?
I would recommend taking note of topics/classes you enjoy the most during first to third year. This will help you choose which areas to focus on in your fourth year and for your dissertation. I would also recommend joining a club/society whilst at Strathclyde. I played in the Concert Band and was part of the new Marketing Society - I made great friends and was also able to talk about these extracurricular activities whilst applying for jobs.
What is it like to be a student at Strathclyde and in the city of Glasgow?
Glasgow is a great city to study in and Strathclyde University is very close to the city centre. The student halls are a 10-minute walk from Buchanan Street so it is very easy to pop into town for lunch or at the weekend. Strathclyde has also just opened a brand-new student union on campus which is a great place to meet your friends and spend your free time.